Japan inland flooding: Is your exposure at risk?
While typhoon models for Japan have been available for years, the fact is that almost half of flood losses in Japan are not associated with tropical systems. That's a risk that has gone unmodeled—until now. The new AIR Inland Flood Model for Japan simulates these non-tropical weather systems and the flooding they cause so you can manage inland flood risk for underwriting, pricing, portfolio management, and risk transfer decisions.
Use real-world data to ensure your model results make sense.
AIR in collaboration with the University of California, Irvine, applied machine learning to calibrate model outputs against observed data to ensure good agreement between measured and modeled river flows for approximately 17,500 catchments across Japan.
Get a more realistic view of flood extent both on and off the floodplain.
Two-dimensional modeling methodologies have been employed for the first time to provide more realistic views of flood risk both on and off the floodplain. AIR researchers combined data on drainage systems in urban/populated regions, their design capacity, and their upkeep to assess off-floodplain risk, and a physically based hydraulics module calculates the extent and depth of flooding on the floodplain.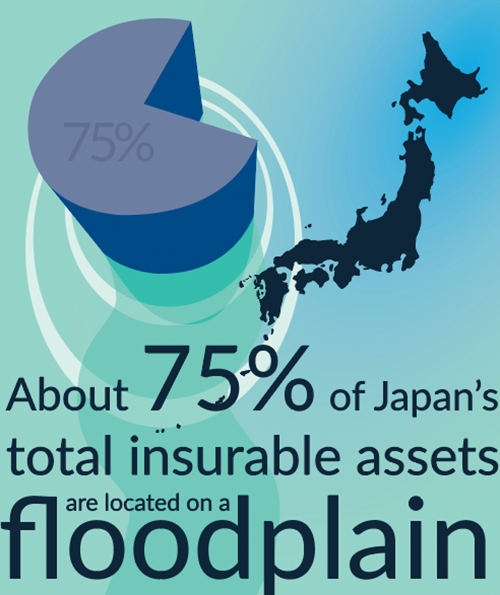 Gain a competitive edge with a comprehensive view of the hazard.

AIR uses an innovative four-step framework—one that captures precipitation from all sources—to create a unified view of the hazard that realistically captures rainfall patterns and intensities over space and time.





Assess your risk from all water-based perils in Japan.

Because policies in Japan are often written to cover all water-based perils, Touchstone® users who license both the AIR Inland Flood Model for Japan and the AIR Typhoon Model for Japan can assess the risk of flood losses from precipitation from all sources and storm surge.