Finally, casualty insurers can benefit from modeling risk, just as property insurers have for the past 30 years
According to A.M. Best, under-reserving for casualty events is the leading cause of insolvency among insurance companies. Do you know how much liability accumulation risk is currently on your books? Do you fully understand all of the types of casualty events that could cause significant losses to your portfolio?
Arium is a powerful exposure management application designed to help you evaluate liability accumulations and run casualty scenarios. With Arium, you can analyze and quantify your exposure to historical liability events and become more informed on what types of future events could cause significant losses to your portfolio.
Arium's scenario-based loss assessment framework enables you to design, store, and run events; calculate losses to your portfolio; and provide a consistent approach to liability event loss modeling.
How Arium can help your business
Each casualty event is different. While historical data can be used as a guide, the ever-changing landscape of economic, legal, and regulatory factors can have dramatic effects on how liabilities will trigger and spread. Arium's approach enables you to explore your casualty portfolio against a supply chain, and can help you understand the potential for claims and losses and how those losses could spread.
Arium provides a modern, transparent, flexible approach that enables users to manage risk by looking forward while being informed by realistic past events. The cloud-based platform provides easy-to-use functionality and includes real-time stress testing as the far-reaching consequences of long-term liability events unfold over time.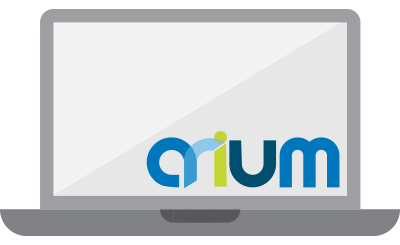 Develop unique insights with our casualty analytics platform
Arium lets you quickly develop unique insights into your portfolio in four stages: Scan the liability landscape, map your portfolio, design scenarios, and calculate a distribution of losses to those scenarios.
Scan the supply chain
Casualty events are rarely contained within one sector. Using our database of more than 2,600 industry classifications and more than 1 million trade connections, we can help you understand your portfolio in the context of an economic supply chain, exposing links that might have been unknown.
Map your portfolio
Overlay your portfolio on the supply chain map to explore your industry accumulations by premium, exposure, or policy count, and gain a unique perspective on how your liability exposures may be connected to one another. Network visualization helps you understand and analyze the underlying supply chain that is contained in complex casualty portfolios in seconds.
Construct scenarios
Create your own scenarios, or use Arium's existing library built in collaboration with industry experts, to better understand the impact of major casualty/liability events. Not only can you model potential events, you can also stress-test them to understand how losses may be impacted by different situations.
Determine loss allocations
Create a consistent, structured view of your potential losses using scenarios based on industry events or emerging scenarios. Calculate aggregates by contract and scenario, investigate a distribution of losses based on varying the parameters of each scenario, and adjust parameters in real-time to stress test your portfolio. Then, drill into the losses and see how they are distributed by coverage, year of account, or reinsurance treaty.
Up next: expand your understanding using a probabilistic model
In addition to the current catalog of deterministic scenarios, Arium is developing the industry's most comprehensive probabilistic model of liability scenarios to help companies structure and parameterize future losses. This model will enable you to capture the full distribution of the frequency and severity of casualty catastrophes and will help you develop a more robust understanding of potential liability risk.
Meet the people behind Arium


Robin Wilkinson
Senior Vice President and Managing Director, Casualty Analytics
AIR Worldwide
Robin Wilkinson has more than 20 years' experience in legal risk management and has been developing risk models for the aviation industry, legal compliance, early predictive models, portfolio accumulation tools and policy models. She was the founder and CEO of Arium Risk Architecture. Following the company's acquisition by Verisk Analytics, she became Vice President and Managing Director of Casualty Analytics at AIR Worldwide. Robin began her career as a corporate lawyer, serving as Head of Legal Services at British Airways Plc.


Florian Loecker
Director, Casualty Analytics
AIR Worldwide
Florian Loecker is a Director of Casualty Analytics for AIR Worldwide. He was previously the Chief Technology Officer at Arium. He has a background in economics and applied mathematics. He has previously held positions at Lloyd's and Willis Re focusing on exposure management and catastrophe analytics.