Tohoku: Looking Back, Planning for an Uncertain Future
Unexpected Impacts Across Multiple Lines of Business
March 11, 2016, marks the fifth anniversary of the magnitude 9.0 Tohoku earthquake, which ruptured off the northeast coast of Honshu, Japan. Tohoku was the most powerful earthquake ever recorded in Japan and served as a reminder of how one event could simultaneously impact multiple global lines of business.
Despite Japan's long and well-documented history of earthquakes, the country was not prepared. The scientific community, including Japan's Headquarters for Earthquake Research Promotion (HERP) and other seismologists, had not thought it possible for such a powerful earthquake to occur in that segment of the Japan Trench.
In a similar vein, although catastrophe models were well established for managing Japanese earthquake risk when Tohoku struck, none of the widely available commercial models had contemplated such a scenario and none had explicitly captured the potential for concurrent tsunami losses.
Industry Re-Examines Non-Modeled Risk
Tohoku prompted urgent consideration of how to assess and manage non-modeled risk. The fact that so much destruction was caused by a non-modeled peril (tsunami) shaped the objectives of AIR researchers in developing the update to the AIR Earthquake Model for Japan, which now explicitly models tsunami, liquefaction, and fire following and supports multiple lines of business, including marine cargo and hull, aviation, transit warehouse risks, and personal accident. The earthquake also prompted the introduction of Extreme Disaster Scenarios in AIR's new and updated models.
How Can Extreme Disaster Scenarios Help Manage Risk?
Extreme Disaster Scenarios (EDS) represent unlikely, but scientifically plausible, scenarios that may not be captured by traditional stochastic modeling techniques. EDS can be modeled deterministically within Touchstone® so that companies can grasp the possible impact of such rare but severe catastrophic events on their business—before they occur.
The goal in modeling these "gray swan" scenarios is not to assign a probability to the losses they may cause, but to critically analyze the peril and exposure, and develop effective risk management strategies. Since Tohoku, Extreme Disaster Scenario event sets are a standard part of every model release and update, including all models for Canada and Hawaii, the Japan earthquake and typhoon models, the South America earthquake models, and the U.S. severe thunderstorm and U.S. hurricane models.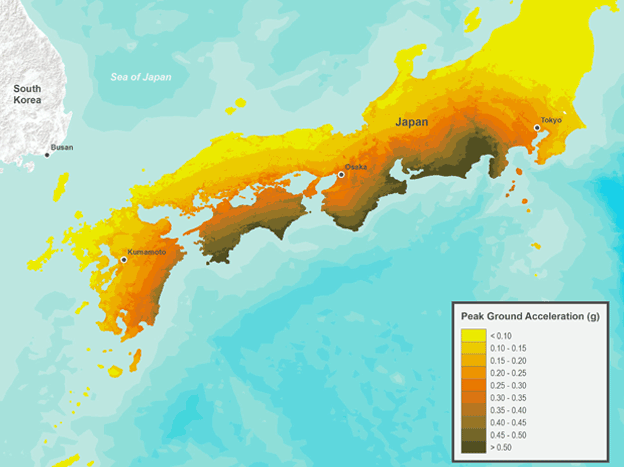 Ground motion from an EDS in the AIR Earthquake Model for Japan, an offshore four-segment rupture of the Nankai Trough. AIR estimates that such an event would result in JPY 25 trillion in insured losses.
Our new generation of models are leveraging better physical understanding of rupture processes and the long-term strain accumulation on faults. Still, no one can predict the next Tohoku, but EDS can help you visualize and understand the impacts that can result from extreme, unprecedented disasters.