Five years have passed since the Great East Japan Earthquake of March 11, 2011, but I remember it like it was yesterday. The shaking may have lasted five minutes, but the earthquake's impact will be felt for many years to come.
Much of the region's damaged infrastructure has been rebuilt and housing reconstruction continues, but more than 180,000 people remain in temporary accommodation. According to the central government, in addition to the death toll of almost 20,000 (with another 2,500 still unaccounted for), nearly 3,000 have died since of disaster-related causes, such as the stress of living in temporary shelters.
The five-year "Concentrated Reconstruction Period" established by the government at a cost of about USD 250 billion is drawing to its close and a second five-year "Reconstruction and Revitalization Period" will follow. Full economic recovery for the region may take much longer still.
The M9.0 earthquake was the strongest experienced since Japan began taking instrumental measurements about 120 years ago. It released as much energy as 32,000 M6.0 temblors or 600,000,000 Hiroshima bombs. It shifted the axis of Earth's rotation by redistributing its mass, and shortened the length of a day by about a microsecond. Near its epicenter, the Pacific Plate slid westward some 24 meters; a 180 km stretch of seabed was forced upward an average of 3–4 meters, and as much as 6–8 meters in places. Japan's main island, Honshu, moved eastward 2.4 meters and about 400 km of its coastline dropped 0.6 meters.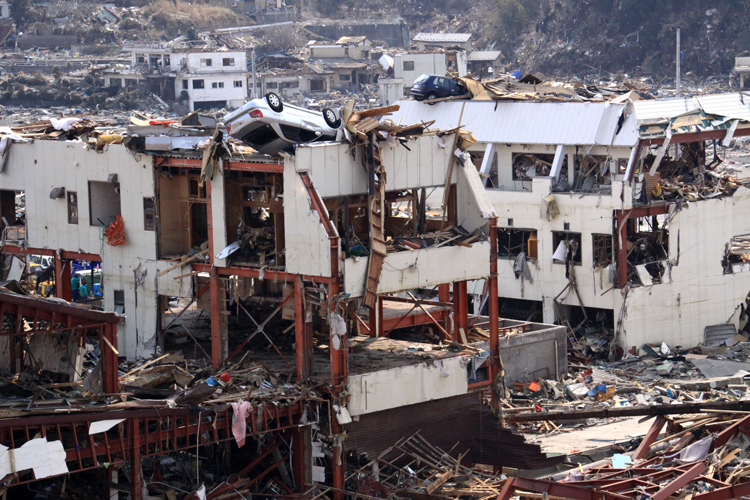 Even in Japan, a country so accustomed to earthquakes and so sophisticated with respect to seismic risk, almost nobody anticipated such a massive event or the colossal tsunami that followed. Indeed, most of the damage experienced and most of the lives lost resulted from the tsunami.
The Japan Meteorological Agency's warning scale classifies a 3 meter tsunami as a major event, and its observations of the Tohoku event show many areas to have been affected by waves of 1–3 meters. In some locations, however, much higher figures were recorded. Off Kamaishi, for example, waves of 6.8 meters were observed; off Sōma, waves of 7.3 meters or higher were noted. It was estimated that the tsunami reached up to 40.5 meters in Miyako in the Iwate Prefecture, meaning run-up heights could have been even greater. The tsunami penetrated up to 10 km inland and covered an area of about 560 km2.
The numbers still amaze me. In addition to the huge loss of life, 45,700 buildings were destroyed, 144,300 structures damaged, and 230,000 automobiles and trucks were damaged or destroyed. About 4,000 roads, 78 bridges, and 29 railways were affected. Following the earthquake, 345 fires occurred in 12 prefectures, 40% of which were triggered by the tsunami.
As I have done after other earthquakes, I traveled to the region to survey the damage. Transportation was challenging because so many roads were blocked with debris and closed; access was restricted to many areas. Finding accommodation was a problem, too, because so many hotels were closed due to the general lack of power and water.
I was completely unprepared for the sheer scale of devastation that I encountered and the extent of the area impacted. It was so much worse than I had anticipated from what I had seen on television, seeming more like a war zone than the aftermath of a natural disaster. The enormous amount of building debris and the number of wrecked vehicles everywhere were staggering.
An estimated 25 million tons of debris was generated in the three worst-affected prefectures, and another 5 million tons or so are thought to have been carried out to sea. Four years after the event, it was estimated that about 1 million tons was still lingering in the Pacific Ocean, and today some of it is still being washed up on North American shores.
Fortunately, we were able to learn many lessons from the disaster. The Tohoku event was by far the most widely instrumented megaquake of all time and provided an unprecedented wealth of ground motion data, damage observations, and detailed claims data. It had important implications for understanding the complex network of plate boundaries and crustal faults that underlie Japan's islands and highlighted the importance of explicitly modeling earthquake-associated perils like tsunami and liquefaction. As a result, AIR Worldwide completed a major update to its earthquake model for Japan in 2013, the industry's first (and currently only) comprehensive model update following the earthquake.
Japan is a seismically active region, with many low-intensity tremors taking place each year and significant destructive earthquakes striking several times each century. I hope that we will not experience anything like the Great East Japan Earthquake for a very long time to come.