What Hilal, Andreas, and Ela Can Teach Us About European Severe Thunderstorm Risk
Editor's Note: Three of Europe's costliest severe thunderstorms have occurred in just the last decade. In this article, AIR's Dr. Eric Robinson and Dr. Bernhard Reinhardt discuss how these storms demonstrate the importance of taking a probabilistic view of European severe thunderstorm risk.
Too many insurers treat the losses from severe thunderstorms as attritional. Yet since 2005 losses from severe thunderstorms in Germany were roughly equal to losses from extratropical cyclones, according to the German Insurance Association, or GDV. According to the soon-to-be-released AIR Severe Thunderstorm Model for Europe, convective storms across the model domain of 22 countries account for 40% of insured losses from the atmospheric perils of severe thunderstorms and extratropical cyclones, on average (Figure 1). Thus, for a complete view of European atmospheric peril risk, companies need to understand and actively manage their severe thunderstorm risk.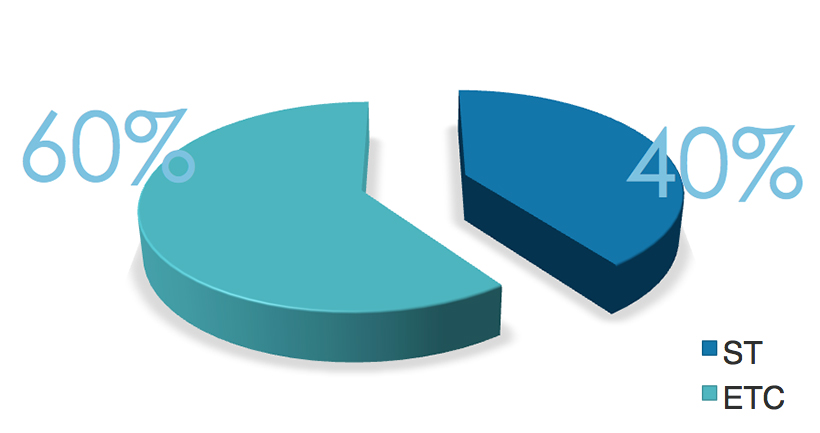 While most years are characterized by an aggregation of losses from many smaller events, the most extreme years tend to be those dominated by one or two large-loss events. In fact, three of the costliest severe thunderstorms to strike Europe have occurred in just the last decade. In the following sections, we will discuss the meteorology and dominant peril of each storm, as well as the resulting insured losses.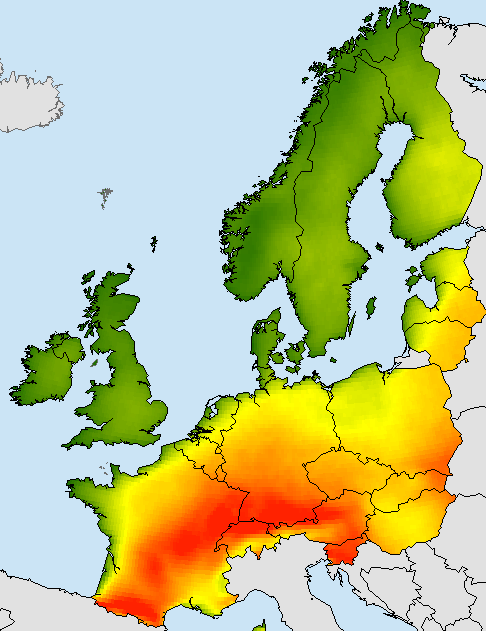 Hilal (2008)
Ten years ago, on May 28, 2008, Hilal brought hail and localized flooding to western Germany, hitting Dortmund—one of Germany's 10 largest cities—and environs particularly hard. Two days later, hailstones of up to 5 cm in diameter (larger than a golf ball) caused severe losses in Düsseldorf, Detmold, and Krefeld—a city northwest of Düsseldorf, where tens of thousands of cars were damaged. As the storms associated with Hilal moved east over the next few days, they produced torrential downpours. The severe thunderstorm outbreak triggered by Hilal ended on June 4, a full week after it had begun.
At the time, Hilal was the costliest severe thunderstorm outbreak to strike Europe since the 1984 Munich hailstorm. Given the loss history of severe thunderstorms in the area, companies managing their severe thunderstorm risk by the traditional method of looking at the historical record might have been caught by surprise by the magnitude of the losses. Reported losses from various industry sources ranged from EUR 800 million to 1 billion in insured losses. AIR estimates Hilal's recurrence today would result in insured losses of approximately EUR 710 million (USD 860 million) from hail and straight-line wind alone. It is also worth noting that losses would have been much higher had Hilal impacted nearby Cologne—Germany's fourth most populated city.
Andreas (2013)
In July 2013, five years after Hilal, an outbreak of severe hailstorms spawned by a low-pressure system dubbed Andreas topped the list of insured losses for a single European country, surpassing both Hilal and the 1984 Munich hailstorm to become (and remain) the costliest severe thunderstorm outbreak in Europe in the modern record. Large, damaging hail of up to 12 cm in diameter (larger than a grapefruit) pounded northern and southwestern Germany for two consecutive days. Andreas caused insured losses that ranged between EUR 3 and 4 billion, according to various industry sources. If Andreas were to recur today, AIR estimates that it would cause around EUR 4 billion in insured losses from hail and straight-line wind.
The large insured losses that resulted from Andreas highlight the significant loss potential of hail in Europe. Andreas was one of several loss-causing hailstorms in 2013—and one of three extreme events—to impact Germany. Companies only considering occurrence loss would have considerably underestimated their severe thunderstorm aggregate risk that materialized that year.
Also significant is that these losses represented less than half of Germany's total insured losses in 2013; the combined insured losses from severe flooding, several hailstorms, and two winter storms amounted to EUR 7 billion (GDV) for the year, which underscores the importance of taking a holistic view by examining both occurrence and aggregate loss not only for severe thunderstorm, but also across all perils. (Learn more about the extraordinary year Germany had in 2013 and the importance of accounting for aggregate loss here.)
Ela (2014)
Only one year after Andreas, in 2014, Severe Thunderstorm Ela became the third-costliest severe thunderstorm in Europe, surpassing Hilal but not the 1984 Munich hailstorm. From June 8 to 10, strong wind and large hail brought on by a cold front that moved in from the west immediately following a heat wave battered western and central Europe. Germany's most densely populated state, North Rhine-Westphalia, was the hardest hit—especially in the capital city and economic powerhouse of Düsseldorf, where wind gusts were recorded at 150 km/h.
Although Ela produced large hail, including hailstones of up to 7 cm in diameter (about the size of a cricket ball) in the southwestern German state of Baden-Württemberg, the most significant damage was due to wind. The density of exposures in Düsseldorf likely contributed to the high wind losses, demonstrating the significance of the straight-line wind sub-peril in severe thunderstorm loss potential. According to various industry sources, Ela caused between EUR 1.7 and 2.3 billion in insured losses; AIR estimates that it would cause about EUR 1.9 billion in insured losses due to hail and straight-line wind if it were to recur today.
Tackle Severe Thunderstorms Through Effective Risk Management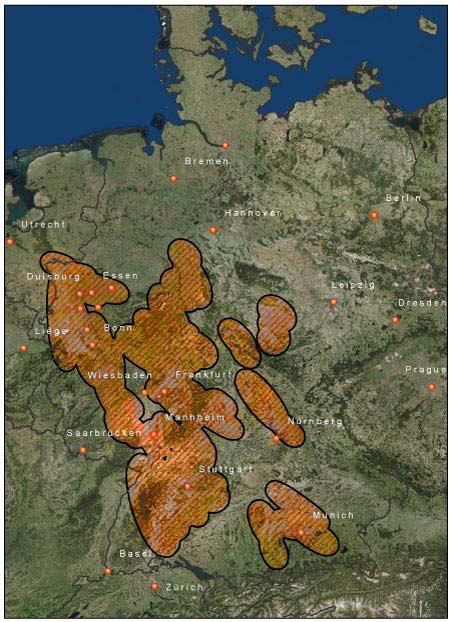 Because of the localized nature of individual hailstorms and straight-line winds, using historical losses for risk assessment and management is not sufficient. To help you manage this risk, AIR's new Severe Thunderstorm Model for Europe, anticipated for release this summer, captures the risk from the sub-perils responsible for the most significant European severe thunderstorm losses: hail and straight-line wind.*
AIR's model uses advanced algorithms to integrate multiple data sources and create a state-of-the-art view of the risk—starting with individual hail and wind swaths and creating realistic large-scale thunderstorm outbreaks. Spanning 22 countries and multiple lines of business, the new European severe thunderstorm model can help (re)insurers identify opportunities for growth and make more informed underwriting decisions. Used in concert, the AIR Extratropical Cyclone Model for Europe, AIR Inland Flood Model for Europe, and the new severe thunderstorm model provide a comprehensive view of your atmospheric peril risk for effective risk management that protects your bottom line.
*On occasion, tornadoes do occur in Europe and cause, on average, about EUR 20 million in losses each year, according to Antonescu et al., 2017. That represents less than 1% of the overall average annual losses from severe thunderstorms in Europe, according to the AIR model.