25 Years Later—What If Hurricane Andrew Were to Strike Again?

Category 5 Hurricane Andrew tore into South Florida on August 24, 1992, 17 years after the previous landfall of a major hurricane in that state. Andrew killed dozens and caused an estimated USD 15.5 billion (1992 dollars) in total insured losses—USD 15.0 billion in Florida—and resulted in the insolvency of 11 insurance companies. The most costly natural disaster in U.S. history at the time, Andrew changed forever how (re)insurers approach hurricane risk management, spurring the growth of the emerging catastrophe modeling industry and ultimately prompting the development of insurance-linked securities as an asset class.
Hurricane Andrew,
Then and Now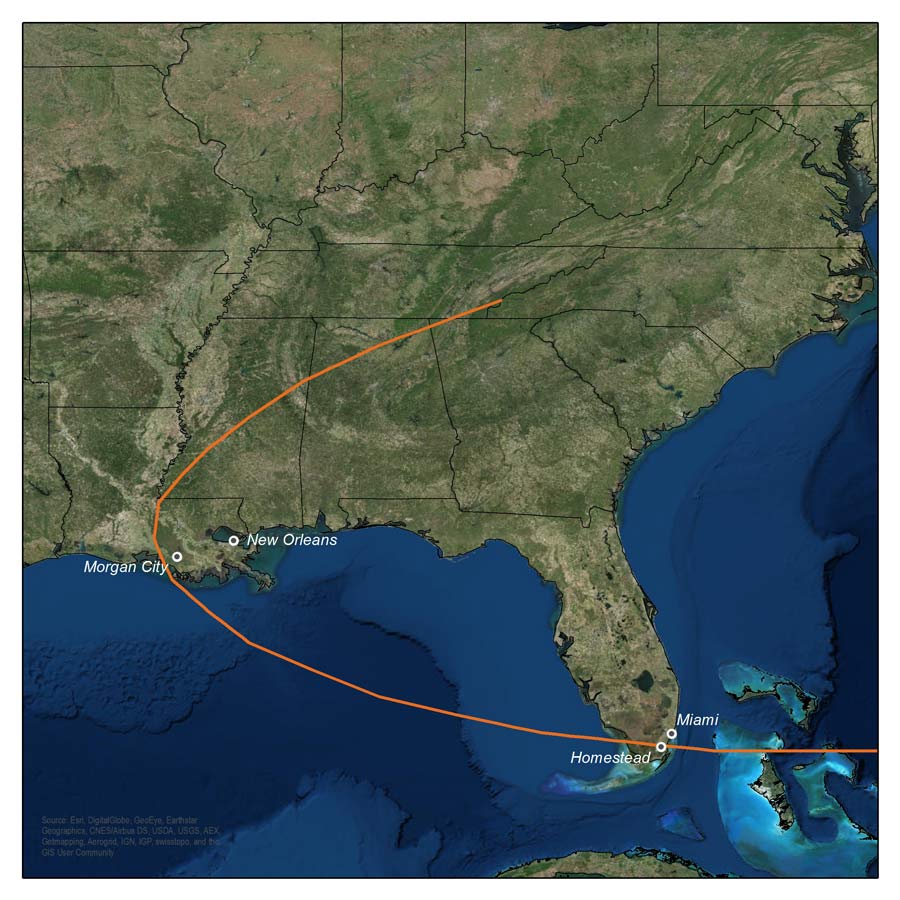 Hurricane Andrew's track
The storm system that would become Hurricane Andrew formed August 14, 1992. On August 23, Andrew struck the Bahamas as a Category 5 storm, weakened to Category 4 over land, and then regained Category 5 strength in the warm Florida Straits. At 4:40 a.m. on August 24, Andrew slammed into Florida's Elliot Key and minutes later made a second landfall, at Homestead Air Force Base, just east of the city of Homestead.
In a few hours, Hurricane Andrew entered the Gulf of Mexico, reintensified, and damaged or destroyed nearly 90 offshore platforms en route to a third U.S. landfall on August 26 as a Category 3 storm, in south-central Louisiana.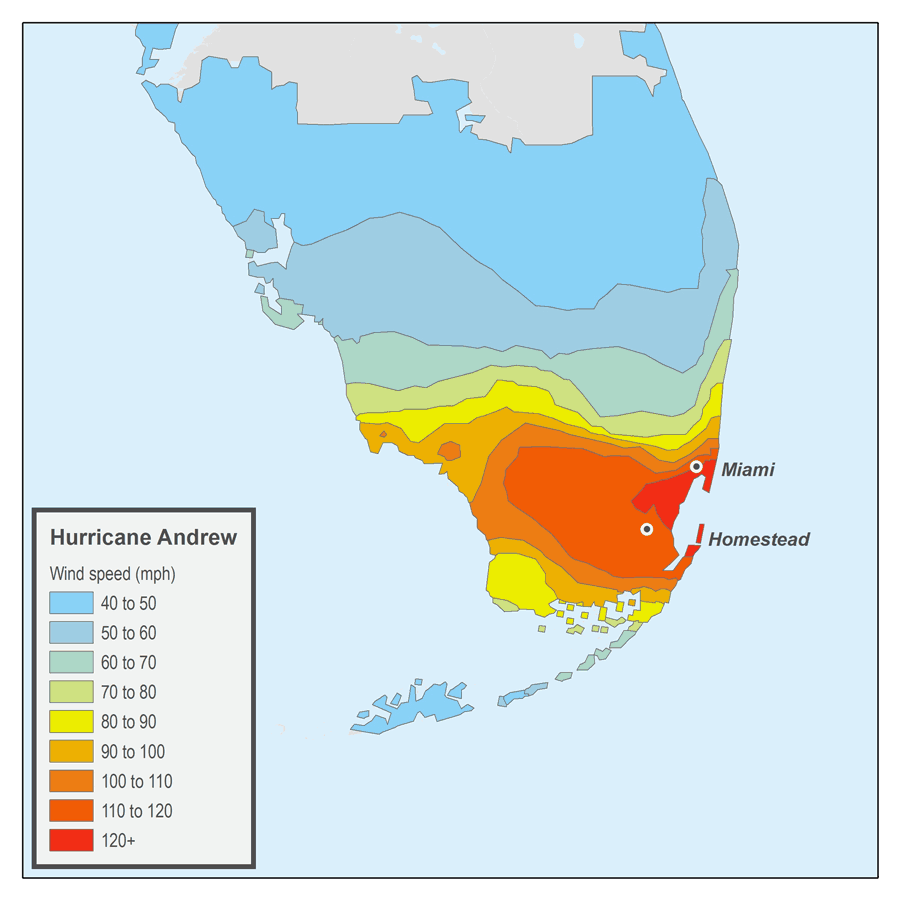 Hurricane Andrew's wind speeds and damage
After leaving four dead in the Bahamas, Hurricane Andrew made landfall in South Florida with sustained winds exceeding 160 mph, a 14-mile radius of maximum wind, and the fourth lowest central pressure of U.S. landfalling hurricanes to date, 922 mb.
In Homestead, 27 miles southwest of Miami, the compact, powerful storm stripped bare many city blocks, while destroying nearly all mobile homes and a third of site-built homes in its path. Local marinas experienced extraordinary damage, and more than 1.4 million households in the region lost power.
The most destructive hurricane to hit Florida since Hurricane Betsy in 1965 and only the third Category 5 hurricane to make U.S. landfall since 1900, Andrew devastated Dade County and caused USD 15.0 billion (1992 dollars) in insured damage statewide.1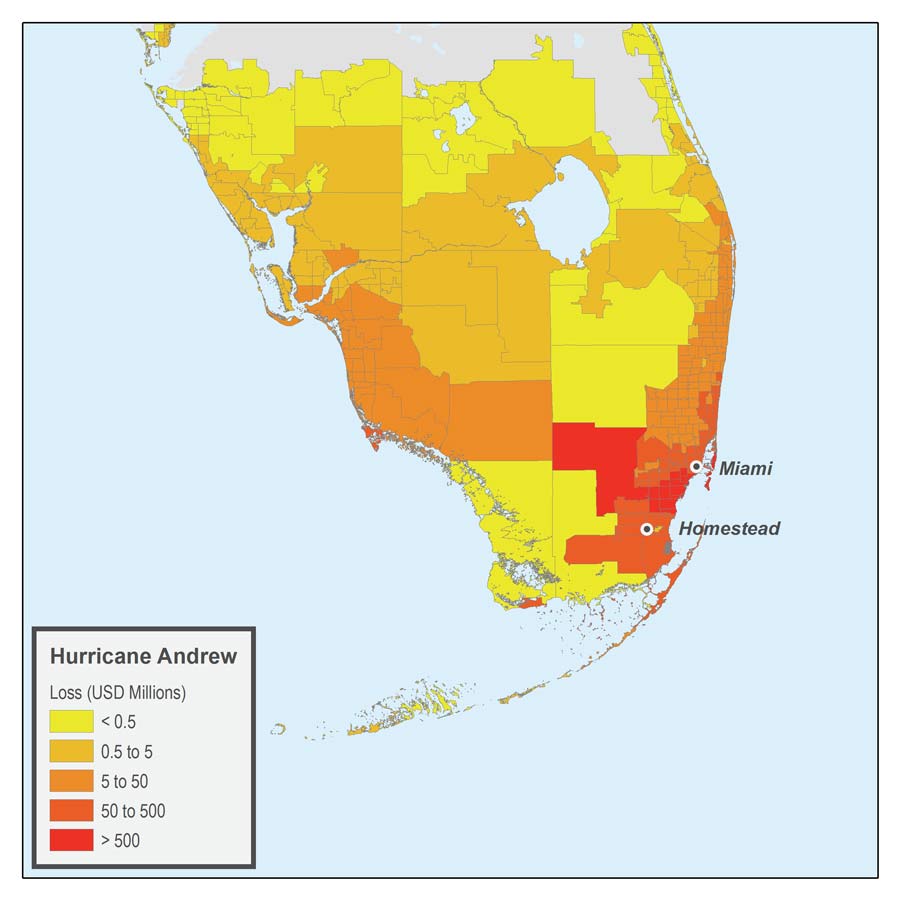 What would the losses be if Andrew occurred today?
According to the AIR Hurricane Model for the United States, were Hurricane Andrew to occur today—with today's building inventory at risk—the storm would cause an unprecedented USD 56.3 billion total loss (Florida and Louisiana combined), USD 51.7 billion in Florida alone.2 That's a 263% increase over the 1992 Andrew for total loss, a 245% increase for Florida.
While the resilience of coastal properties in Florida has risen since 1995 due to the enactment and enforcement of strict building codes, the high losses for a 2017 recurrence of Andrew reflect the extraordinary increase in the number and value of properties at risk since 1992, as well as an escalation of construction costs.
What If Hurricane Andrew Strikes Miami?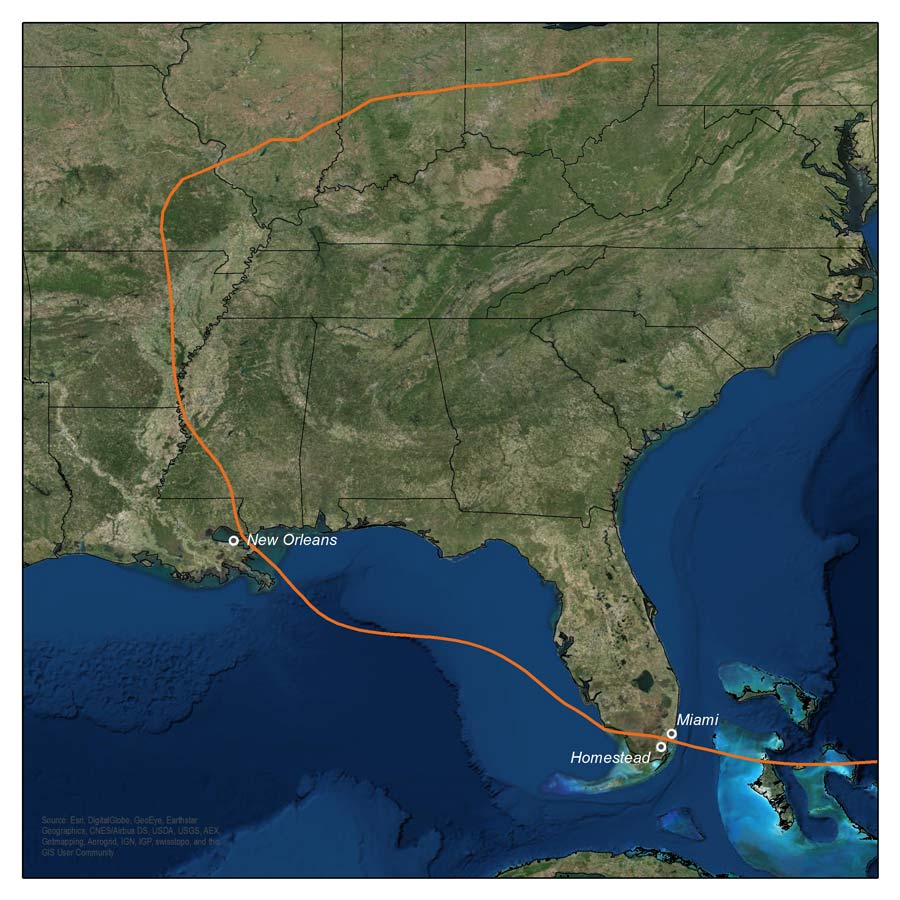 Track of a hypothetical Category 5 hurricane that makes landfall near Miami
To assess the impact of an "Andrew-like" storm on Miami, we examine one of the thousands of simulated events in the 10,000-year catalog of AIR's U.S. hurricane model.
The hypothetical storm depicted here—with meteorological parameters similar to Andrew's—forms southeast of the Bahamas in the Main Development Region for Atlantic Basin hurricanes, travels more than 500 miles west, and after passing through Biscayne Bay makes landfall as a Category 5 storm a bit south of Miami, and just 8 miles north of the real Andrew's landfall. Like Hurricane Andrew, this hypothetical storm then crosses Florida, enters the Gulf of Mexico, and proceeds to another landfall, just east of New Orleans.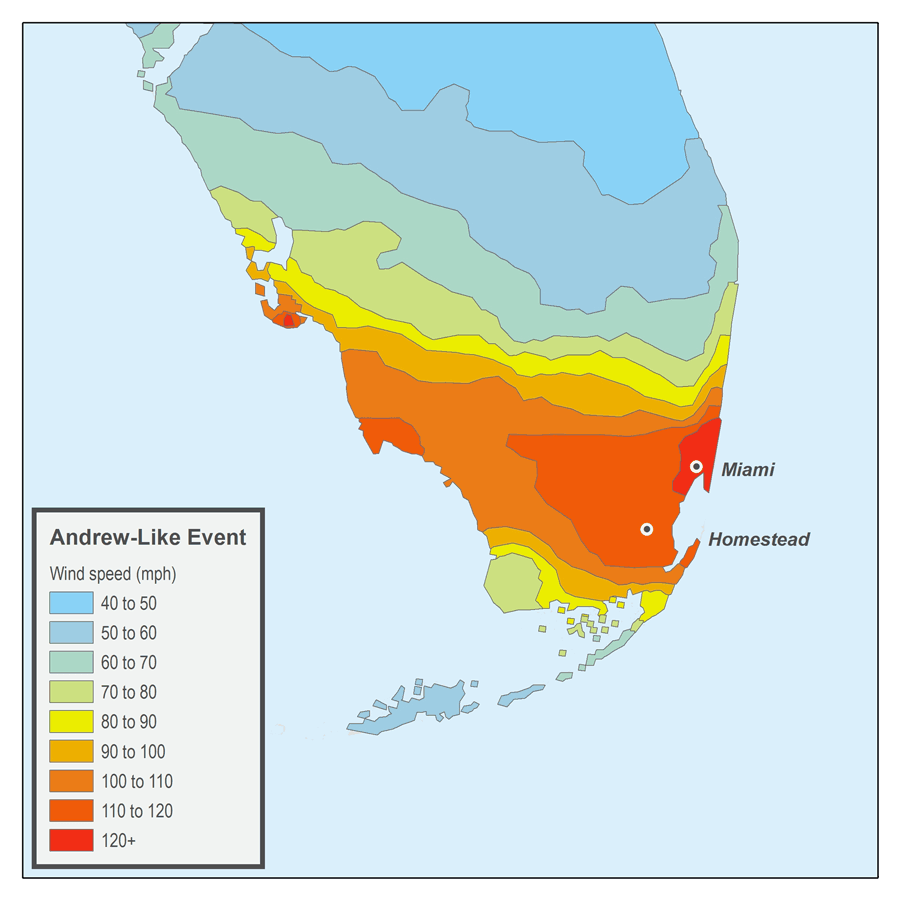 Wind speeds and affected building inventory for AIR's Andrew-like event
Our hypothetical Andrew-like hurricane comes ashore between Palmetto Bay and Pinecrest (near the city of Kendall). A Category 5 event like Andrew, the simulated storm has maximum sustained winds of 157 mph (slightly lower than Andrew's), an 18-mile radius of maximum wind (slightly larger than Andrew's), and central pressure 6 mb above Andrew's at 928 mb.
The vulnerability of property in Florida to wind and storm surge has improved considerably in the decades since Hurricane Andrew. Nevertheless, by making landfall in a densely populated coastal metropolitan area, our hypothetical storm will result in significant damage and high losses—despite being slightly less intense than Andrew.
What are the modeled losses from a Category 5 hurricane striking near Miami?
Based on today's building inventory, total loss for this Andrew-like event would exceed USD 138 billion.3 Losses in Florida alone would exceed USD 127 billion. Both figures are more than 145% greater than the losses if Hurricane Andrew were to make landfall near Homestead today.
In recent decades, as Florida has experienced phenomenal population growth, the insured value of coastal property has doubled every 10 years, resulting in an exponential growth of property at risk. For Miami, a densely populated city with insured property concentrated on a narrow strip of land hard against the Atlantic Ocean and practically at sea level, the potential loss from an Andrew-like storm is staggering.
Read "The Coastline at Risk: 2016 Update to the Estimated Insured Value of U.S. Coastal Properties"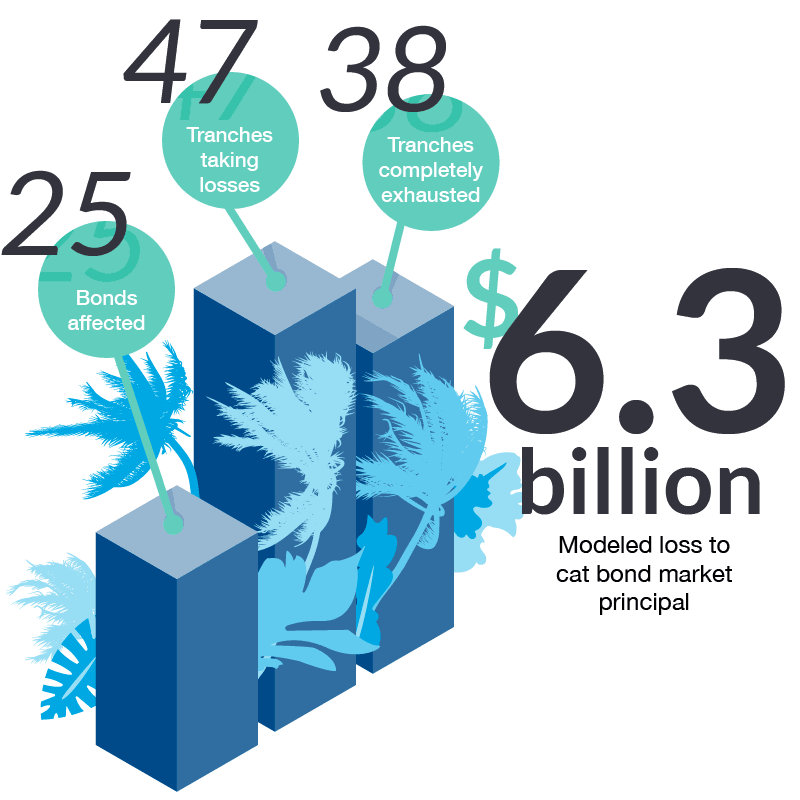 How would this Andrew-like hurricane impact the ILS market?
A major hurricane forecast to strike Miami—or any metropolitan area along the U.S. coastline—would prompt immediate activity in the marketplace for insurance-linked securities (ILS): catastrophe bonds, industry loss warranties, sidecars, and collateralized reinsurance. To project potential ILS losses for catastrophic events, AIR, a cat bond modeling agent, employs a detailed ILS database in concert with our models.
For this Andrew-like Category 5 Miami hurricane, we project a total loss to the cat bond market principal of USD 6.3 billion. Twenty-five of the catastrophe bonds currently in the market would be impacted.
Read "Uncovering Florida Hurricane Risk with the Catastrophe Bond Database"
Hurricane Andrew and the promise of catastrophe modeling
The catastrophe modeling framework AIR established five years before Hurricane Andrew made landfall continues to be the industry standard for helping companies assess and manage extreme event risk. Today—enabled by exponentially larger data sets and computational power—companies can assess the frequency and severity of an ever broader range of perils across the globe. Yet back in Florida, what do we make of the ongoing "drought" of major U.S. hurricane landfalls? At some point the drought will end, that we do know, and a dangerous, destructive Hurricane Andrew forever remains a possibility.
For more information:
AIR Hurricane Model for the United States
AIR Solutions for ILS Investors
So You Want to Issue a Cat Bond
1 USD 15.5 billion total insured loss from PCS, USD 15.0 billion in Florida and USD 500 million in Louisiana.
2 Modeled losses for Hurricane Andrew today and for an Andrew-like hurricane making landfall near Miami (shown elsewhere on this webpage) are based on today's building inventory. The losses assume that large commercial properties are 100% insured against storm surge damage but that only 5% of storm surge losses to homes and small business are covered. The loss estimates include the expected increases in the costs of labor and materials necessary to repair or rebuild properties in the aftermath of a large storm (see "What Demand Surge Might Look Like in This Year's Hurricane Season").
3 See note 2.