Canada, We've Got You Covered
From coast to coast and from the U.S. border to 60° North, AIR's state-of-the-science atmospheric peril models for Canada are designed to meet your risk management needs. Whether you insure locations exposed to straight-line wind, hail, and tornadoes resulting from severe thunderstorms, or winter precipitation (snow, ice pellets, and freezing rain), freezing temperatures, and wind resulting from winter storms, or tropical cyclone winds—or all of the above—AIR has you covered.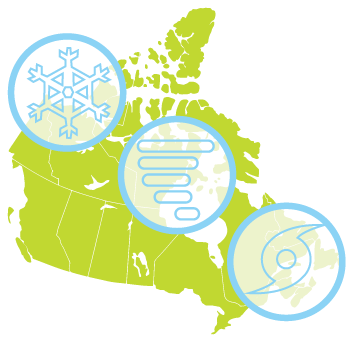 AIR's Canada atmospheric peril models support effective underwriting decisions. With AIR models, you can:
Develop robust portfolio- and location-level loss estimates based on the latest research in atmospheric science
Prepare for both the large loss events and for the accumulation of multiple hits to the bottom line in a single season
Explore "what-if" scenarios by analyzing the impact of historical events and Extreme Disaster Scenarios (EDS) on your present-day exposures
Canada's building stock is diverse, and it changes over time due to evolving building codes and practices. With AIR models, you can:
Explicitly capture regional variations in vulnerability
Account for construction material, occupancy type, building height, and age using damage functions that capture the unique damage mechanisms of each peril
Leverage the expertise not only of AIR engineers, but of local researchers and research institutions
Output from AIR's Canada atmospheric peril Models—the currency by which catastrophe risk in Canada is transferred—supports financial stability for primary insurers, brokers, and reinsurers today, tomorrow, and beyond.