As far as catastrophes are concerned in the U.S., aside from the COVID-19 pandemic and record number of hurricanes, 2020 will be remembered for wildfires in the western states. At least 37 lives have been lost, and according to the National Interagency Fire Center 14,716 structures have been destroyed to date. Wildfires in California, Colorado, Oregon, Arizona, and Washington have been making headlines, but it is not the number of major incidents that is grabbing attention so much as their size.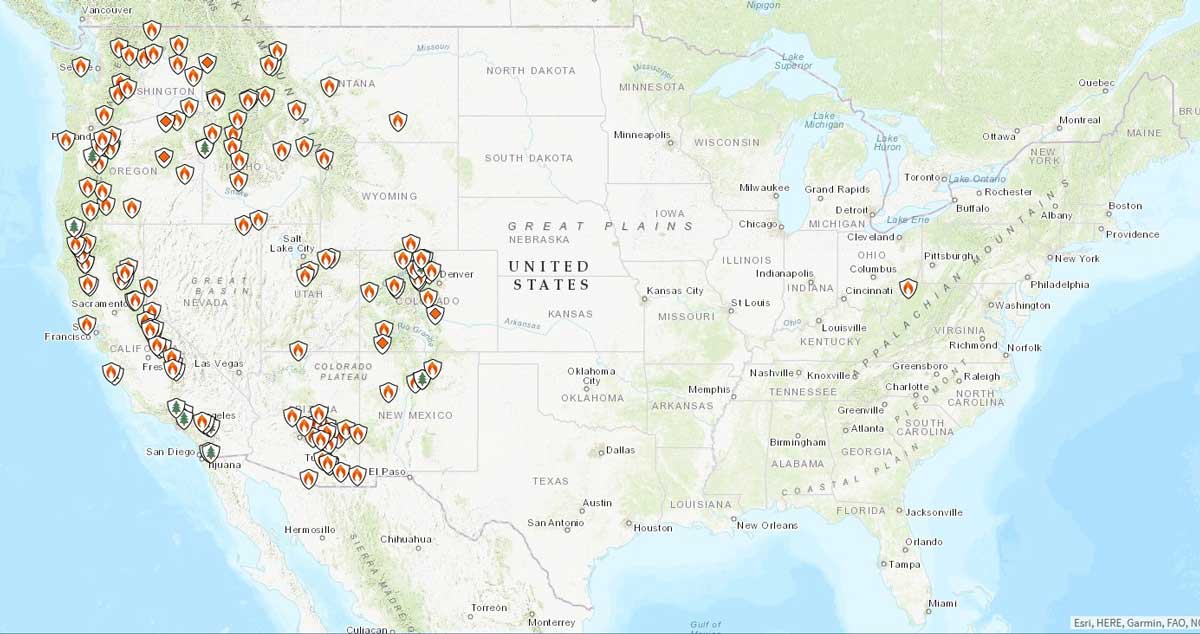 To November 13, 2020, a total of 49,815 fires across the U.S. have burned 8,750,197 acres according to the National Interagency Fire Center, while the 10-year average to the same date is 53,522 fires and 6,539,980 acres. Within California alone 7,507 fires had consumed 1,490,872 acres by November 8 according to the California Department of Forestry and Fire Protection (CAL FIRE), against a five-year average for the same interval of 7,415 fires and just 870,494 acres. In terms of the acreage burnt, 2020 owns 3 of the top 4 and 5 of the top 10 of California's biggest fires on record since records started being kept in 1932. Four wildfires from Colorado's particularly bad season have also broken state records for their size:
Why are there so many large wildfires this year?
What is it about 2020 that has contributed to the number and size of the wildfires experienced? Several environmental factors affect wildfire behavior. Topography is a factor, for example, as fire spreads faster upslope than on flat ground or downslope, and a slope's exposure to wind increases a fire's likelihood of spreading. Topography and/or a remote location can also hinder suppression. The principal contributors to wildfire activity, however, are atmospheric conditions and fuel supply. These factors are highly variable and can combine in many ways to create conditions that can promote fire number and size in some years, but less so in others.
When hot weather and dry conditions meet abundant fuel in the form of parched vegetation there is a high risk that any available sparks will ignite wildfires. Strong and gusty winds can then fan the flames and expand the footprint of the blazes alarmingly and quickly. These factors aligned in 2020 to create ideal conditions for the development of huge "mega" (100,000-acre ) wildfires and one "giga" (1,000,000-acre) wildfire as the August Complex Fire in California consumed 1,032,648 acres.
Heat and Drought
Drought is often blamed for drying out the fuel that wildfires consume, but it is the combination of wet and dry periods experienced that matters. Wildfires commonly occur in areas where the climate provides sufficient precipitation for trees or other vegetation to grow, yet also produces extended periods of relatively low precipitation and humidity and high temperatures. These hot and dry periods allow fallen branches, leaves, scrub vegetation, and grasses to dry out to become an extremely flammable fuel load.
Particularly warm and dry seasons predispose areas with existing fuel to added fire risk. From late 2019 into early 2020 the Western U.S. experienced record dry weather and the summer saw some record-breaking temperatures. Recognizing the risk, California's governor declared a state of emergency as early as March 22.
Wind
Wind is a significant driver of wildfire, as its speed, direction, and seasonality all have an impact on fire development and movement. Downslope wind systems, for example, move large masses of air rapidly, drying vegetation as they travel. The Western U.S. experiences several downslope wind systems, in particular the Chinook winds from the Rocky Mountains, the Sundowner winds near Santa Barbara, and the Santa Ana and Diablo winds in Southern and Northern California, respectively. These winds can have a major impact on wildfire development and spread.
High winds have been a significant factor throughout the 2020 wildfire season. Significantly, a heat wave combined with Diablo and Santa Ana winds grew California wildfires dramatically in early September.
Lightning
Most damaging wildfires are caused by humans, usually accidentally; downed power lines, ruptured gas mains, campfires, sparks near roadways caused by traveling vehicles, discarded cigarettes, and arson are common culprits. The principal natural cause of wildland ignitions is lightning—a major feature of the season in 2020.
Human-caused ignitions occur in places where humans are, but lightning can strike anywhere in the wildlands. It can spark multiple ignitions in remote areas and these can grow together to form huge wildfires before suppression can be attempted. In August, intense lightning storms ignited numerous wildfires across California, Oregon, and Washington. A growing La Niña and moisture remnants from Tropical Storm Fausto fueled the weather system of the California coast that brought the lightning. These massive storms produced an enormous number of lightning strikes, perhaps 12,000 of them, but delivered little or no rain with them to quell the resulting ignitions. On average, more than 10,000 lightning-caused fires are reported annually in the U.S.
Is Climate Change to Blame?
Will the number of lightning-caused fires increase? Maybe, as temperatures rise, more lightning storms may occur. More certain is that, as temperatures increase, many areas of the country characterized by dry climates will get drier. A lot of recent wildfire-climate research has focused on the dependence of annual area burned to aridity.
While there are various metrics for dryness, one that shows high correlation to wildfire is called vapor-pressure deficit, or VPD for short. The term is a measure of the difference between how much moisture can be in the atmosphere before it saturates and how much moisture there actually is. As climate change continues and as air temperatures increase, the amount of vapor that can be in the atmosphere increases exponentially. But because of regional weather patterns the amount of moisture that actually exists is less, and the deficit (VPD) has been growing. But there has to be more to the story, as some rain will have to fall to grow new fuel to replace what has burned.
El Niño and La Niña have been providing that ideal pattern of climate variability for vegetation growth and fuel conversion, respectively. Since 1970, this global climate controlling tandem has been amplifying and becoming more frequent. There have been four big El Niño/La Niña events since 1972. The last one before that was in 1902. The most recent and strongest was in 2015-16 and could have paved the way for the most recent active wildfire period.
Studies now are showing that climate change may exacerbate the effects of this one-two punch, if not make the punch itself more powerful. The high-pressure ridge that develops over the Western U.S. during La Niñas and promotes the drying also enhances Santa Ana winds; it can also bring storms within lightning striking distance of the West Coast as we saw happen in August of this year.
When Conditions Align
Together, weather, human activity, and fuel availability control wildfire activity. Weather drives the growing season and determines how dry those fuels will be during fire season, which affects their ignitability. Environmental conditions and the severity of wildfire seasons exhibit similar inter-seasonal variability. In some years, such as 2020, the contributing factors align to foment the conditions for extremely bad wildfire seasons to occur, while in other years such as 2019 they don't. The most dangerous part of any season is generally the fall, when fuel has had ample opportunity to dry out and seasonal winds are at their most active.
Despite continued development within the Wildland/Urban Interface (WUI) most wildfires still occur away from concentrations of exposure and large fires often result in little in the way of losses. Huge "giga" wildfires may seem like a recent phenomenon, but recent history is not necessarily as record-breaking as it may seem. Apples-to-apples comparisons of fires from the distant past and today are difficult because landscape, vegetation, fire suppression practices, and the amount of property in wildlands have changed. But as serious as the 2017, 2018, and 2020 wildfire seasons may look, they are not as bad as many other years since 1850, at least in terms of acres burned and lives lost.

Listen to the AIR webinar "Impacts of Climate Change and Forest Management on the Western Wildfires"