Fire management professionals in California and other western states are sounding the alarm that this wildfire season has the potential to be among the worst in recent years. 
That alarm is sounded almost every year. 
Nevertheless, although the inland western states have had a reprieve from record loss-causing events earlier this decade, the coastal states of Washington, Oregon, and California are experiencing numerous and severe wildfires. Hundreds of homes have been destroyed by several fires in each of those states.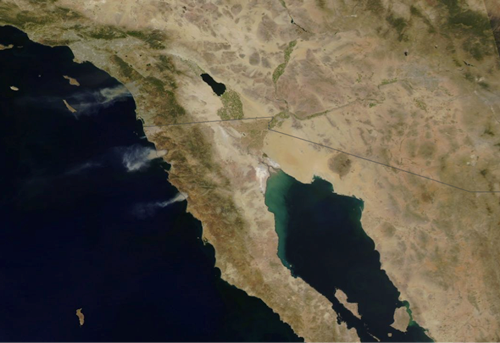 Satellite image of the May 2014 California wildfires in Southern California, taken on May 15, 2014. (Source: NASA)
As of mid-September, the California Department of Forestry and Fire Protection reported that this year's fire season in California is "on track to be the most destructive on record. "This statement, while true, is not particularly useful. While it may well be the case that the number of homes destroyed since May (the traditional start of the California wildfire season) is greater than the number of homes destroyed between May and mid-September of any other year on record, extrapolating from those hundreds of homes destroyed so far to the thousands it would take to match the devastating 2003 season, for example, is tendentious.
Cedar and Old, the two most destructive fires that year, are both still among the top five loss-causing fires in United States history. Both ignited on October 25-near the end of the month that traditionally marks the end of wildfire season. Together, they destroyed more than 3,000 homes.
Some of the conditions necessary for such destructive wildfires again exist this year-high temperatures, low humidity, and vegetation dry from several years of drought. Together, these circumstances provide a setting in which catastrophic wildfires can occur, but, mercifully, they are not sufficient to determine that such fires will occur.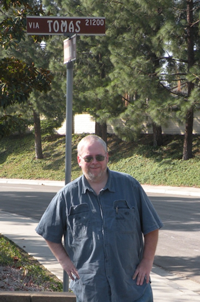 Taking a break from surveying damage after the 2008 California fires on a street named for me! (Source: AIR's
Scott Stransky
)
For that, two more things would need to happen more or less simultaneously. First, a fire must ignite in that dry vegetation, but close to many homes-typically, in the so-called wildland-urban interface (WUI). Second, extreme winds must fan the fire to whip it into a conflagration that firefighters cannot control.
Typically, such extreme winds, called 'Santa Anas,' occur only a few times during the October peak of the California fire season, and then only for a few days. It is only when fires are driven by such extreme winds that they are able to overrun efforts by firefighters to control them.
We can predict with near certainty that high temperatures, low humidity, and readily combustible vegetation will persist through the end of the wildfire season. We can anticipate the likelihood of extreme winds. However, the part of the puzzle that is most difficult to prognosticate is fire ignitions. 
Expert estimates vary, but it is commonly thought that about half of all-and more than half of property-damaging-wildfires are caused, either deliberately or accidentally, by people. In the words of historian Stephen J. Pyne, wildfires are caused by "lightning, clumsies, and crazies."