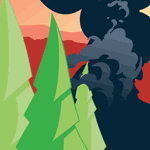 We are now at the mid-point in the California wildfire season, and what a season it has been. Typically, about 10,000 wildfires occur annually in the state, but the frequency of fire ignitions increases rather sharply during the dry and windy months of July and August. If there is fuel available, all that is needed to start a wildfire is a spark. Most of these blazes are relatively small in scale, but some can grow into massive events.
Record-setting wildfire losses were experienced in 2017 and this year's season is already seeing historic levels of damage. Last Friday, crews were battling 12 large fires in the state. The Ferguson Fire in Mariposa County, for example, had consumed 95,000 acres by August 9 and was 79% contained, but others like the 10,000-acre Holy Fire in Orange and Riverside counties were raging largely unchecked.
The wildfire making the biggest headlines is a combination of two blazes, the Ranch Fire—now the largest wildfire in state history—and the much smaller River Fire. Together, they are known as the Mendocino Complex Fire. The state's previous largest fire occurred barely eight months ago, starting in December 2017, when the Thomas Fire burned for five weeks. It consumed roughly 282,000 acres in Santa Barbara and Ventura counties and destroyed about 1,000 homes and other structures. 
The Mendocino Complex Fire
As of yesterday, the Mendocino Complex Fire had consumed a staggering 328,266 acres—roughly 513 square miles. According to CALFIRE, late last week more than 4,000 firefighters were combatting it with the help of 404 engines, 93 water tenders, 84 bulldozers, and 19 helicopters. CALFIRE reported yesterday that 139 homes and 119 other structures have been destroyed, that 13 homes and 24 other buildings have been damaged, and that 1,525 structures were still threatened. With firefighters increasingly getting the upper hand, the fires are expected to be fully contained by September 1.
The United States has experienced much larger wildfires than the Mendocino Complex Fire in the past. The Great Peshtigo Fire burned 3.8 million acres in northern Wisconsin and the Upper Peninsula of Michigan in 1871, for example, and the Great Fire of 1910 (sometimes known as the "Big Burn") consumed more than 3 million acres in Idaho, Montana, and Washington, destroying an area about the size of Connecticut. It was in response to this last event that the federal government established its wildfire policy focused on immediate human intervention and suppression, while ignoring the complementary management of the gradual accumulation of flammable material.
The scale of the Mendocino Complex Fire is stunning, but relatively little property has been destroyed and insured losses are likely to be correspondingly minor. Smaller wildfires impacting areas where urban expansion penetrates undeveloped wilderness in what is known as the Wildland-Urban Interface (WUI) can result in much more significant losses. The most destructive wildfire of this type in California history was the Tubbs Fire of October 2017, which burned parts of Napa, Sonoma, and Lake counties in Northern California, including parts of the city of Santa Rosa. Some 5,643 structures, including 2,800 homes in Santa Rosa, were lost.
It is comforting to know that of the many wildfire incidents during a typical year in California, most occur on uninhabited land far from the WUI, and only about 20 usually result in any significant property loss. Given the scale of destruction in the state already this year, it is less comforting to note, however, that thanks to the hot, dry, and fast-moving Santa Ana/Diablo winds, the state's most damaging fires often occur in the fall, typically in late October. Let's hope these winds don't catch any sparks.

Get a complete view of wildfire risk across 13 western states with AIR's Wildfire Model for the United States