The western United States in general has several characteristics that make it particularly prone to wildfires. The region usually receives sufficient precipitation to support vegetation growth, but also experiences extended warm, dry seasons. This pattern provides an ample growing season to accumulate fuels and then dries them out.
In addition, the various mountain ranges produce strong wind patterns. These sustained winds help wildfires develop and spread. Finally, populated areas in this part of the country are commonly separated by vast wildlands. Large forested areas and grasslands occupy the wildlands, serving as huge fuel supplies. The distances between developed areas allow wildfires to become quite large before they are reported or suppressed.
Colorado's Largest Wildfire
With wildfires in California hitting the headlines so frequently of late it is easy to overlook that other parts of the U.S. are highly vulnerable to this peril also. Colorado in particular has been experiencing another bad wildfire season this year. There are currently four major fires burning in the state as well as several smaller blazes.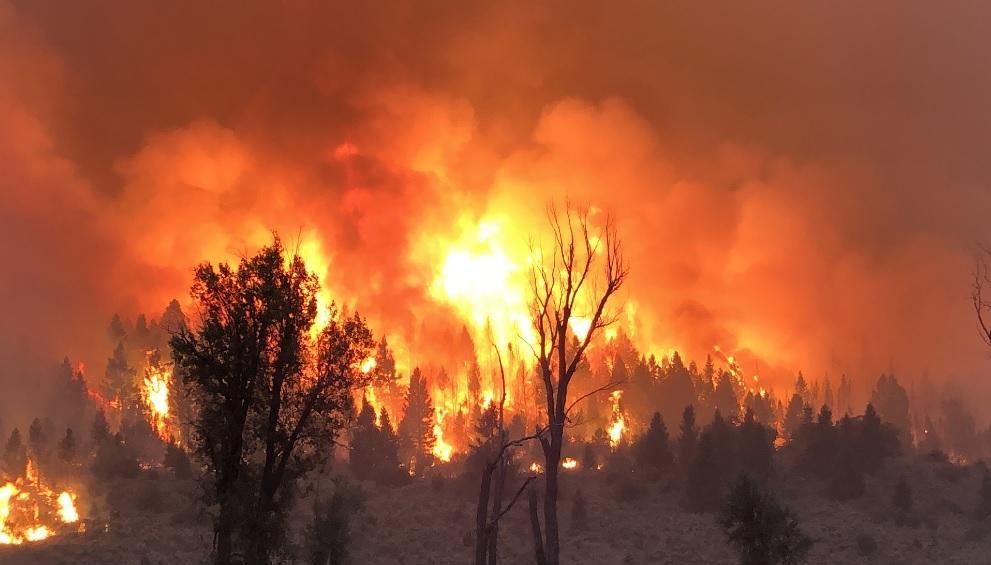 The Pine Gulch Fire, one of the wildfires currently active in Colorado, started 18 miles north of Grand Junction on July 31 and has now consumed more than 139,000 acres. On August 27 it became the largest wildfire in the state's history, surpassing the 2002 Hayman Fire that burned 137,760 acres near Colorado Springs and destroyed 133 residences, one commercial building, and 466 other structures. The Hayman Fire was, like so many wildfires, caused by human activity, but the Pine Gulch Fire was ignited by lightning.
Low snowpack and/or drought conditions often signal bad wildfire seasons in Colorado. Last winter's snowpack was slightly above average in many parts of the state but, as in several recent years, most of the state has been experiencing extreme drought conditions for much of this year. The drought conditions, hot weather, steep slopes, and the remote location of the Pine Gulch Fire combined to make its suppression extremely challenging. The fire has burned for weeks, and on the night of August 18 a thunderstorm brought winds up to 40 mph that fanned the flames and torched an additional 30,000 acres overnight. Since then firefighters have managed to contain the fire incrementally and at the time of writing the Bureau of Land Management is reporting that it is 83% contained.
Growing Wildland Urban Interface
As we noted in an earlier blog, according to the National Interagency Fire Center (NIFC) about 70,000 wildfires occur each year in the U.S. Most of these are small fires occuring—like the Pine Gulch Fire—in remote wildland areas where there is little or no exposure at risk. Of these 70,000 wildfires, on average only about 20 or so result in any significant property loss or impact upon the insurance industry. Despite the huge scale of the Pine Gulch Fire, for example, little property damage has been noted. There have been road closures and evacuations, but only one residence and four minor structures were reported to have been destroyed and no lives have been lost. FireLine®, Verisk's wildfire risk management tool, is guiding analysis of risk factors seen within and around the Pine Gulch Fire's perimeter. More than 97 percent of the area affected by the Pine Gulch fire is at risk, and approximately 90 percent of the area is in high to extreme risk categories.
If it reaches them, however, wildfire can cause tremendous damage to exposures in Wildland/Urban Interface (WUI) areas. This was dramatically demonstrated in 2016 when wildfire devastated Fort McMurray in Alberta, Canada. Development within the WUI continues unabated nevertheless. In recent years, the United States has experienced rapid WUI growth—particularly in the western states, according to data from the United States Forest Service (USFS). And in 2018 the Colorado State Forest Service reported data indicating that nearly half of the state's population now lives in areas at risk from wildfires—an increase of almost a 50% in only five years. The higher number is explained largely by the growing number of people living in the state's WUI areas, but also by the use of more refined data in assessing risk and changes in land use and vegetation. Loss-causing wildfire events are estimated to occur in Mesa County approximately one in every five years.
Data suggests an upward trend in insured losses over the last two decades, despite the fact that the frequency of wildfires in the United States has been relatively steady, which indicates that the increase in insured losses from wildfires is driven primarily by an increase in the number and value of exposed properties in high-risk areas. Considering the continued exposure growth in the WUI in Colorado and elsewhere, the wildfire risk to lives and property in these areas is only going to increase.

Learn more about Verisk's wildfire solutions