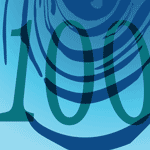 For the last two weeks or so southwestern India has seen unusually heavy precipitation and major flooding. Heavy rainfall began on August 8, and since then the state of Kerala has experienced its worst flooding in almost a century. At least 370 people have died, 1 million or so have been displaced, and more than 3,000 camps have been opened. The region last experienced a disaster on this scale in 1924, when 3,368 mm (132 inches) of monsoon rain fell and more than 1,000 people lost their lives.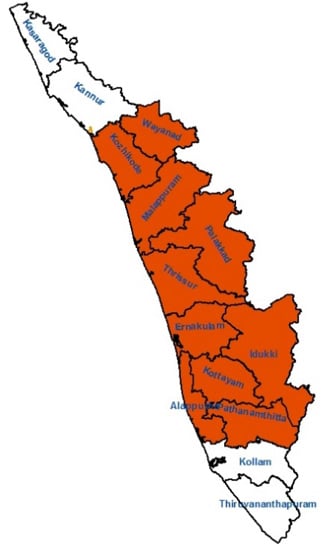 Preliminary estimates of damage released by the National Disaster Management Authority (NDMA) indicate that 776 villages were impacted, 1,398 houses destroyed, 20,148 homes damaged, 537 landslides were reported, and 54,000 hectares of crops affected. The state government has reported damage to electrical infrastructure, 10,000 km of roads, and 221 bridges; it has estimated that the damage to crops and properties across the state will be more than Rs. 20,000 crores (USD 3 billion).
Severe Monsoon Rainfall
The southwest monsoon has been exceptionally strong over the state of Kerala this year. In the second and third weeks of August all 14 districts in the state were placed on high alert. Between August 13 and 16 in many places, the equivalent of about 15 days of rain fell in 40 to 50 hours, thus many places received seven to nine times more than the typical rainfall in a matter of days. The greatest amount of precipitation was recorded in the district of Idukki.
Most of the state's many rivers flow west toward the Arabian Sea. During this event the Central Water Commission (CWC) observed water levels at 19 stream gauge stations. We performed an analysis, converting observed peak water levels at each of these stations into flows based on the rating curves developed by AIR. We found that water levels at 14 of these stream gauge stations—located within the 10 most affected districts—crossed the 100-year recurrence interval and that most of the peaks were observed to have occurred around August 17. We produced 100-year recurrence interval flood depths for the 10 most affected districts along with a plot of water levels and flows from August 1 to 20 at each stream gauge station.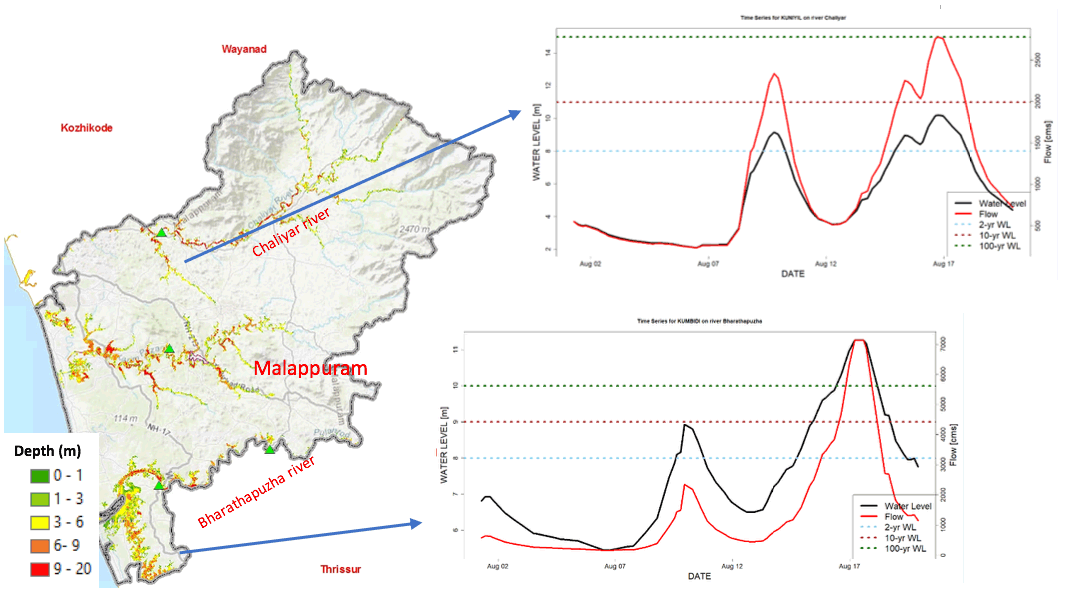 Bhuvan, the Indian Space Research Organisation's geo-platform, published inundation extents for the five districts of Thrissur, Ernakulam, Alappuzha, Kottayam, and Pathanamthitta. Their observed flood extents compare well with the modeled AIR 100-year flood extents.

Dams Added to the Flow
As the level of water within dams rose during this flood event, the state was forced to open the overflow gates of most of its 42 dams—many for the first time. On August 10 the Idamalayar Dam released around 167 cumecs of water (a cumec is a unit of flow equal to one cubic meter of water per second). This increased the water level in the Periyar—one of the state's major rivers—by 1 to 1.5 meters and an orange alert was issued. Five days later the Mullaperiyar Dam released around 127 cumecs, the Idamalayar Dam released around 1,000 cumecs, and all five overflow gates of the Idukki Dam were opened for the first time in 26 years, discharging around 1,200 cumecs. The huge amount of water released from these dams caused or exacerbated widespread flooding downstream along the Periyar. All of the towns along the river started flooding, with Aluva, Ellakkal, and Keerithode among the worst affected. It has been suggested that earlier releases in response to weather warnings may have impacted the inundation experienced downstream less.
Read the blog "Flood Hazard Maps for India Empower Informed Risk-Based Pricing"