Any Category 3 hurricane making landfall at or near a major city is likely to cause devastating wind damage. In financial terms Hurricane Katrina was one of the costliest tropical cyclones to strike the U.S., but the 1,800 lives lost are what truly make it persist in our memories.
Katrina came ashore on August 29, 2005, as a huge Category 3 storm (having weakened from Category 5), with sustained 125 mph winds moving forward at just 8 to 9 mph. Its central pressure of 920 millibars (mb) at landfall made it the third most intense U.S. landfalling hurricane on record at the time and the seventh most intense Atlantic hurricane. Owing to its great size and slow forward motion, Katrina brought heavy rainfall—the highest total recorded in Louisiana was almost 15 inches—to a wide swath of the eastern part of the state.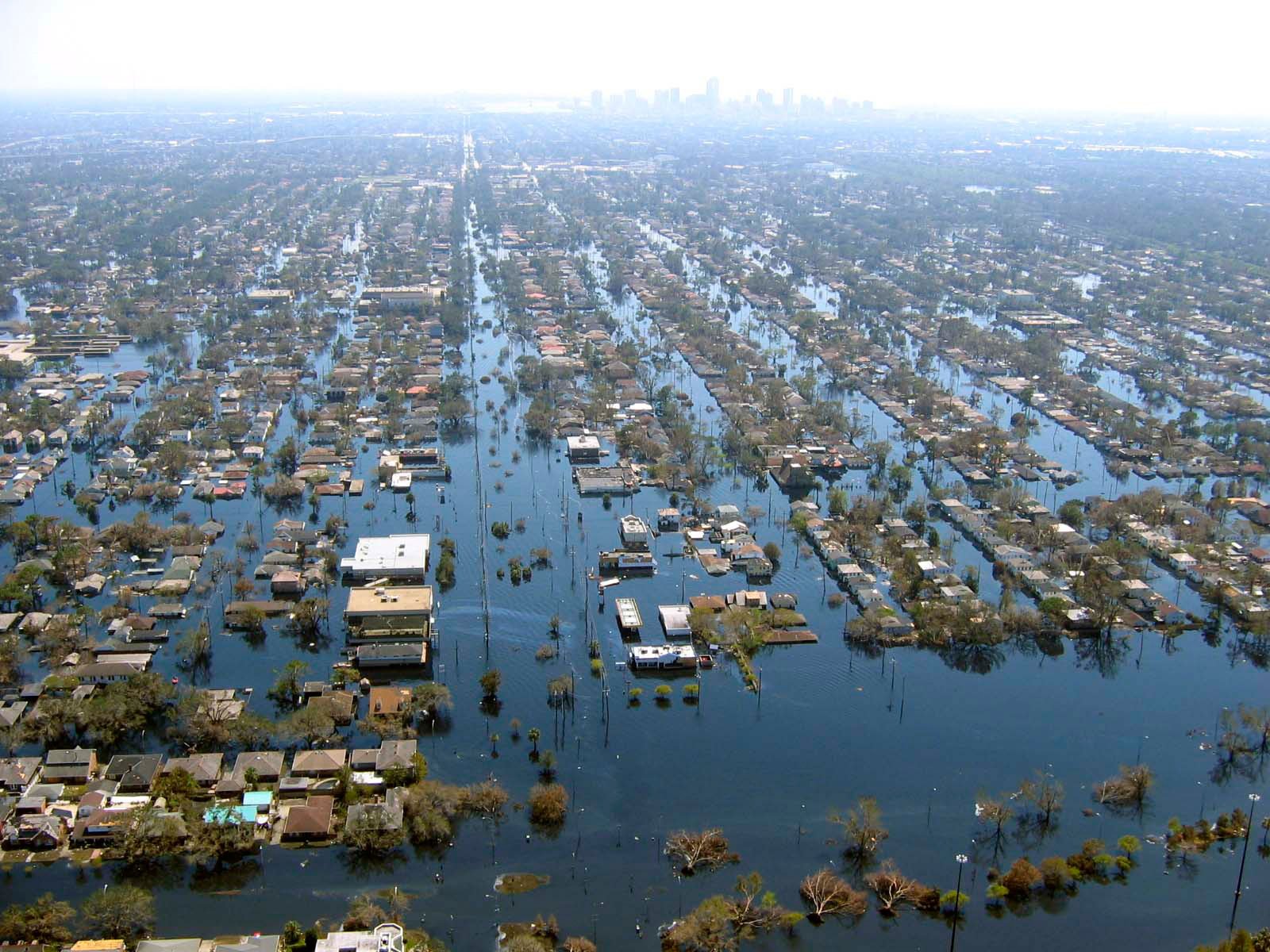 Katrina built up an enormous storm surge ahead of itself as it approached the Gulf Coast. Data indicates a maximum surge of 26 to 28 feet along the Mississippi coast, while the estimated surge in southeastern Louisiana near New Orleans reached 10 to 15 feet. Katrina was not a direct hit on New Orleans, but its passage just 25 miles east pushed water southward across Lake Pontchartrain and directly toward it.
Katrina was a disaster waiting to happen. New Orleans is a famously low-lying city, about 65% of which is at or below sea level. It is hemmed in by Lake Pontchartrain, the Mississippi River, and swampland with no natural means of drainage.
Such a disaster was not unforeseen, and the city was by no means defenseless. Following major flooding caused by Hurricane Betsy in 1965, the U.S. Army Corps of Engineers (USACE) began construction of additional levees and floodwalls to create a 133-mile Greater New Orleans perimeter system with 78 pumping stations to keep floodwater away from the metro area. These defenses were designed to cope with a fast-moving Category 3 storm.
When Katrina struck 40 years later, these defenses had not been completed. Furthermore, flaws in the design of the system and substandard construction were exposed as infrastructure forming half of New Orleans' 350 miles of defenses failed or proved inadequate. In addition to floodwaters overtopping levees and floodgates failing, the system was breached in 53 locations. About 80% of the city flooded with up to 15 feet of water lying in some areas.
The inundation had begun by 5 a.m., more than an hour before Katrina made landfall, as a 9-foot storm surge breached levees in the eastern part of Orleans Parish. Some levees failed well below the level of protection they were designed to provide, and floodwalls collapsed. Most notably, a 1,000-foot breach of Industrial Canal floodwall inundated the low-lying Lower 9th Ward, 95% of which flooded. Subsidence may have played a role, with USACE reporting that levees were at lower elevations relative to sea level than their designs. Some levee heights were 2½ feet below their intended elevations. The pumping system was overwhelmed and damaged, and with additional pumps it took 43 days to remove the last of the floodwater. Almost 75% of the occupied housing in the city was damaged and more than half of the population was forced to leave.
Upgraded Again
By 2020 New Orleans' population had returned to about 80% of its pre-hurricane level and the city had substantially recovered from its ordeal. Since hurricanes Katrina and Rita (which struck the Gulf Coast less than a month later) USACE has spent more than USD 20 billion creating the Hurricane and Storm Damage Risk Reduction System (HSDRRS) for southeastern Louisiana. It includes the world's largest surge barrier of its kind and the largest drainage pump station in the world, and it is deemed "stronger and more resilient than it has ever been." This, the largest civil works project in the Corps' history has only now been declared complete.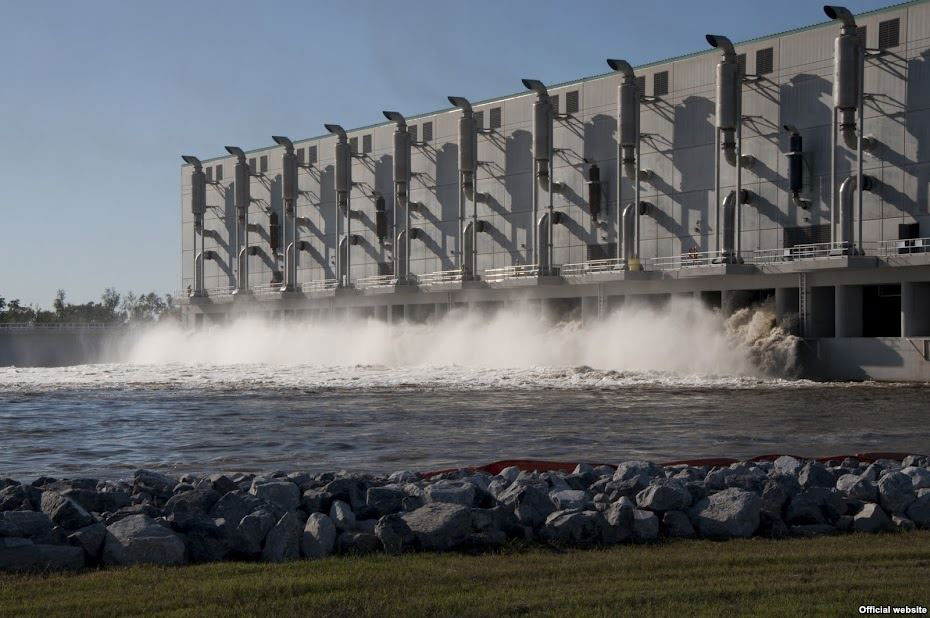 As part of HSDRRS the corps has strengthened the levees, floodwalls, gated structures, and pump stations that form the 133-mile Greater New Orleans perimeter system and improved about 70 miles of interior risk reduction structures. This work was completed in 2018 but within a year, levees were already reported to be sinking and USACE was warning that HSDRRS could stop providing adequate protection in as little as four years—by 2023—because of rising sea levels and settling levees.
Assuming they hold, flood defenses are only effective up to the level of protection they are designed to provide. HSDRRS is engineered to defend the city against a 100-year level of storm surge, but during Katrina St. Bernard Parish and the south shore of Lake Pontchartrain reportedly experienced greater storm surge. As USACE noted in 2019, if the city's defenses are not raised in height "to offset consolidation, settlement, subsidence, and sea level rise, risk to life and property in the Greater New Orleans area will progressively increase."
New Orleans experienced another major hurricane in 2021, 16 years after Katrina, when Ida made landfall on the same date (August 29) just 40 miles from where Katrina had crossed the coast. New Orleans escaped flooding from Hurricane Ida because that storm tracked west of the city and generally pushed water away from it, northward and westward across Lake Pontchartrain; no levee failures were reported. So, the flood defenses were not tested in 2021 as they were in 2005, and questions remain regarding the degree of protection they will provide when another Katrina-like storm strikes.

​ Read "Katrina 2005" for a 10-year anniversary look back—and forward—at Katrina.