For no good reason many bad things have happened around the third week of April, including noteworthy natural catastrophes. On the 14th, for example, 2.2-pound hailstones—the largest ever recorded—fell on the Gopalganj district of Bangladesh in 1986 and in 1999 Sydney was struck by an exceptionally severe hailstorm—Australia's costliest natural disaster yet. On the 15th President Abraham Lincoln was assassinated in 1865, the Titanic sank in 1912, the Boston Marathon bombing occurred in 2013, and Notre Dame in Paris was severely damaged by fire in 2019. The San Francisco earthquake and fire occurred on the 18th in 1906, and Timothy McVeigh detonated his truck bomb in Oklahoma City on the 19th in 1995.
Among the natural catastrophes that have occurred at this time of year were the M7.0 earthquake that struck Kumamoto and Oita prefectures in southern Japan on April 16, 2016, and the M7.8 earthquake that struck Ecuador's central coast on the very same day.
Kumamoto, Japan
When an M6.5 earthquake struck Kumamoto and Oita Prefectures in southern Japan late on April 14, 2016, many people—including earthquake experts—expected it to be followed by aftershocks diminishing in size. Powerful aftershocks did indeed follow, but on April 16 the region was rocked by what turned out to be the mainshock, an M7.0 quake even bigger than the first major temblor in the series. According to the USGS, this M7.0 event, also centered in the Kumamoto Prefecture, was 15.8 times stronger in its energy release than the M6.5 foreshock. A sequence of more than 1,700 perceptible earthquakes was recorded in the first two months following the April 14 foreshock.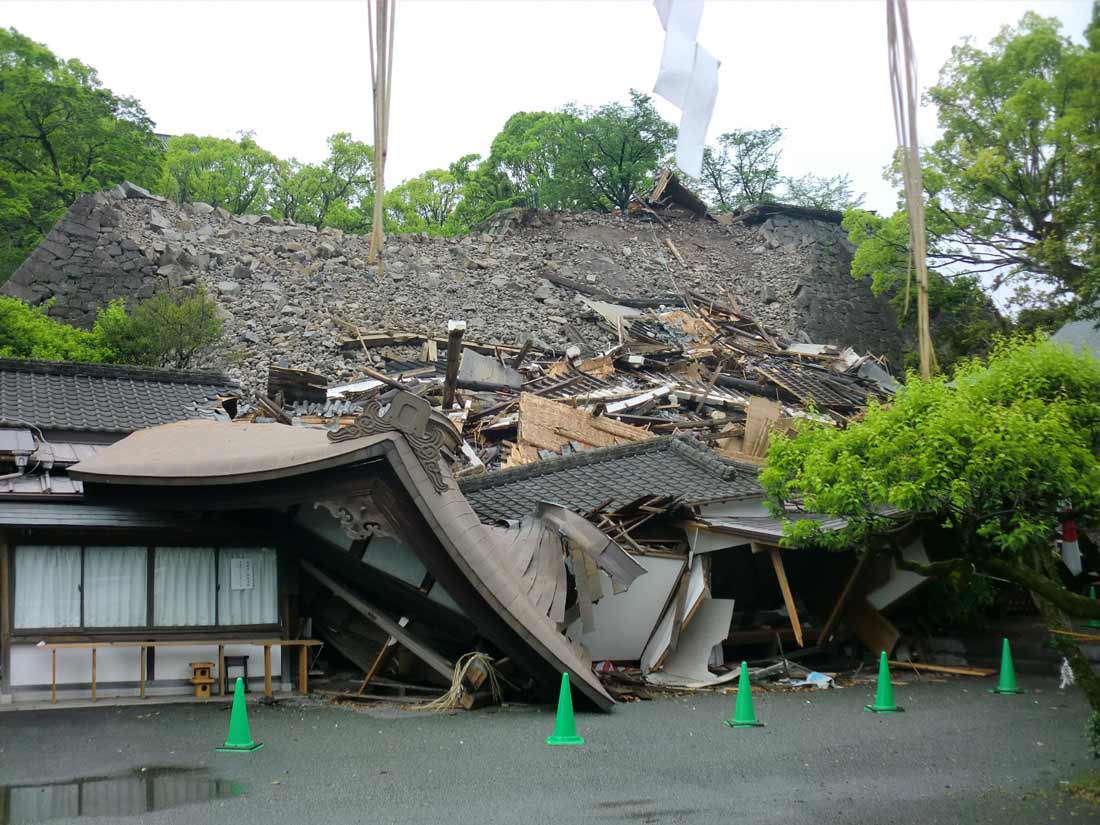 The Kumamoto earthquakes caused considerable damage to property and key infrastructure from ground shaking but also from landslides, liquefaction, and other ground failures. According to Japan's Fire and Disaster Management Agency, 8,193 residential buildings were completely destroyed, 25,328 were categorized as partly destroyed (approximately 20–70% of gross floor area or 20–50% of their main components damaged), and 122,923 were partly damaged (lighter repairs than partly destroyed structures). A total of 243 public buildings and 1,672 non-residential buildings were also damaged. Fifty-eight people were reported to have been killed in the mainshock, and more than 900 were injured. The historic Kumamoto Castle, a high-profile casualty of the shaking, will reopen to the public on April 26, 2021, after a lengthy restoration.
Ecuador
On April 16, 2016, another strong earthquake, estimated at M7.8 by the U.S. Geological Survey (USGS), struck near the coast of Ecuador at 6:58 p.m. local time at a depth of 19 km (11.8 miles). According to the USGS, the megathrust earthquake occurred as the result of shallow thrust faulting on or near the plate boundary between the Nazca and Pacific plates.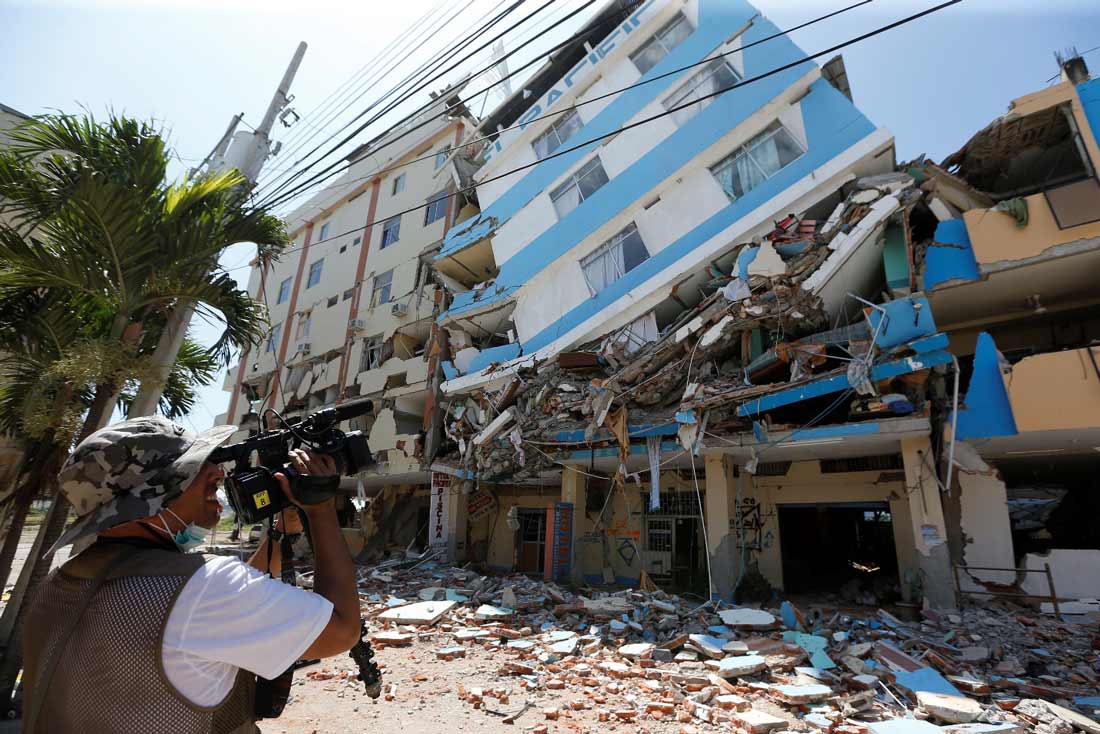 Ecuador's Secretariat for Risk Management, which is concerned with risk reduction and emergency and disaster management, reported 570 people killed and more than 4,600 injured. At least 1,100 buildings were reported to have been destroyed and more than 800 damaged. Other impacts included a lack of running water, power, and communications systems, as well as damage to highways, bridges, and the closure of Manta Airport—where a control tower collapsed. A national "State of Exception" for Ecuador and states of emergency for six of the country's worst-hit provinces—Esmeraldas, Los Ríos, Manabí, Santa Elena, Guayas, and Santo Domingo— were declared by President Rafael Correa. The earthquake was the country's worst natural disaster since the 1949 M6.4 Ambato earthquake struck Tungurahua Province killing more than 5,000 people.
Stimulus to Building Code Development
Because so many people were killed in the fires that followed the Great Kanto Earthquake of 1923, impacted cities in Japan were rebuilt with nonflammable materials. Japanese infrastructure has since been made steadily more resilient in the aftermath of major, damaging earthquakes. Kumamoto was believed to be a low-risk area, but it nevertheless contained 24 seismically isolated buildings, all of which performed well in the 2016 earthquakes. Given the state of Japanese resilience, the principal lessons learned from this event concerned improvements to the management of evacuees.
As in Japan, seismic events have triggered building code development in Ecuador. The devastating 1949 Ambato earthquake led directly to the publication of Ecuador's first design code in 1951, but because it was not enforced it had no practical impact on building design and construction quality. A second design code followed in 1977 after an M6.64 earthquake struck Esmeraldas in 1976, exposing construction and design failures attributed to inadequate enforcement of the earlier code. Two significant damaging earthquakes preceded the next code update in 2001; detailed damage surveys carried out after the second revealed several design and construction deficiencies but indicated that, in general, code enforcement was improving. And in 2011, Ecuador published its modern NEC-11 building code, which took several years to become standard engineering practice in Ecuador.
It is important to recognize that code compliance in Ecuador is largely dependent on the structure's height. Most low-rise buildings are built without the supervision of an architect or engineer, while mid-rise and high-rise buildings follow the code much more stringently. Ecuador may not yet enjoy the same standards of building code design and enforcement as Japan, but it is moving progressively in the same direction.

​ Read "After Tohoku, AIR's View of Hazard from Megathrust Earthquakes and Insights into Vulnerability to Tsunami"