After years of anticipation, preparations for the implementation of Solvency II in 2016 are now well underway in London. The Lloyd's market has been handling pre-applications for many years and Solvency II has proven influential around the world. Countries as diverse as China and Israel are looking to implement regulation modeled on it; Bermuda and Japan are working toward equivalency;and Swiss equivalency was recently approved.
To help it assess the resilience of UK (re)insurance entities and monitor how they are developing their risk and solvency assessments as Solvency II approaches, the Prudential Regulatory Authority (PRA) has developed a series of General Insurance Stress Tests (GIST).
GIST addresses potential market-wide and firm-specific issues and gauges how specific events might impact the UK insurance industry. It also checks whether individual firms have considered specific potential stresses and their impact on their Solvency II Balance Sheet. Insurers have to complete the tests by October 1,2015.
Several industry participants helped to develop GIST. AIR selected specific events for two of the tests, one focused on U.S.hurricane and the other concerning two events for extratropical cyclone and a Great Britain inland flood event.
The U.S. hurricane stress test posits a series of three major U.S. hurricanes similar to Katrina, Rita, and Wilma occurring in the same year. Such a year, in AIR's estimation, would cause roughly USD 120 billion of insured losses-a roughly 70-year return period loss on the aggregate industry EP curve.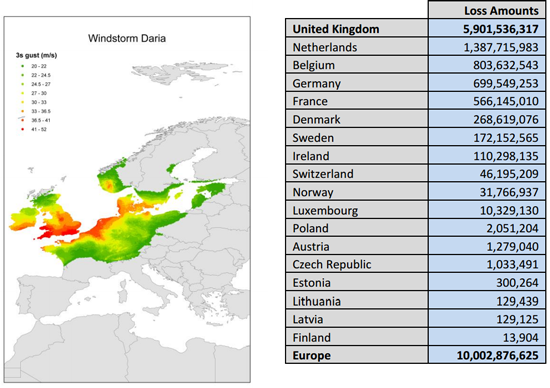 Figure 1: Snapshot from
General Insurance Stress Test 2015
showing a footprint and loss estimates by country for Windstorm Daria (1990)(Source: AIR)
The European windstorm and flood events comprise two large historical storms (1987J and Daria) along with a Great Britain inland flood occurring in the same year. Together, these events lead to a total Europe-wide modeled loss estimated by AIR to be about GBP 21 billion. AIR's unique block bootstrapping methodology realistically captures the propensity of European storms to arrive in clusters,enabling the simulation of years similar and even more severe than those specified by these GIST tests to be modeled.
In addition to the stress tests outlined above, a range of scenarios from cyber to supply chain and terrorism is covered. The terrorism scenarios for New York and London use a two-ton bomb in a medium sized box van targeting the NASDAQ Stock Market and Lloyd's,respectively. Cedants must also run this weapon scenario in Paris,Frankfurt, Hong Kong, Singapore, or Sydney, depending on where they have the most exposure.
Using concentric ring analysis in Touchstone, scenarios like these can be modeled at any location worldwide, allowing gross and net losses to be obtained after the application of deductibles, limits, facultative, treaty, and excess of loss contracts.Furthermore, in terms of identifying areas of large accumulation,Touchstone 3.0's recent release of dynamic ring analysis allows cedants to find areas of maximum exposure that can be missed using traditional grid based approaches.
As variations on Solvency II are adopted around the world, we can look forward to a more considered approach to risk quantification.