In late April 2011 a severe thunderstorm outbreak caused catastrophic destruction in states from Texas to New York and into southern Canada. In addition to delivering straight-line winds and baseball-sized hailstones, Environment Canada and NOAA's National Weather Service between them confirmed 360 tornadoes in what proved to be the largest super outbreak on record. Tornadoes were reported on April 25, 26, 27, and 28, with a record number of 190 twisters confirmed within 24 hours April 27–28—four of them given the highest ranking on the Enhanced Fujita scale, EF-5.
The most severely damaging of these was an EF-4 tornado in Alabama with winds of at least 190 mph that struck Tuscaloosa, Birmingham' s northern and western suburbs, and the communities between them on April 27. Nine violent tornadoes touched down in Alabama on that day, two of them massive EF-5 tornadoes. The tornado that struck Tuscaloosa killed 65 people and injured 1,500. Tornadoes have many forms, but this one cut a wide swath. The width of its path varied as it progressed as did its wind speeds, but it left an uninterrupted trail of damage 80 miles long and as wide as a mile and a half.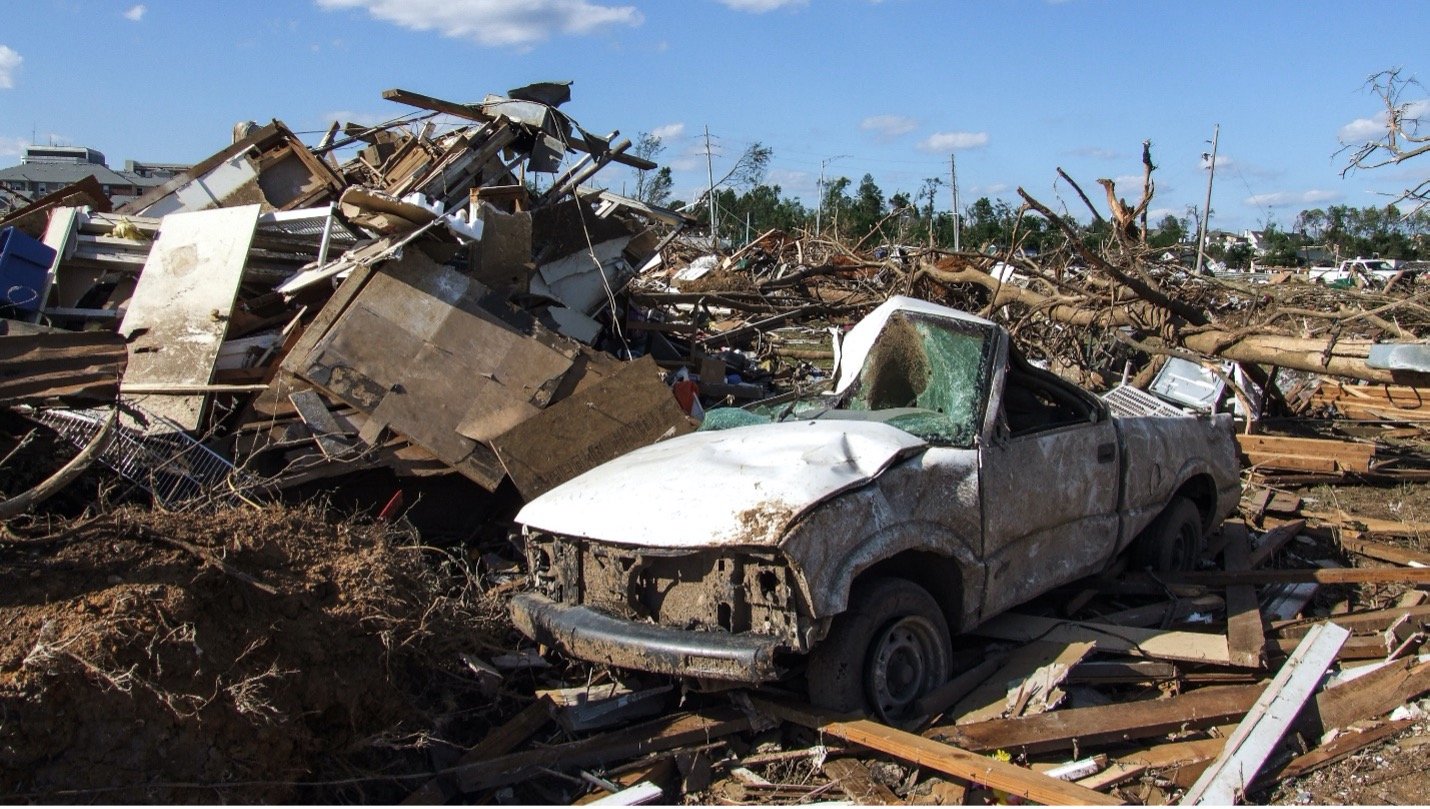 Catastrophic Damage
Schools, houses, and commercial properties were destroyed; even cinder block construction homes were razed and, according to the National Weather Service damage report, in a few cases debris was swept away, too. Countless trees were toppled and vehicles were lifted and moved up to 10–15 yards. Nearly 14,000 homes were either destroyed or deemed uninhabitable; power was cut to more than 1 million households, and 43 of the state's 67 counties were declared federal disaster areas. The scar left by the tornado was visible from space for years and a decade later communities are still rebuilding and recovering. The severe thunderstorm outbreak as a whole caused insured losses estimated by Verisk's Property Claim Services® (PCS®) in 2011 at USD 7.3 billion; the Tuscaloosa-Birmingham tornado remains one of the costliest on record.
This was far from being the first time the area had experienced significant tornadoes. Deadly and damaging twisters were recorded striking Tuscaloosa in 1842 and 1932, and in 1956 a tornado subsequently estimated to have been an F4 event struck Jefferson County (The Enhanced Fujita Scale became operational on February 1, 2007; prior to that, the Fujita Scale was used). That 1956 twister killed 25, injured about 200, and caused major devastation west and north of downtown Birmingham. In 1977 an F5 tornado struck the northern suburbs of Birmingham on the afternoon of April 4 during an outbreak of violent severe weather that led to 21 tornadoes striking Mississippi, Alabama, and Georgia.
Another F5 tornado ripped through the Birmingham suburbs on April 8, 1998, causing catastrophic damage in the cities of Oak Grove, Rock Creek, and McDonald Chapel—which had been devastated by the tornado in 1956. More recently an EF-4 tornado that was on the ground for 18 miles on December 16, 2000, killed 11 people in southwestern Tuscaloosa County, and three tornadoes touched down in Tuscaloosa County on March 17, 2021, damaging or destroying 12 homes.
Prepare for the Unexpected
Losses from individual severe thunderstorms in the U.S. are generally not as great as those from individual hurricanes or earthquakes, but the annual aggregate losses from severe thunderstorms have accounted for approximately one half of all U.S. catastrophic insured losses since 1990, according to PCS. Furthermore, PCS data show that annual aggregate losses from severe thunderstorms have exceeded losses from other perils in eight of the last 10 years.
Using model scenarios to probe your portfolio's strengths and weaknesses is responsible risk management practice. It is important to prepare for a wide range of scenarios to respond effectively when disaster does strike. A few modeling best practices can help ensure that your model produces the most realistic loss estimates, including:
Severe thunderstorm is a highly localized peril, so getting accurate exposure data—while challenging—is of utmost importance.
The AIR Severe Thunderstorm Model in the United States in Touchstone® can estimate losses separately for each of the three sub-perils of severe thunderstorm (hail, tornado, and straight-line winds).
Consider the potential for business interruption losses. Clients can use the AIR model to calculate business interruption as a function of downtime, the level of damage sustained, the size of the building, and its architectural complexity.
Consider your loss ratio, or how your estimated losses compare to the "total insured value" in each affected area. While your losses may at first appear to be high, the loss ratio they reflect should be entirely consistent with an infrequent but thoroughly plausible catastrophic event.
No model can predict where the next severe thunderstorm outbreak will actually strike or when it will occur. The fundamental uncertainty makes it all the more important for companies to use catastrophe models to prepare for such losses.

For a plausible scenario read "The Next Megadisaster: U.S. Severe Thunderstorm Outbreak"