Canada experienced its first F5 tornado back in June of 2007, when a powerful twister touched down in Elie, Manitoba. I can guarantee that Canada will never see another F5 tornado - ever! (You'll have to read to the end to see why.)
What about damage from hailstorms? Find out what you need to know about hail in Canada.
When it comes to tornadoes, this year has been relatively active in Canada, and in Ontario in particular. Just last week there was an EF1 tornado that ripped some shingles off roofs in a suburb west of Toronto. However, this year also spawned the more notable "Angus tornado" in June. That EF2 tornado caused damage to more than 100 homes in a suburb north of Toronto. Imagine if either of these events had been in downtown Toronto with higher intensity. Going beyond imagination, you'll be able to quantify what that type of storm would do to your book with our EDS (Extreme Disaster Scenario) events, which we'll release with next year's update to the AIR Severe Thunderstorm for Canada Model.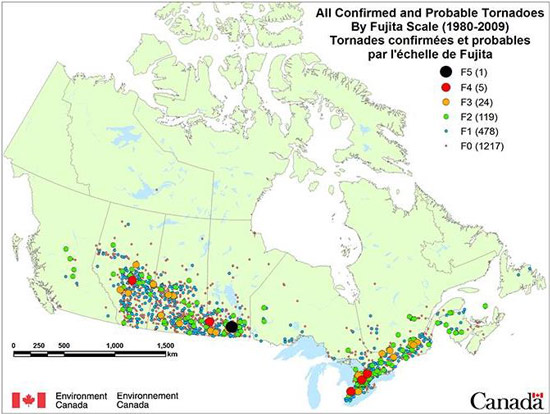 The location and intensity of the last 30 years of tornadoes (Source: Environment Canada)
The map shows the two main tornado-prone regions of Canada: the plains of Manitoba, Saskatchewan, and Alberta, and southern Ontario and Quebec. Tornadoes are rare in the Maritime Provinces, British Columbia, northern Canada, and in the northern shadow of the Great Lakes. Looking at the data on which this map is based, the average number of tornadoes per year in Canada is about 62, most of which are EF0; just over 20 tornadoes per year are EF1 and higher. However, since most of Canada's population lives near the U.S. border, and most of the plains of Canada is quite rural, a large proportion of the tornadoes that occur in Canada actually go unreported.
There are various methods for determining how many tornadoes actually occur in Canada each year. For example, researchers at Environment Canada have used lightning and population density data to fill in the gaps in reports. Their methodology indicates a total of more than 200 tornadoes per year. AIR's approach makes use of meteorological parameters from Climate Forecast System Reanalysis data to enhance the spotty reports. The "smart smoothing" techniques used in our new U.S. model has also been used to develop our Canadian model, enabling us to develop a unified, seamless view of risk for the two countries.
Oh, about that F5 tornado from 2007… Well, in 2013, Canada adopted the EF (Enhanced Fujita) scale. Therefore, any equally powerful future tornado in Canada will be known as an EF5 event.
Join us for the 2014 AIR Toronto Seminar Managing Earthquake and Atmospheric Peril Risk for Canada and see firsthand how you can leverage AIR's new and recently updated models and software to better manage your catastrophe risk in Canada.