Three tsunami warnings in one day is not commonplace in New Zealand, but that is what occurred on March 4, 2021, UTC. At 2:27 a.m. local time (March 5), an Mw 7.3 earthquake occurred only 20 km offshore the North Island at a depth of 20 km and was the trigger for the first tsunami warning issued by the National Emergency Management Agency (NEMA) of New Zealand. Given the proximity of the event's epicenter to the coastline, "strong and unusual currents and unpredictable surges near the shore" were expected within 1 hour, according to notifications from NEMA. After several hours, the tsunami warning was canceled following scientific advisement from the Institute of Geological and Nuclear Science (GNS), and authorities advised residents that they could return home.

At 6:41 a.m. local time an Mw 7.4 earthquake occurred 950 km north of the island and at a depth of 53 km, triggering a second tsunami warning, albeit for a smaller population (Figure 1). NEMA warned that waves might reach the coast within 2 hours. Less than 2 hours later, however, and with the Mw 7.4 tsunami warning still in place, a third warning was issued after an Mw 8.1 earthquake occurred at 26 km depth. The final tsunami evacuation notice was not lifted until 5 hours after this earthquake.
New Buoy Network
These earthquakes were quite timely in that they occurred after several DART (Deep-ocean Assessment and Reporting of Tsunami) buoys became operational for monitoring deep seawater perturbations offshore New Zealand within the last year. The DART buoy project was announced in December 2019 and at least eight of the 12 instruments had been deployed as of February 2021, according to the National Institute of Water and Atmospheric Research (NIWA), a large research institute in New Zealand and collaborator with GNS and the Ministry of Foreign Affairs and Trade for this project.
DART buoys sitting on the ocean surface communicate acoustically with highly sensitive instruments on the seafloor, which measure water pressure changes and can detect sea-level changes of less than 1 millimeter. These data are sent to satellites monitored by the National Geohazards Monitoring Center at GNS who then contact NEMA should there be a potential tsunami.
The submarine earthquakes that occurred on March 4 each disturbed the water column and were detected by the DART buoy network, allowing officials to alert residents to evacuate where necessary. Prior to the DART buoy network, New Zealand had been reliant on a single DART buoy that was inadequate to determine the directional propagation and size of the waves. In addition, a single DART buoy could be perturbed by a non-tsunamigenic seafloor disturbance, which could in turn prompt false warnings. The buoy network has already proven useful, as it alerted NEMA to the March 4 earthquakes.
Basin-Wide Risk
New Zealand was not the only country bracing for potential tsunami waves on March 4; Hawaii, American Samoa, Fiji, Tonga, the Cook Islands, Guam, and Australia's Norfolk Island also issued tsunami watches or advisories following the Mw 8.1 earthquake. All countries in the South Pacific Basin, in fact, could be impacted by such a large earthquake because the tsunami waves can freely propagate throughout the ocean basin.
Northern Hemisphere coastlines surrounding the Pacific Ocean could potentially be impacted as well, and agencies such as the U.S. National Tsunami Warning Center were actively monitoring wave measurements from DART buoys to determine the threat to coastlines in California, Oregon, Washington, and Alaska.
Related Events?
While the general population was understandably concerned about the tsunami threat posed by these earthquakes, scientists and seismologists were intrigued by these three large events that all ruptured along the Kermadec-Tonga Trench. Seismic data and digital models of plate motions (Smith and Price 2006) indicate that the eastern edge of the Australian tectonic plate may be composed of two smaller microplates separated by the Louisville Ridge: the Kermadec and Tonga microplates.
The estimated bounds of the Kermadec microplate are 38°S to 25°S latitude and the Tonga microplate along the rest of the subduction zone from 25°S to 15°S. The Pacific Plate is subducting westward beneath the Kermadec and Tonga microplates at the Kermadec-Tonga Trench.
In known history, the Kermadec segment of the subduction zone has not experienced any earthquakes with Mw>8.0, whereas the Tonga segment has been more active with at least three Mw>8.0 earthquakes in the past century (June 26, 1917; April 30, 1919; September 29, 2009) all north of 20°S. The largest earthquakes along the Kermadec Trench occurred on January 14, 1976, as an earthquake doublet with an Mw 7.8 megathrust followed by an Mw 7.9 less than an hour later (Figure 2).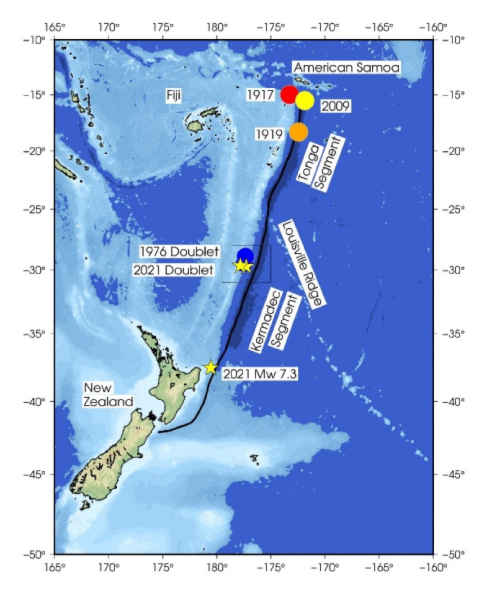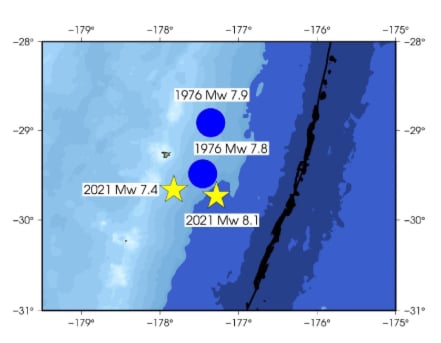 An earthquake doublet often comprises two earthquakes of similar magnitude that occur within 100 km of each other and within a one-year time frame. A study by Gibowicz and Lasocki (2007) specifically investigated the occurrence of earthquake doublets in the Kermadec-Tonga Trench between 1977 and 2003; they determined that earthquakes associated with doublets (or multiplets) constitute 36% of shallow events (less than 50 km) and 14% of deeper events (between 50 and 300 km depth) in this region.
The epicenters of the 1976 doublet are remarkably close to the March 4 Mw 7.4 and Mw 8.1 rupture zones (Figure 3). The >600 km distance between the Mw 7.3 and Mw 7.4 earthquakes suggests that they may not be geophysically correlated, although the temporal coincidence of the events warrants further investigation. The region has continued to experience moderate magnitude aftershocks, as is expected following such large earthquakes.
Sources:
Smith and Price 2006, "The Tonga-Kermadec arc and Havre-La back-arc system: Their role in the development of tectonic and magmatic models for the western Pacific", Journal of Volcanology and Geothermal Research, 156, 215-331.
Gibowicz, S.J. and S. Lasocki, 2007, "Analysis of Shallow and Deep Earthquake Doublets in the Fiji-Tonga-Kermadec Region", Pure and Applied Geophysics, 164, 53-74.

Learn about Earthquake Risk in New Zealand: A Major Model Update