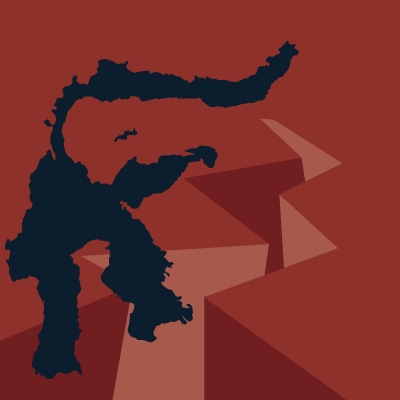 Palu, a city of more than 330,000 people on the Indonesian island of Sulawesi, was struck by a major earthquake and tsunami one year ago on September 28, 2018. More than 4,300 people are known to have died, 10,000 or more were injured, and hundreds remain missing. In terms of human life, it was the world's costliest earthquake that year.
Earthquake
Preceded by a series of foreshocks, the most powerful of which registered M6.1, the mainshock was a big one, estimated to have been M7.5. Its epicenter was located about 48 miles from Palu and at a focal depth of 20 km. The main shock struck during the evening rush hour, at 6:02 p.m. local time, and shaking was felt as far as 310 km to the east across the Makassar Strait at Samarinda on East Kalimantan and 536 km to the northeast in Tawau, Malaysia.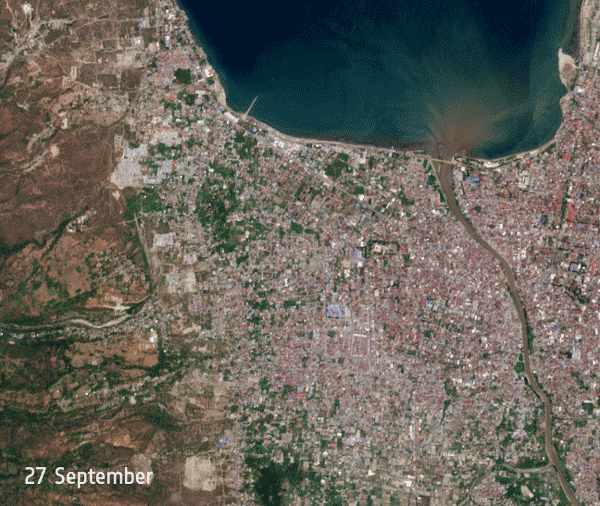 In total, more than 103,000 homes were damaged or destroyed, with 4,413 structures collapsed in Palu and 773 in the town of Donggala at the mouth of the bay. In Palu a mosque, a shopping mall, a hotel, and part of a hospital collapsed. The airport buildings and runway suffered serious damage. Landslides were reported, widespread damage to roads occurred, and the bridge over the mouth of the Palu River was destroyed. At least 9,718 hectares of crops in Palu, Sigi, and Donggala were lost. Walls collapsed at the Palu prison, enabling many of its 560 inmates to flee, and as prisoners demanding to see their families rioted in central Sulawesi more than 100 managed to escape.
Tsunami
The earthquake triggered a localized tsunami that impacted low-lying coastal areas about 20 minutes later. While the average inundation distance was only about 200 meters the tsunami was much higher than expected. A tsunami warning was issued promptly, but it anticipated water to reach heights of 0.5 to 3 meters in Donggala and less than 0.5 meters in Palu. Much higher levels were experienced in practice. In Palu, where the long and narrow bay funneled the tsunami, the Indonesian Agency for Meteorology, Climatology and Geophysics confirmed that its height reached an estimated maximum of 4 to 7 meters (13 to 23 feet) in places.
The tsunami caused significant damage to coastal property and to port facilities in Palu, and in Pantoloan a crane on the quay collapsed and was swept away. Tragically, the tsunami struck as crowds gathered on the beach in Palu to watch an international paragliding event staged as part of the Festival Pesona Palu Nomoni celebrating the 40th anniversary of the city, killing most of the partygoers.
Earthquakes occurring on a strike-slip fault like this one typically displace land horizontally and can create significant tsunamis. The unexpected height of the Palu tsunami was initially attributed to an underwater landslide. The shoreline near the rupture in Palu and Donggala decreased in height by 0.5-1 meters and the seabed is now known to have experienced a vertical rise of about 1.5 meters. This displacement, combined with the fast speed of the rupture, is now deemed responsible for the tsunami.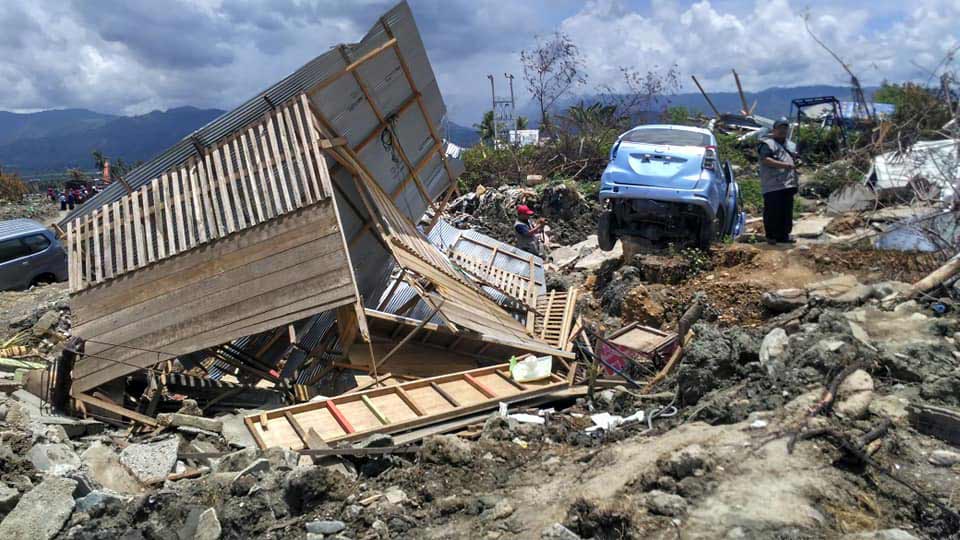 Liquefaction
The big surprise at Palu was the extent of devastation and loss of life caused by liquefaction. Alluvial deposits at the coast with high groundwater levels liquefied in response to the shaking and in at least nine locations around the bay collapsed and flowed. Most of the destruction, however, was experienced inland. Sand boils were seen, and widespread liquefaction led to extensive mudflows that swept away buildings and whole communities. The Petobo sub-district in southern Palu, some way from the coast, lost hundreds of houses (Figure 2). In the village of Balaroa, near Palu, most of the 1,747 buildings disappeared; of its 2,000 inhabitants, 600 were killed and 1,000 went missing. Some buildings were carried away whole in the mudflows before crashing into each other and collapsing.
Slow Recovery
Of the estimated 500,000 detectable earthquakes that occur in the world each year 100,000 or so can be felt and perhaps 100 cause notable damage. Major earthquakes, greater than magnitude 7, happen more than once per month somewhere, but fortunately most of those do not impact significant populations. Palu was unlucky enough to experience one of these major earthquakes in combination with a tsunami and extensive liquefaction. Indonesia is located on the "Ring of Fire" and experiences many earthquakes and volcanic eruptions. One year on from the 2018 earthquake and tsunami Sulawesi is still in the early stages of its recovery and some 57,000 people remain homeless.

For more on the Ring of Fire read the blog "The Philippines Is Shaking—Again"