Each year, farmers face myriad potential perils to their crops: drought, waterlogging, frost, and hail to name a few. To ameliorate the risk to the producer, the federal and provincial governments of Canada have collaborated to offer multi-peril crop insurance.
The long history of crop insurance in Canada offers seemingly abundant historical data on the prevalence of risk to crops. In Saskatchewan, for example, the long-term (1961-2016) average loss ratio is 89% and 15 of the last 56 years have an annual loss ratio of more than 1. Even so, what is one to make of the catastrophic drought of 2001-2002, for example? According to the Saskatchewan Crop Insurance Corporation, drought conditions combined with heat and wind led to a loss ratio of 479% in 2002, but it is unclear how to assess that event in the context of today's agricultural and financial climate. How can stakeholders better prepare for severe weather conditions in the future?
An Evolving Mix of Crops in Canada
First, it's important to consider the changing variety of crops being grown across Canada. Figure 1 shows the significant changes in the mix of crops being grown and their respective percentage of acreage. The blend of crops planted across Canada has evolved as a result of plant genetic enhancements, improvements in farming technology, changes in weather and/or soil conditions, and market forces such as demand for certain crops, supply chain developments, and associated commodity prices. Accompanying the changes in crop mix has been an increase of more than 50% in the planted area of major crops since 1960.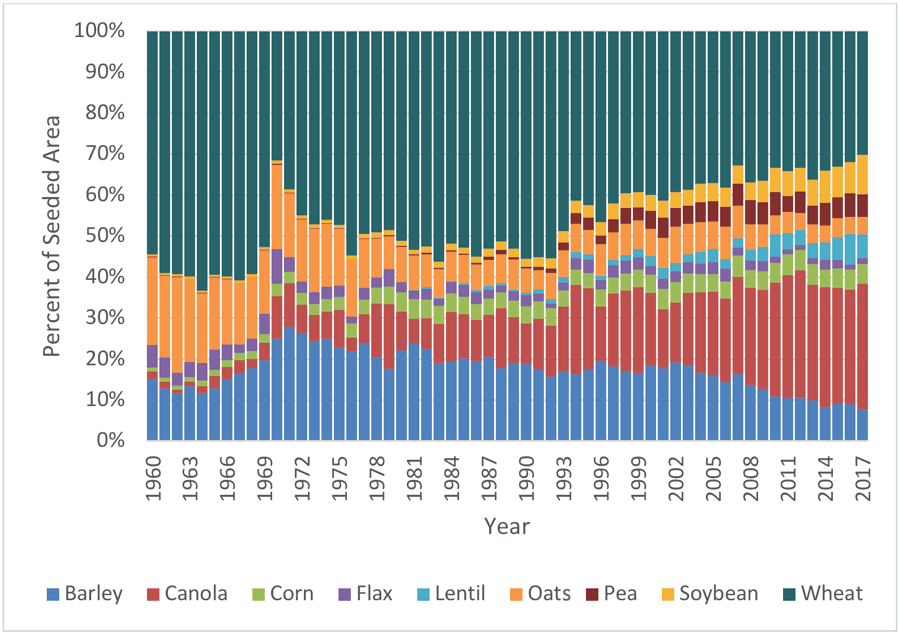 Take the Long-Term View
Second, an unbiased accounting for risk cannot be reactive to recent events. Figure 2 shows that Saskatchewan in the 1980s saw several years when the loss ratio exceeded 100%. This caused the long-term average loss to premium to increase. We can see that this increase in loss ratio was followed by an increase in average premium rates for producers through the early 1990s. That trend then reversed during the following 10-year period with low losses. The pattern repeated itself in response to large losses in 2001 and 2002, which were followed by low losses in subsequent years.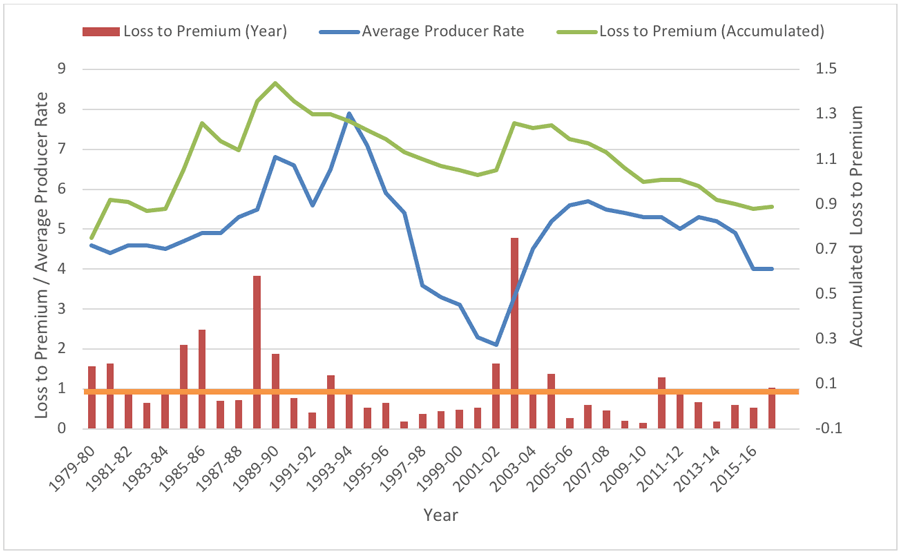 Expect the Unexpected
Many weather conditions can't be seen or anticipated until harvesting occurs. Beyond hail, rain, drought, heat, and frost there are several other factors that may go unnoticed. A relatively minor change in local temperature (even just a few degrees) can impact crop growth at critical times. In addition, the timing of certain perils can heavily impact the extent of their eventual damage to final yield. For example, a drought occurring at the beginning of the growing season may cause irreparable damage, whereas drought near the end of the growing season may have more limited impact.
AIR's new Multi-Peril Crop Insurance Model for Canada is the industry's first probabilistic model to capture the impact of all major weather perils on crops in Canada. The model leverages a 10,000-year stochastic weather catalog to create a forward-looking, proactive approach to understanding your crop risk in Canada. This stochastic view of multiple perils across Canada provides a robust view of risk that is not possible with historical loss data alone.

Did you know that in Canada 10–15% of a season's hailstorms can cause 85% of total crop losses? Read "Canada Crop Hail Damage: What Can We Learn From 2016?"