The 2022 crop year in Manitoba and parts of Saskatchewan started with challenging conditions due to excess moisture in the fields. Farmers in Manitoba, in particular, have been well behind the average seeding progression for a normal year. The unusually wet start of the growing season has been an about-face from the historic drought affecting crop yields in 2021.
Meteorological Background
The period between March 1 and May 31, 2022, was one of the wettest on record in the area as the total precipitation was more than 150% of the average across most of the agricultural region (Figure 1). Reported precipitation in several divisions in the central region of the province was more than 500% of the average precipitation in April. Environment Canada recorded a total of 246.9 mm falling in Winnipeg, a figure exceeded only by the 325.4 mm recorded in 1896. The extremely wet conditions were coupled with below-average temperatures and led to flooding across the province.
In Saskatchewan, the spring precipitation was significantly above normal mainly in the southeast. At the same time, the southwestern part of the province received lower-than-average precipitation, leading to drought conditions.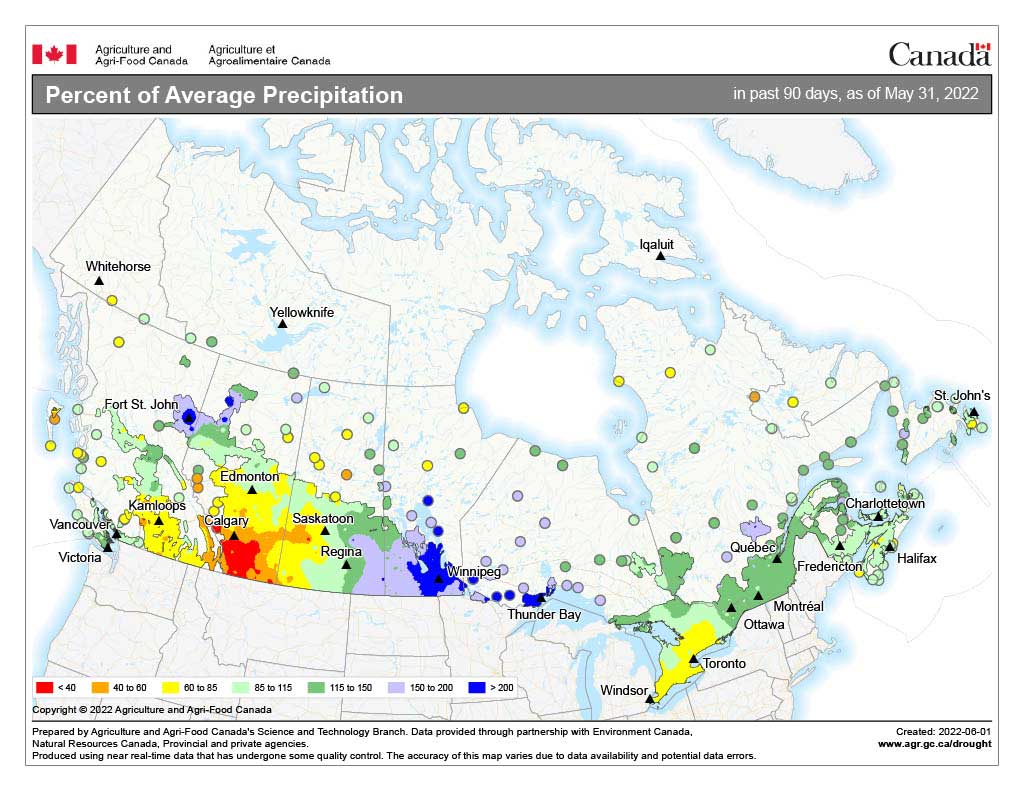 Current Seeding Progress
As of June 20—the seeding deadline for most crops in Manitoba for full insurance coverage—the province-level seeding progress was estimated at 91%, which is significantly lower than the five-year average of 100% at this point in the growing season (Figure 2). Although the full coverage seeding deadline for soybean was extended by several days—until June 8 for Soybean Area 1, and June 4 for Soybean Areas 2 and 3—the Manitoba Agricultural Services Corporation (MASC) has not considered seeding deadline extensions for other crops. This year's final soybean acreage in Manitoba will, however, be lower than the initial crop area protection by about 1 million acres.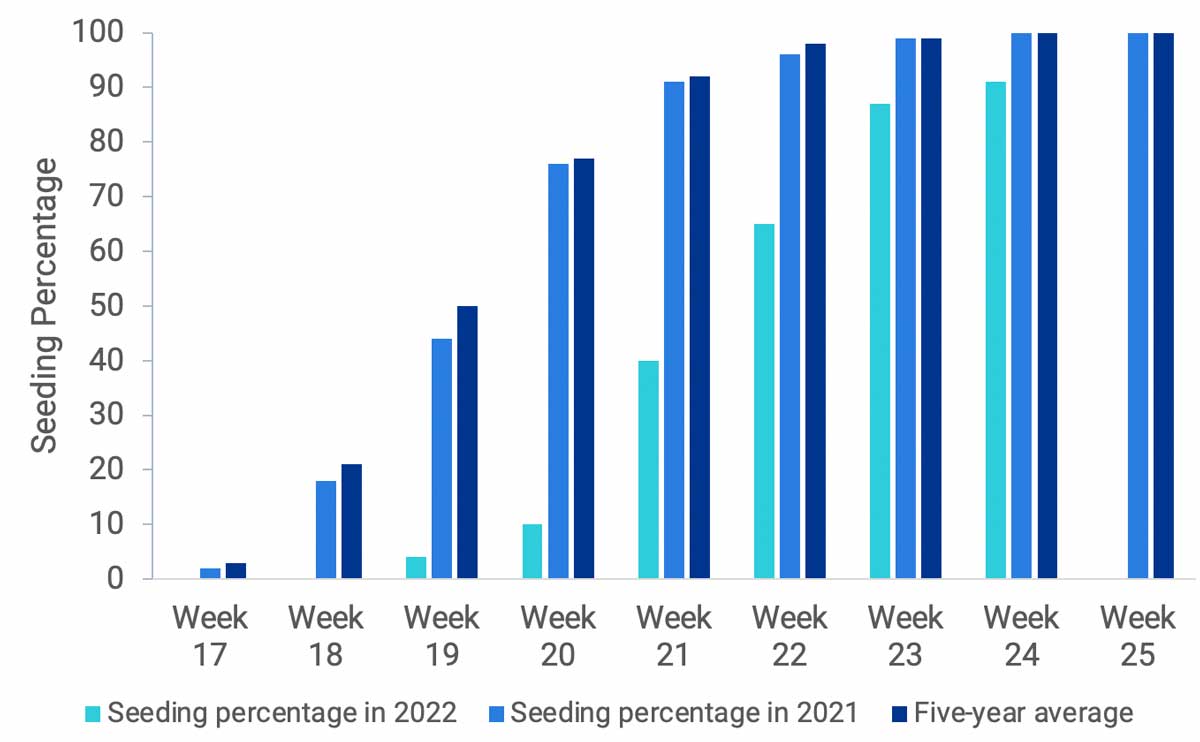 When almost 985,000 acres were unseeded due to excessively wet conditions in 2014 nearly CAD 63 million (37% of the total crop insurance loss that year) was paid to farmers in Manitoba under Excess Moisture Insurance (EMI). According to the Manitoba Crop Report published on June 21, 2022, more than 888,000 acres across the province would remain unseeded this year. The comparison between the two seeding scenarios projects significant payouts triggered by the EMI policy for the 2022 growing season.
In Saskatchewan, the province-wide seeding was 98% complete according to the latest (June 7 – 13) Saskatchewan Crop Report. Despite the initial setback resulting from the excess precipitation in the eastern part of the province at the beginning of the planting period, farmers have made significant progress in their seeding activity. Except for some low-lying crop areas in the east-central region that are projected to remain unseeded because of waterlogging, it is nearing completion.
Potential Impact of Delayed Seeding on Yield
The most direct impacts of excessive spring precipitation on crop insurance claims in Canada are the provinces' payouts under unseeded acreage insurance schemes (based on predetermined dollar values per acre) to the farmers who cannot seed their fields due to excess moisture by seeding deadlines.
An unusually wet planting period can also contribute to crop insurance losses by affecting crop productivity as farmers are compelled to delay planting. Production data for various crops between 2012 and 2021 in Manitoba show that the highest crop yields for most crops are achieved when they are seeded in late April or in the first week of May. Crop yield, when planted in the first week of June, can be 20 to 50% below average depending on crop type, according to the Manitoba Agricultural Services Corporation (MASC).
Delayed seeding can have detrimental effects on yield through various mechanisms. Farmers usually delay their harvests to compensate for late seeding, which increases the risk of fall frost leading to a lower yield potential. Crops planted in late May or early June can experience much higher temperatures during their early developmental stages as well as anthesis, resulting in significant reduction in crop yields. Choosing early maturity cultivars is often recommended to mitigate the negative impacts of late seeding.
A Probabilistic View of Losses due to Unseeded Acreage
The Verisk Multiple Peril Crop Insurance Model for Canada is the first probabilistic model to capture the impact of weather perils on crops in Canada. The model leverages a 10,000-year catalog of crop outcome scenarios to offer a comprehensive understanding of crop risk that is not possible using historical loss data alone. The model estimates yields for major insured crops on an 8-km grid for all significant agricultural regions, preserving correlations between weather and crops across geographic regions.
Using the model, we investigated the impact of unseeded acreage on losses and the correlation between provinces. In Table 1, we split our catalog of 10,000 scenarios by the percentage of unseeded Manitoba cropland in each scenario. For comparison, the median of recent historical years is less than 2%, while the 2014 year had an unseeded percentage of about 10%; this year's unseeded acreage is projected to be 9%. The results in Manitoba are clear: Years with larger unseeded acreage have larger overall loss costs. On average, however, there is no clear correlation with the loss costs either in neighboring Saskatchewan or in Canada overall.
Table 1. Modeled loss costs for Manitoba, Saskatchewan, and Canada-wide for different scenarios of unseeded acreage in Manitoba
Percentage of
Unseeded Cropland
in Manitoba
Average Insurable
Manitoba Loss Cost
Average Insurable
Saskatchewan Loss Cost
Average Insurable
Canada Loss Cost
0-2%
0.06
0.08
0.09
2-4%
0.07
0.08
0.08
4-10%
0.10
0.07
0.08
Greater than 10%
0.14
0.07
0.07
This year has seen excessive moisture in both Manitoba and eastern portions of Saskatchewan. Even if this meteorological pattern were relatively common, it would not necessarily translate into a correlation in the loss costs between the two provinces. Losses in Manitoba are driven by lack of heat and excess moisture more often than in Saskatchewan, where, overall, losses are driven by drought.

​ Learn more about the Verisk Multiple Peril Crop Insurance Model for Canada