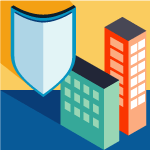 Cities and local governments are increasingly faced with large, unexpected costs from natural catastrophes. In many cases, individuals and businesses are uninsured or underinsured, and the responsibility for recovery and relief is borne by government entities, and ultimately by taxpayers and society at large. Pioneered by The Rockefeller Foundation, 100 Resilient Cities (100RC) seeks to help cities become more resilient in the face of these significant unplanned expenditures.
Most 100RC member cities are faced with some element of natural catastrophe risk. Flooding is a common concern, but less frequent events such as earthquakes and hurricanes can also produce devastating effects. Planning is key, so developing a comprehensive plan to create catastrophe resilience requires decisions based on evidence and science instead of relying on intuition and past experience.
The Limits of Historical Experience
Historical experience is not enough to capture an accurate view of catastrophe risk  simply because there haven't been enough events to confidently quantify the likelihood and expected impact of future disasters. Although a city may have suffered a significant event and identified some lessons learned, that experience is not enough to answer questions such as:
How frequently can we expect to experience natural catastrophes?  What range of economic damage can reasonably be expected?
What is the maximum potential loss that might be possible? How much of this economic damage can we afford to bear ourselves?  What options do we have to manage the costs?
Should we invest in mitigation measures to reduce our risk? What benefits can be expected?
What is the cost of doing nothing?
Responding to these questions is a critical part of developing a plan for realizing catastrophe resilience.  Fortunately, tools are in use today that can be used to answer these questions efficiently and without the need for additional data collection or on-site inspections.
Catastrophe Models Provide Forward-Looking Insights
Catastrophe models help organizations prepare for the financial impacts of disasters—before they occur. Using sophisticated simulation methods, these models capture how catastrophes behave and what their impact on communities is when they occur.
Catastrophe models have been widely used by the insurance industry to manage risk. For the past several decades, these models have informed the decisions that have kept insurers solvent even when historically damaging events have occurred. Today, government and non-governmental organizations (NGOs) can rely on models to provide risk-based and data-driven solutions to prepare for and recover from catastrophes. Model output can be used to inform risk pooling and disaster financing initiatives, risk transfer to the capital markets, evaluate risk mitigation investments, and much more.
The example below shows how the city of Hue in Vietnam used catastrophe models to quantify the likely losses that could be expected, and how there is a significant gap between the expected losses and the amount of funds readily available. Because of this analysis, several disaster risk financing solutions were identified that could rapidly provide relief funding when a natural disaster occurs.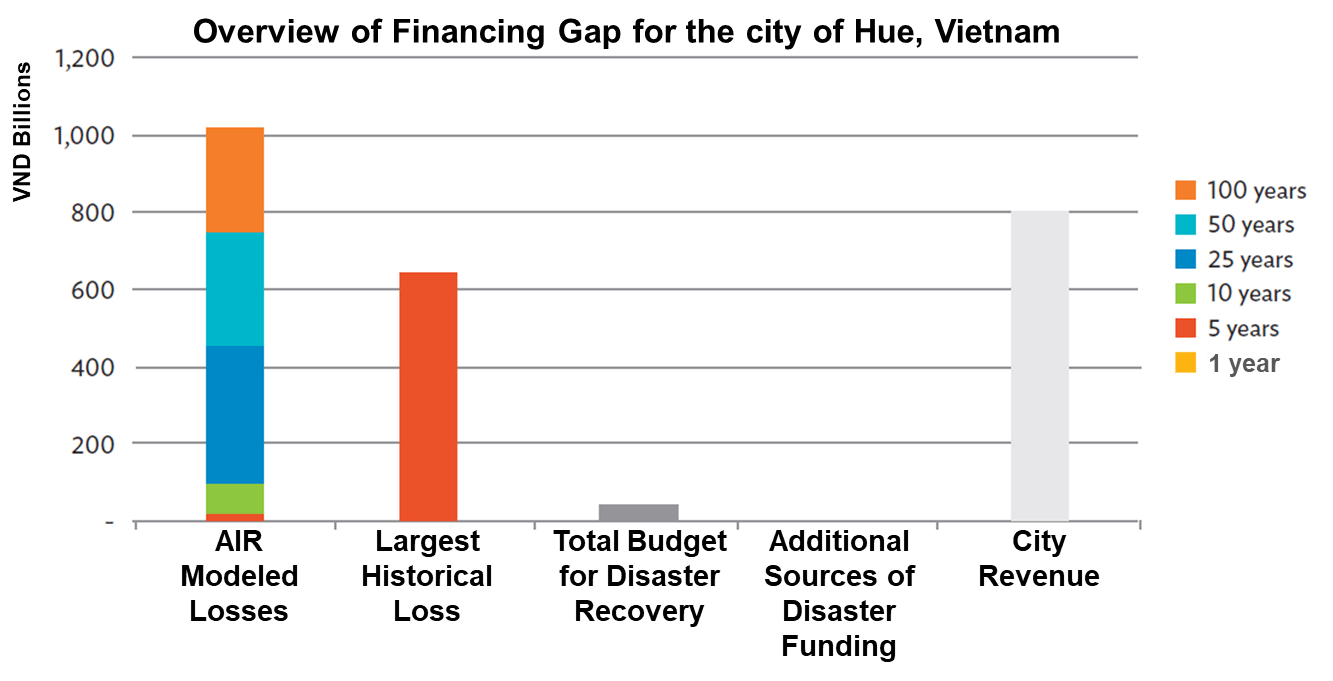 The City of Dallas also recently leveraged catastrophe modeling to inform its resilience strategy. Dallas's chief resilience officer needed to have a strong understanding of potential economic losses due to natural disasters and the measures that would be most effective at mitigating those losses. The city had recently suffered from historically high flooding, which focused people's attention on the economic impacts of flooding as the primary peril. Analysis using catastrophe models revealed, however, that the city's most economically significant hazard is severe thunderstorm and the hailstorms, tornadoes, and straight-line winds that those storm systems spawn. This analysis demonstrated how recent historical experience can easily lead to misunderstanding the true drivers of risk and the potential for developing resilience plans that perform inadequately over time.
If you'd like to learn more about catastrophe modeling, you can review our study on how the City of Dallas used these analytics or visit AIR's Global Resilience Practice web page.

Read the blog "100RC: Helping Cities Around the World Become More Resilient" to learn more about this initiative