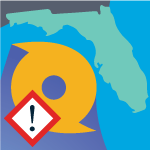 On Tuesday, hurricane experts were expecting Hurricane Michael to reach Florida's Gulf of Mexico coastline as a Category 3 storm (Figure 1). While rare, there is a history of storms of similar intensity making landfall along the Florida Panhandle. Last night though, something rather unexpected occurred, when Michael intensified to a monster Category 4 hurricane.
Over the period beginning at 5 p.m. on Tuesday afternoon, Michael's minimum central pressure dropped from 957 mb down to 928 mb based on the most recent aircraft measurements, a decrease of nearly 30 mb in 18 hours. Over this same period, maximum sustained wind increased from 120 to 145 mph.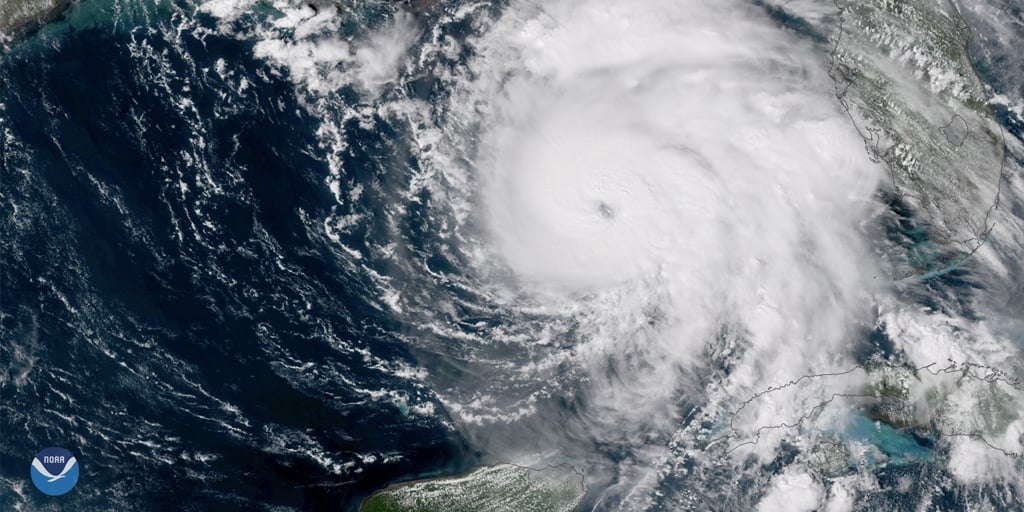 While there have been several other storms in recent history that have intensified more rapidly—Wilma increased from a 70 mph tropical storm to a 170 mph Category 5 in one day—what is unique about Michael is where it occurred: just prior to landfall, in an area that has never experienced a storm of this intensity. Not only is Michael potentially historic for where it will make landfall, it is also unique in terms of when. If preliminary reports about Michael's landfall near Mexico Beach, Florida, are correct, Michael will be recorded as the most intense hurricane on record to have struck land in the North Atlantic basin (which includes the Gulf of Mexico and Caribbean) in the month of October!
To date, the strongest hurricanes impacting the Florida Panhandle were all Category 3 storms. Among them, the 1917 unnamed storm #4, hurricanes Opal 1995, Ivan 2004 (an Alabama landfall that impacted Florida), and Dennis 2005. All four storms made landfall west of where Hurricane Michael struck (Figure 2).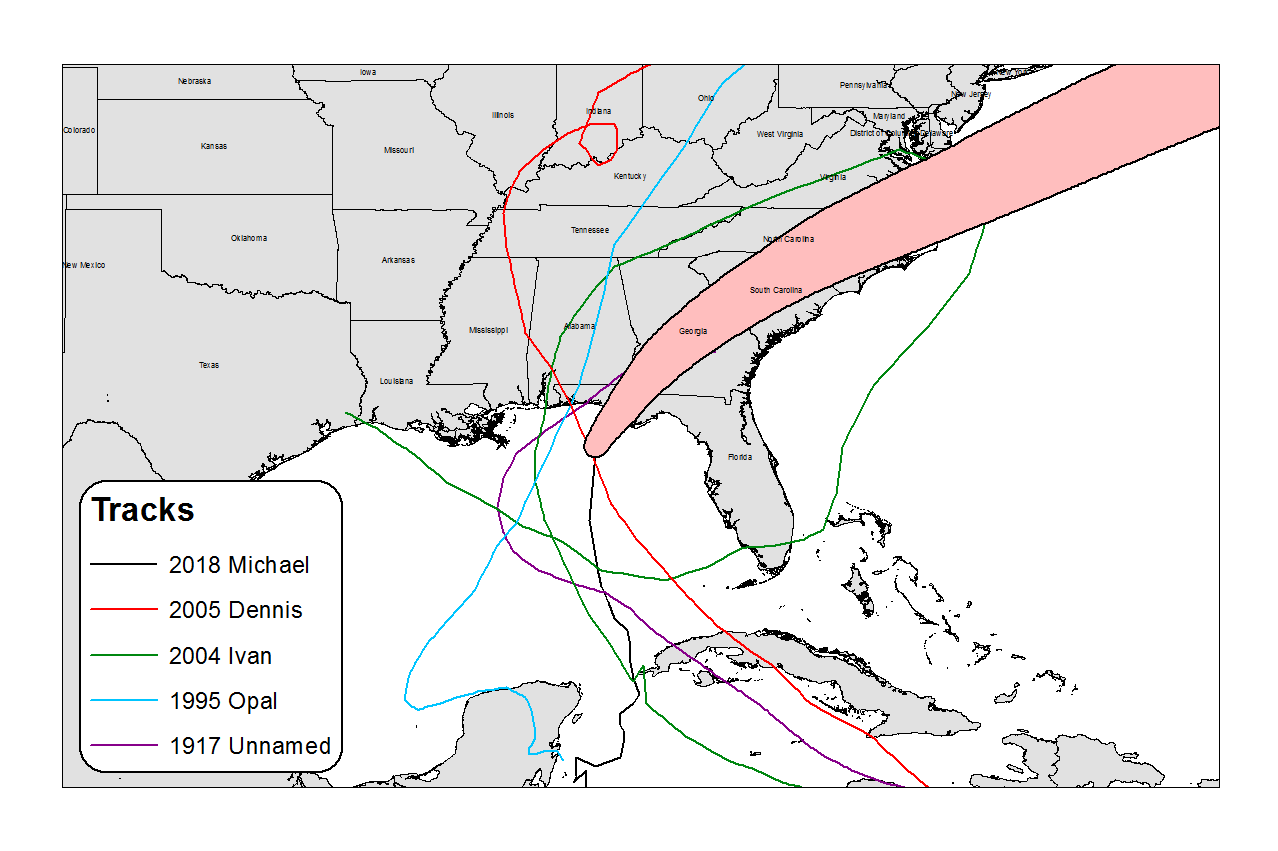 Unnamed Storm 4 from 1917 occurred well before the satellite era, displaying a track like Hurricane Michael's but slightly farther west. Most of the damage in Florida was concentrated in the Pensacola area and Santa Rosa County.
The Florida Panhandle went nearly 80 years before experiencing another major hurricane. Opal in 1995 made landfall east of Pensacola with 115 mph winds. As with Hurricane Michael, Opal made use of the extremely warm water of the Gulf of Mexico, as well as favorable upper-level conditions, and rapidly intensified to a Category 4 hurricane before weakening and making landfall as a Category 3. Although the storm was a major hurricane, the strongest winds were restricted to a very limited area and the coastal area of the Florida Panhandle experienced Category 2 to Category 1 winds.
Hurricane Ivan 2004 is another notable storm that made landfall in the area Hurricane Michael is about to impact. Although it did not make landfall in Florida, Ivan's radius of maximum wind spread well inside Florida's borders. Ivan made landfall as a 120 mph hurricane, after undergoing multiple eyewall replacements.
Hurricane Dennis in 2005 was the last major hurricane to make landfall in northern Florida. Like Hurricane Michael, Dennis underwent an impressive period of deepening before landfall, with its central pressure dropping 37 mb in 24 hours and 11 mb in 90 minutes. In comparison, in the past 24 hours Hurricane Michael's central pressure dropped 20 mb in 8 hours. Although Dennis made landfall as a 120 mph storm, as with other storms, hurricane-force winds were limited to a small area. In the case of Dennis, Panama City—the closest large city—experienced 58 mph sustained winds and a gust of 73 mph. It is set to experience far stronger winds today.
Read the blog "How Often Are There 2 U.S. Major Hurricanes in 2 Weeks?" to learn about the upward trend in the occurrence frequency of consecutive major hurricanes
Phillip Jue also contributed to this post.