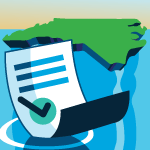 While Hurricane Florence made landfall along the North Carolina coast only as a Category 1 storm with 90 mph winds, it's slow track and heavy rainfall brought unprecedented flooding to many inland areas. AIR conducted a flood damage survey in two heavily damaged cities, Lumberton and Trenton, North Carolina. We also visited New Bern at the mouth of the Neuse River, which suffered the brunt of Florence's winds and the resulting surge.
Visit our image gallery of the Hurricane Florence damage survey
For a discussion of the flooding conditions and performance of flood control structures, see our earlier blog. In this post we'll be discussing what we found from a vulnerability perspective. At AIR, the purpose of conducting a damage survey is to make sure that our modeling assumptions reflect what happens during an actual event. For this damage survey we sought principally to investigate these points:
What is a typical first floor height (FFH) for industrial buildings?
What flood mitigation measures were in place for residential, commercial, and industrial buildings?
What types of flood damage were observed for residential, commercial, and industrial buildings, and which components were most vulnerable?
What type of business interruption (BI) occurred?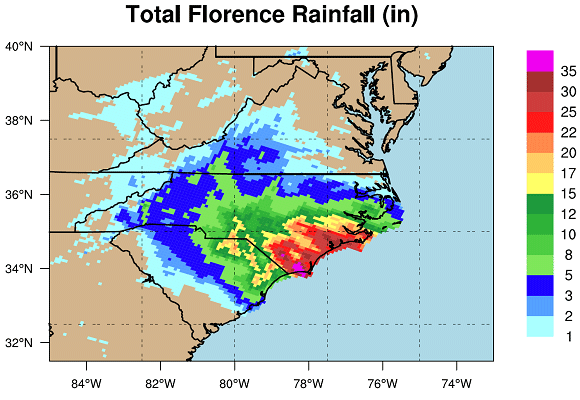 Residential
In terms of overall damage, residential properties were mainly affected by Florence's flooding. Some homeowners had previously experienced flooding in the aftermath of both Hurricane Matthew (2016) and Hurricane Floyd (1999). Many had sandbagged their homes up to the inundation level of these prior events. Unfortunately, a common theme we heard was how much more severe Florence's flooding was. As a result, many homes experienced a 100% content loss and substantial building damage. Most of the homeowners we spoke with did not carry flood insurance, either because they were unaware of their flood risk or because it wasn't required by their lenders.
Damage was exacerbated by the fact that most areas remained flooded for up to one week after Florence passed. We found that even structures within the 1% FEMA flood zone that had been elevated more than 6 feet above grade had their contents destroyed and had to have all electrical services and more than 3 feet of wallboard removed. In addition, ductwork for the central HVAC system in one house we surveyed was stored in the crawl space created by elevating the home, resulting in damage that would require its replacement.
Commercial
Having learned from Hurricane Matthew in 2016, businesses in the area implemented emergency flood defenses with varying degrees of success. Within commercial occupancies we saw substantially different amounts of damage between Mom and Pop shops at one end of the spectrum and big box stores at the other. While the small businesses we surveyed had done what they could to raise equipment and sandbag building openings, in every case the flooding still damaged most of the contents and building. An auto parts store, for example, had sandbagged the building's entrances, but floodwaters crested above them and inundated the store with roughly 1 foot of water, destroying all the contents of the lowest shelves.
Large commercial stores, however, received direct flood mitigation support from their corporate offices. The most extreme—and well protected—we saw was the Lumberton Walmart. Flooding from Hurricane Matthew resulted in more than USD 1 million in building and content losses for this store in 2016, so ahead of Florence they deployed a highly effective inflatable dam and pump system around the perimeter of the store that prevented any damage, despite the entire area being flooded. This emergency flood defense system limited the store's losses from Florence to only a few hundred dollars of spoiled stock. At the time of our survey, most businesses in Trenton were still closed but the pharmacy had just opened its drive-through after a week's closure due to flooding and lack of power. In addition to the loss of stock on lower shelves due to inundation, the loss of power caused vaccines, insulin, and other cold storage stock to spoil, even though they were stored above the floodwaters.
All businesses we spoke with experienced some level of BI. Most owners mentioned that the main reason for this was simply the length of time the area was flooded, cutting off physical access to their building due to roads being inundated.
Industrial
Industrial facilities experienced very little flood damage. Generally, equipment had been raised and utility redundancies had been implemented either to comply with legal regulations or as a precaution because of the high cost of machinery and equipment when the plants were built. The 2- to 4-foot first floor height of these buildings—one of the largest factors in determining vulnerability to flooding—was substantially higher than other types of buildings.
We visited two industrial facilities in Lumberton. The Alamac Knitting Company facility was constructed in the 1960s and produced high performance textiles until it closed in 2017. The facility and offices were constructed on a concrete slab, with the production areas raised above the 1960s-era 1% annual chance flood elevation. In addition to the elevated structure, the facility was protected by a custom-built levee around the perimeter of the property. This foresight kept the offices and production floor dry during both Matthew and Florence. While the boiler room was at a lower elevation than the main structure, boilers and gas lines were raised after being damaged during Matthew, so they were not damaged by Florence. Electrical lines to the facility, however, were damaged during both Matthew and Florence, causing business interruption for roughly two weeks.
The Georgia Pacific cotton cellulose mill on the north bank of the Lumber River was also constructed in the 1960s. The facility consists of wood frame offices and a mix of reinforced concrete and light metal production and warehouse buildings. Like the Alamac plant, this facility had its production and warehouse structures on a concrete slab elevated several feet above grade. But the offices and plant automation control center were constructed on a slab on grade and, despite building entrances being sandbagged, were flooded by about a foot of water. The disruption of the automation control center and inundation of the plant's ground caused five days of business interruption. In addition, water intrusion through the roof of the finished product room caused the loss of the cellulose bales stored on the floor.
New Bern's Widespread Wind and Surge Damage
Many newer structures in New Bern, including a hotel, suffered most of their damage due to water intrusion following roof damage. We found a large team of workers at the hotel undertaking extensive remediation of its upper floors and ventilation system. A three-year-old custom-built waterfront home similarly suffered major damage to its interior and contents due to water intrusion after wind damage to its asphalt shingle roof. The house was constructed with a 4-foot freeboard above the FEMA Base Flood Elevation, which limited damage to the structure itself. However, a generator and two air conditioning units located on concrete pads at grade were washed away by the 6-foot surge that swept through the property.
Other older homes that we saw were more heavily damaged by the storm surge due to their lower first floor heights and less-resilient building materials. Along the shoreline several homes had their porches washed away by the surge and some suffered damage to their masonry foundations. In addition to severe damage to the first floor, building structure, and contents, utilities in these homes were typically not elevated above flood level and had not been widely restored when we surveyed the area.
Damage Surveys Keep Catastrophe Models Grounded in Reality
The observations and measurements gathered during damage surveys like this serve as a type of ground truthing for our flood models. While our flood models do a good job of accounting for the complexity of modern structures, the data points we gather in our surveys allow us to keep up with building trends and to ensure that our flood models provide the best view of risk.
Visit "The Aftermath of Hurricane Florence" to learn more about this event and its impact.