Ten years ago, at 18:40 local time on August 15, 2007, an M8.0 earthquake struck off the coast of central Peru. Relatively shallow events like this—its focal depth was estimated at 30.2 km (18.8 miles)—can be particularly destructive; in this case the shaking lasted for as long as three minutes. Along 150 km (95 miles) of Peru's coastal desert there was almost total devastation.
The cities of Pisco, Ica, and Chincha Alta in the Ica Region, and San Vicente de Cañete in the Lima Region, were most affected and more than 500 people perished. About 430 of the casualties occurred in Pisco, a port city located some 260 km (160 miles) southeast of the capital, Lima. A third of these people lost their lives when the San Clemente Cathedral in the Plaza de Armas collapsed while mass was taking place.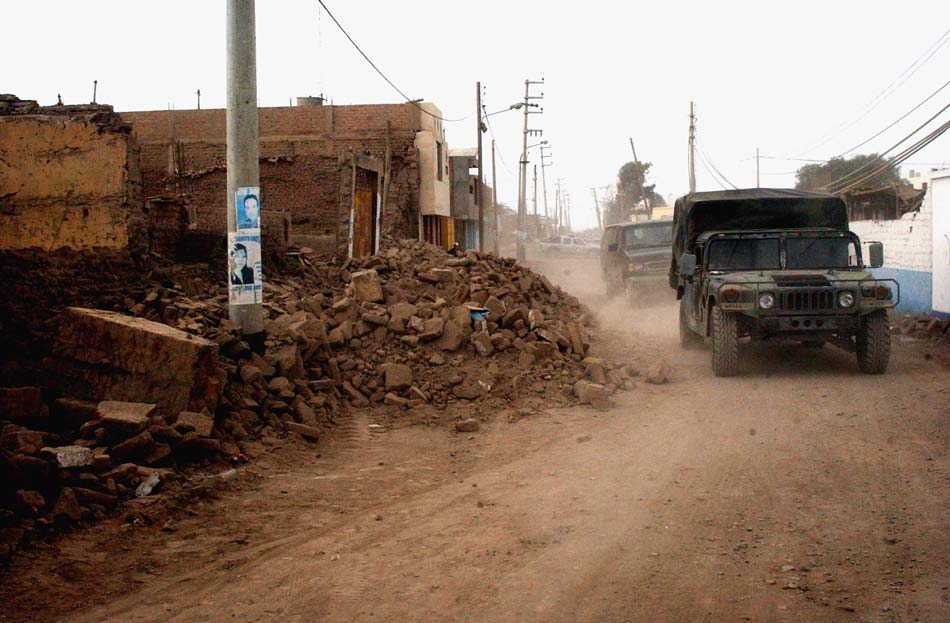 According to the Peruvian government, the earthquake impacted infrastructure, destroyed 14 hospitals and 58,581 houses, and damaged a further 103 hospitals and 13,585 homes. More than 80% of Pisco was devastated. Its proximity to the epicenter was partly to blame for this destruction, but the types of construction prevalent in the area were also major contributors. AIR estimates that 60% of construction in Peru is masonry of one form or another, with another 15% traditional adobe. Away from the capital, these percentages are often higher, particularly in the smaller towns and villages; neither of these construction types offers much in the way of lateral resistance against ground shaking.
How long does it take to recover from an earthquake?
Coastal Peru has a history of very large earthquakes and temblors of about M8.0, which occurred in the vicinity of the 2007 quake in 1908 and 1974. Much earlier, Pisco was devastated by an earthquake in 1682 and again by a tsunami in 1686. Because of the seismic activity in the region, Chile began implementing effective building codes in 1932, whereas Peru took until 1970.
Panicked residents and office workers in Lima ran from swaying buildings into the streets during the 2007 quake, but most structures survived with little more than broken windows. There is concern, however, that the capital may not be well prepared for a significant event occurring closer to it, given its location in the subduction zone.
While Peru's building codes are now quite good, many commercial structures in the region predate them and most residential structures in the country are unlikely to have been built in compliance. For example, recent flooding in the pueblos emergentes—emerging towns that have grown up around Lima since the 1970s—exposed "informal" construction by people who have built their own homes. Often these houses are in poorly chosen locations and built with little to no consideration of construction material vulnerability. Structures like these are at extreme risk from earthquake shaking.
Although it has many vulnerable buildings, the region has little in the way of insurance protection; insurance penetration for non-life (property) in Peru has hovered at just under 0.9% of GDP over the last five years. Because of their extreme vulnerability, adobe structures are uninsurable, and the percentage of residential structures insured against the earthquake peril is very low. Commercial take-up rates, however, are much higher; these are what drove the insured losses from the 2007 event.
While it does little to make older structures safer, the effective implementation of appropriate building codes enables new construction to perform better during earthquakes and saves lives. It also makes those new buildings insurable, and insurance—if it is available and purchased—can make an enormous contribution to a community's resilience, helping it to recover sooner. At the national level, adopting new strategies for risk transfer provides governments with greater flexibility and enables them to respond quickly to extreme events when they occur. To this end, Peru's Ministry of Economy and Finance is currently working with AIR and the World Bank to consider a catastrophe bond risk transfer mechanism.
The recent flooding in Lima and the Pisco earthquake, like any other extreme events, are wake-up calls—opportunities to learn from the experience and to rebuild more resilient structures and communities. Pisco's recovery from the earthquake began painfully slowly, but the city has, to a large extent, bounced back. Lonely Planet describes it as "a town on the rebound, reinventing itself almost daily." Most of it has been rebuilt, and Pisco is recovering its position as the hub of the area's tourist trade. While it is uncertain how much of the new construction has been built to code, it does seem that efforts have been made to rebuild with less vulnerable structures. For example, one survey of 11 blocks in Pisco's central district, formerly predominantly of adobe structures, determined that 77.8% of the new construction there is stronger than adobe. This kind of improvement at the local level—modest as it may seem—is another step in the right direction, and every bit as important as any action the government may take.
Kumamoto After the Earthquakes: Recovery and Resilience