In December 2016, the White House released the Standards and Finance to Support Community Resilience report, which proposes key areas of focus for developing more resilient homes, businesses, and infrastructure in the United States, and how investments in resilience can assist in curbing the financial losses from extreme events.
The report discusses how federal collaboration with state and local leaders—as well as private sector stakeholders in insurance, catastrophe modeling, and building science—has resulted in actions to increase the sharing of risk data, develop approaches to better communicate risk, and support innovations to buy down the risks and public costs of disasters and finance investments in resilience.
Part of the report examines how catastrophe modeling can help identify how specific mitigation measures can reduce losses under certain conditions. AIR provided its expertise on the vulnerability of residential and commercial properties by using catastrophe modeling techniques similar to those that have assisted the insurance industry's approach to risk management for many years.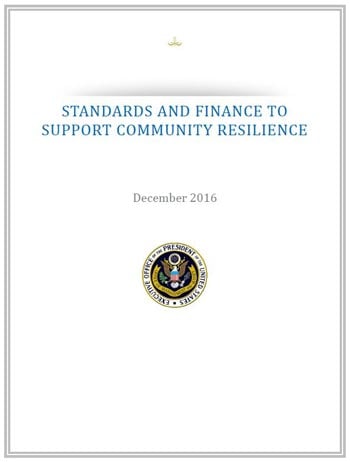 Using AIR's Touchstone® platform, AIR experts generated state-level flood risk profiles that considered a variety of building characteristics, such as the presence of basements, different construction and occupancy classes and combinations, and varying elevations of first floors.
After looking at 971,000 locations across the United States,  the team developed comprehensive insights including how specific mitigation measures can reduce losses to commercial and residential properties under certain conditions.
These data informed recommendations on how to build more resilient homes, the value of investments in resilience, and the impact of different changes, state by state.
Resilience lessons that can be learned from risk analyses:
Long-term physical infrastructure resilience requires upfront capital investments to realize future savings in the form of reduced losses, lower insurance costs, and enhanced market value, among other economic benefits.
By identifying key areas for flood mitigation, governments and NGO's can help plan for a more resilient future. The data and mapping available today can drive a more resilient future not just for the United States, but around the world.
There are opportunities for continued collaboration among leaders in insurance, finance, and building science to ensure that future investments will be climate-smart from the start, that damaged communities build back smarter, and that both public and private sectors are poised to seize new opportunities to achieve resilience.
AIR can help local, state, and federal governments to inform risk transfer and mitigation strategies before disaster strikes and gain meaningful insight into the potential frequency, locations, and consequences of future extreme events.