By the end of this September, the Bureau of Ocean Energy Management (BOEM) will have changed the criteria used to determine the amount of financial security a company must maintain for their oil and gas leases in federal waters. According to BOEM, the purpose of the change is "to ensure that U.S. taxpayers never have to pay for decommissioning and removing a company's offshore production facilities." Regional directors of the BOEM will now review the financial strength of companies with oil and gas interests and evaluate both their financial obligations and their ability to meet them.
These increased capitalization requirements may further strain an industry already facing considerable uncertainty from political, geological, and macro-economic factors. Perhaps the most uncertain of financial obligations, especially with respect to decommissioning and removing outer continental shelf (OCS) offshore facilities, stem from random acts of nature—hurricanes being the most salient—to which the Gulf of Mexico is no stranger.
Roughly 20% of U.S. crude oil is extracted from beneath warm Gulf waters capable of producing, sustaining, and strengthening tropical cyclone activity, as was the case with Hurricanes Audrey (1957), Betsy (1965), Camille (1969), Eloise (1975), Frederick (1979), Allen (1980), Elena (1985), and Lili (2002), as well as Dennis, Katrina, and Rita (2005). All of these storms strengthened over the OCS to produce wind speeds of more than 113 mph, and each was subsequently deemed a wake-up call.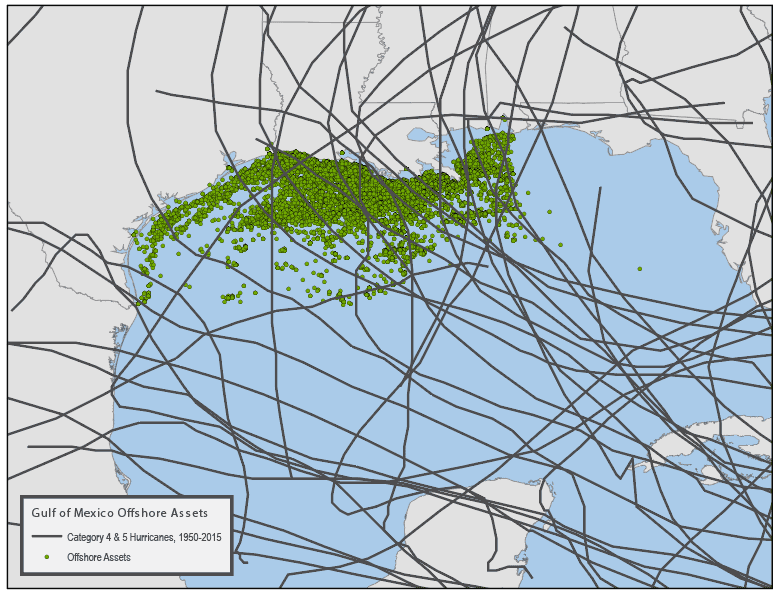 Although Hurricanes Ivan (2004) and Ike and Gustav (2008) did not strengthen in the Gulf, they still wreaked havoc, collectively destroying 67 rigs and platforms, severely damaging another 138, and causing major damage to more than 100 pipelines.
Recent hurricanes that caused severe devastation to offshore oil and gas interests in the Gulf.
Storm
Intensity
Impact
Hurricane Lili (2002)
Category 4
Wind: 110+ mph
Waves: 50+ ft.

6 platforms destroyed
31 platforms damaged
4 MODUs broken from their moorings and set adrift
2 jack-ups capsized

Hurricane Ivan (2004)
Category 4
Wind: 120+ mph
Waves: 95+ ft.

7 platforms destroyed
24 platforms damaged
2 drilling rigs completely destroyed
100 underwater pipelines damaged

Hurricane Katrina (2005)
Category 5
Wind: 140+ mph
Waves: 110+ ft.

100% of oil production shut-in
46 platforms destroyed
20 platforms damaged
6 rigs set adrift

Hurricane Rita (2005)
Category 3
Wind: 110+ mph
Waves: 85+ ft.

69 platforms destroyed
32 platforms damaged
101 pipelines destroyed

Hurricane Ike (2008)
Category 2
Wind: 100+ mph
Waves: 90+ ft.

60 platforms destroyed
31 platforms majorly damaged
93 platforms moderately damaged

Hurricane Gustav (2008)
Category 2
Wind: 110+ mph
Waves: 55+ ft.
While the American Petroleum Institute and National Petroleum Council publish recommendations for hurricane preparedness—which include evacuations, shut-in of production, and post-storm start-up procedures—funding of such critical safety measures is left to each company to secure. The combined costs of an evacuation, a prolonged cessation of drilling activity, reclamation of debris and spill clean-up, and potential damage to platforms, ships, and machinery can imperil a company's survival.
Offsetting the costs
Insurance-linked securities (ILS) have enabled a variety of catastrophe-exposed businesses to access the capital markets using instruments that pay out based on a defined trigger mechanism. For example, should a storm of significant intensity—say a Category 4 storm or greater—approach certain rigs or cross into a particular block and force a shut-in and evacuation, a payout can be triggered to help protect an exposed balance sheet.
To estimate the likelihood and extent of damage to oil and gas extraction assets, AIR Worldwide has developed a hurricane model and property database specifically for the oil and gas industry. Using the AIR U.S. Hurricane Model for Offshore Assets, companies with interests in the Gulf of Mexico can simulate the effects of wind and waves on oil and gas-producing assets to develop a customized financial instrument to suit their individual needs. A database of drilling and extraction properties operating in federal waters under the supervision of the BOEM is maintained, and the model's vulnerability component accounts for the engineering dynamics of both topside (i.e., deck and equipment) and foundational structures for each of these facilities.
AIR can help companies assess their platform damage potential, and determine the impact of historical hurricanes on their structures, in preparation for outsized and unexpected costs that can arise from catastrophic events.
The burden of increasing capitalization due to regulatory requirements can be offset and balance sheets can protected by using customized, securitized, and collateralized financial instruments. With all of the uncertainty facing oil and gas operators in the Gulf of Mexico, one thing is for sure:  the next devastating hurricane season is somewhere just over the horizon.