The existing gap between global economic losses from natural hazards and those covered by the insurance industry is well documented, and the so-called "protection gap" for property risks has been a hot topic of discussion in the industry throughout the last 12–18 months. AIR has highlighted this phenomenon as an area of potential growth for the insurance industry, so it's not surprising that reinsurers are looking to the protection gap to make the best use of their excess capital in today's market.
Investment in the protection gap is mutually beneficial for all parties; Reinsurers get to diversify the geographic extent and range of perils covered in their portfolios, and the host nations benefit from the financial resilience provided by insurance and regulation. In late 2015, Lloyd's of London announced that eight of its syndicates will join an initiative that will pledge a collective USD 400 million toward solutions targeting natural hazard risk in emerging and developing economies. This capital will contribute to bridging the gap, but exactly how much capital would be needed to "insure the world"?
Answering the Question
Assessing the risk of natural hazards on a global basis is not an easy task, as catastrophe models do not exist for every peril and territory and current models primarily focus on insured property damage rather than economic losses. Here we formalize a calculation to scale up insured losses for existing modeled perils and territories to global economic losses for all natural hazard perils. We then illustrate how different levels of global natural hazard coverage (with respect to global gross domestic product [GDP]) could be priced and, for the first time, provide some high-level estimates of how much it would cost to insure the world.
Using AIR's 2015 regional exceedance probability (EP) curves as a starting point, regionally derived scaling factors have been applied to translate insured losses for AIR modeled perils and territories firstly to global insured losses (i.e., what would be the insured EP curve if AIR modeled all perils and territories), and then secondly to translate global insured losses to global economic losses (i.e., the total natural hazard loss worldwide). The scaling factors are derived from historical insured and economic loss data from the Swiss Re Sigma reports previously used in our work for the United Nations Office for Disaster Risk Reduction on global economic loss normalization.
Because of the significant uncertainty associated with both the reporting of insured and economic losses from natural hazard events and the event-by-event variability in the ratio of economic to insured losses, several scenarios with different scaling factors were considered. These scenarios captured a range of different datasets of published historical loss estimates and explored different methodologies for deriving regional scaling factors.
USD 8.2 Billion Could Buy the World USD 390 Billion worth of Coverage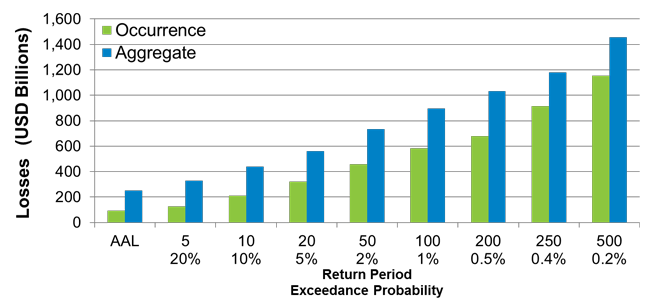 The results, presented in the chart, are for the scenario that we feel best reflects the average derived losses. Using AIR's aggregate modeling platform, CATRADER®, we applied a range of aggregate-excess-of-loss layers to price various levels of global natural hazard coverage. For illustration purposes, we considered a layer with an attachment value of 1% of global GDP (approximately USD 780 billion, at end 2014) and with a limit value corresponding to 0.5% of global GDP (approximately USD 390 billion, at end 2014). This layer attached at approximately the 60-year return period (1.62% exceedance probability) on the aggregate global economic exceedance probability curve and exhausted at approximately the 250-year return period (0.43% exceedance probability).
To price this layer of natural hazard coverage, we used the average annual loss to the layer (AAL) plus 15% of the standard deviation as calculated by CATRADER (see table).
Results for the layer of 0.5% global GDP excess 1% global GDP used to price global economic losses from natural hazards. (Source: AIR)

| Attachment (% of Global GDP) | Attachment Value (USD Billions) | Limit (% of Global GDP) | Limit Value (USD Billions) | Exhaustion Value (USD Billions) | Average Aggregate Annual Loss to Layer (USD Billions) | Standard Deviation (USD Billions) | Indicative Premium (AAL + 15%SD, USD Billions) |
| --- | --- | --- | --- | --- | --- | --- | --- |
| 1 | 778 | 0.5 | 389 | 1,167 | 3.396 | 32.207 | 8.227 |
While this method of pricing is relatively simple, it provides the first indicative estimates of how much it would cost to insure the world. No doubt, individual reinsurers will have their own opinions on pricing algorithms and AIR invites the market to discuss how to best price global economic natural hazard coverage. We are confident that by working together as an industry, we can take steps toward bridging this gap and providing coverage to those who need it most.