Canterbury―the largest city in New Zealand's South Island―made headlines around the world in September 2010 when a magnitude 7.1 temblor struck near Darfield, and again six months later when a magnitude 6.3 earthquake devastated the city.
The region has experienced a sequence of aftershocks since then, some of them significant. According to GeoNet―the official source of geological hazard information for New Zealand―there were 4,341 aftershocks with magnitudes greater than 3.0 between September 4, 2010, and September 3, 2015, and many more events of lesser magnitudes. The animated quake maps available on the website developed by Paul Nicholls of the University of Canterbury, Christchurch, dramatically illustrate seismic activity in the region.
A magnitude 5.7 earthquake on February 14, 2016, was the most recent big aftershock. It was strongly felt in Christchurch and initiated rock falls along the coast, burst water mains, and damaged mobile phone towers. It was powerful enough to trigger some liquefaction, but too small to cause serious damage; no one was killed. The earthquake made headlines principally because it occurred almost exactly five years after the magnitude 6.3 temblor that devastated Christchurch.
Although there have been at least three other aftershocks of higher magnitude than the February 14 quake, the recent temblor was nevertheless one of the strongest since the 2011 disaster. It occurred just offshore―about 8 km east of Christchurch―and its epicenter was located within the same seismicity band that formed after the big 2010 earthquake.
The main shock in 2010 and the principal aftershocks in the three months following occurred mostly to the west of Christchurch. Seismicity then migrated eastward with several powerful earthquakes, including the significant magnitude 6.2 Christchurch earthquake in 2011, which was closely followed by a magnitude 6.0 earthquake  that impacted the southern part of downtown Christchurch in June of the same year.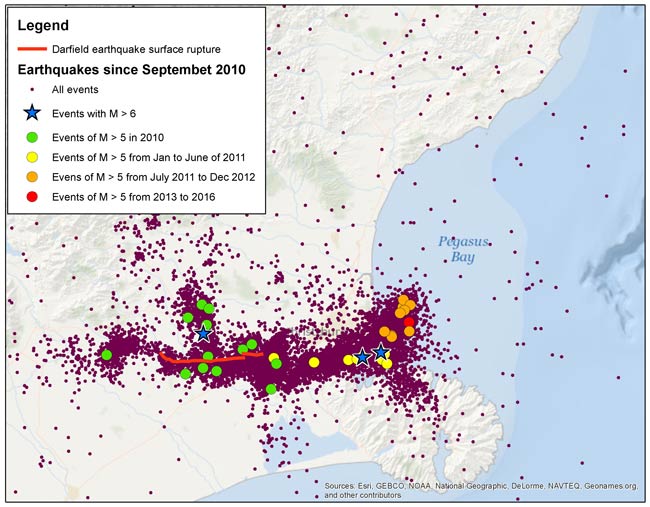 Since those events, seismicity has migrated even further east into the offshore area. More than half a dozen earthquakes with magnitudes greater than 5.0 occurred in this offshore area between December 2011 and January 2012. The intervals between larger aftershocks (magnitudes larger than 5.0) or aftershock clusters is also growing longer. From 2010 and 2012, this interval was between five and six months, but there were no further significant aftershocks until February 14, 2016.
According to GeoNet, the way that the sequence is decaying means that it will probably take decades for the region's seismicity to return to pre-Darfield activity levels. GeoNet estimates that the February 14 earthquake increased the 1-year probability of a 5.0–5.9 magnitude earthquake from to 49% to 63%, and that the likelihood of another magnitude 5.0–5.9 earthquake in the region before the sequence is done has increased. Although considered unlikely, they do not rule out the possibility of larger earthquakes occurring.
Canterbury is still making a slow recovery from the destructive 2010 and 2011 earthquakes, and is becoming a more resilient city in the process. About 70% of the central business district's buildings are being replaced and the new city is greener, more compact, more accessible, and safer. Thousands of private homes have been―or will be―replaced.
The Earthquake Commission provides natural disaster insurance guaranteed by the government of New Zealand. Residents whose current policies include fire insurance automatically have earthquake coverage for their homes and land. If their homes, land, or contents suffered damage from the February 14, 2016, earthquake, they have three months to file their claims.