Unprecedented rainfall resulted in catastrophic flooding in Louisiana during August 2016, notably from August 8–15. The record-breaking downpour amounted to upwards of 30 inches in two days in some areas, while an estimated 7 trillion gallons of water accumulated in Baton Rouge and the surrounding suburbs.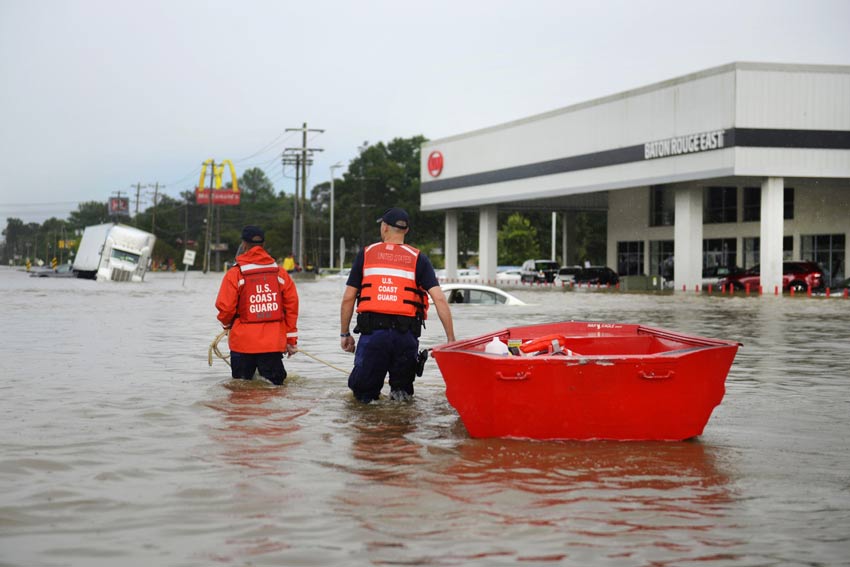 Not a Purely Tropical System
The culprit—a slow-moving, upper-atmospheric low-pressure system, along with a steady stream of tropical moisture from the Gulf of Mexico—provided instability across Louisiana. The storm system featured a broad, low-level cyclonic circulation, but tropical cyclone development was not expected because it was near land and forecast to move farther inland.
Regardless of meteorological nomenclature, the southerly flow off the Gulf of Mexico brought tremendous amounts of moisture inland and spread it across Louisiana. Precipitable water levels in the atmosphere during the long-duration storm—2.50 to 2.75 inches—approached record levels. (Precipitable water is a good indicator of how much rain might fall as a result of a low pressure system). The nearly stationary system resulted in days of seemingly endless torrential rainfall, with occasional thunderstorms, from Baton Rouge to Lafayette. The heaviest rainfall moved with the storm as it very slowly drifted westward, although localized downpours continued to plague the entire region for days.
How Much Rain?
Record rainfall totals were tallied in many locales as this system crawled across the region, with some areas receiving two to four times the average monthly rainfall for August in just a few days. (See the figure for precipitation estimates.)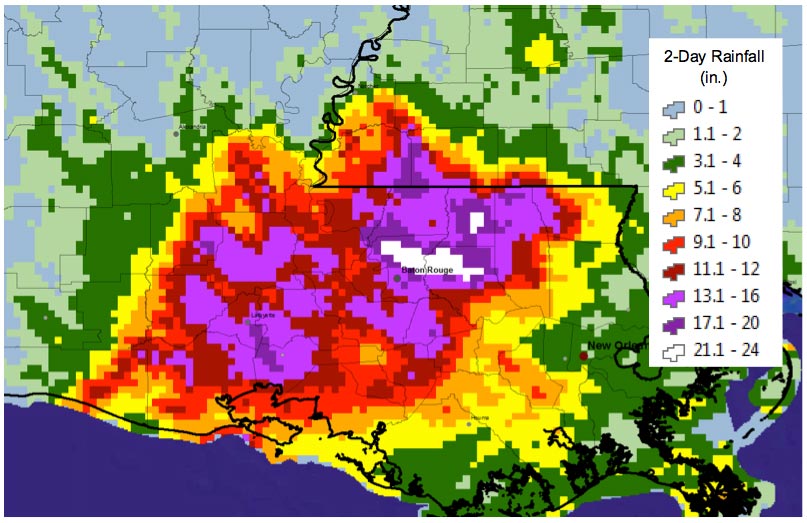 In general, rainfall totals ranged from 12 to more than 24 inches, yet 31.39 inches fell near Watson, 27.47 inches fell in Brownfields, and 26.14 inches fell in White Bayou. In three parishes just east and north of Baton Rouge—East Baton Rouge, Livingston, and St. Helena—some rainfall measurements were in the 1,000-year return range.
For Baton Rouge, the 26.97 inches of rain recorded from this lengthy event made August 2016 the wettest month in 174 years of record keeping—nearly 14% more rain than the previous record, 23.73 inches, set in May 1907. Statewide, the precipitation total for August 2016—12.91 inches—was almost 33% greater than the previous 1948 record of 9.71 inches, and 8.27 inches above the monthly average.
Deadly and Destructive
Rainfall totals, of course, are not the only measure of this somewhat unusual event. An estimated 145,000 residences—upwards of 359,000 people—and as many as 12,000 businesses—employing more than 136,000 people—were in flood-affected areas. The floods caused 13 deaths, forced 11,000 people into shelters during the storm, and displaced more than 30,000 people. In the end, the federal government declared 20 parishes as major disaster areas and the event is probably the worst natural disaster to have occurred in the U.S. since Hurricane Sandy in 2012. Look for AIR's upcoming issue brief on the topic of this year's Louisiana floods.