After a relatively quiet period in terms of large and damaging earthquakes, the recent event in Nepal is a stark reminder that earthquakes can-and do-occur with little or no warning, and are indiscriminate about who they affect.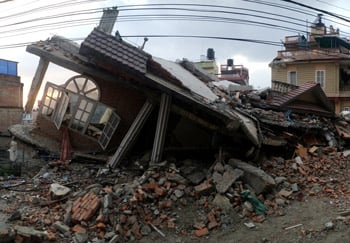 A house damaged in the earthquake that struck Nepal on April 25,2015 (Source: Nirmal Dulal)
In the aftermath of any disaster, a response from the international community focuses firstly on search and rescue, and secondly on emergency relief to keep those affected alive. After this, several stages of recovery take place, eventually progressing to reconstruction with more permanent dwellings and infrastructure. Ultimately the goal is to get the community back to normal as quickly as possible, while (hopefully) improving their resilience in the process.
Lessons need to be learned if we are to achieve an increase in resilience, but a very short window of opportunity exists during which data can be collected before the recovery phases begin. The UK-based Earthquake Engineering Field Investigation Team (EEFIT) is one of a handful of organizations around the world that send teams of engineers to observe earthquake damage to collect this data and report findings to the wider engineering community. EEFIT has reported on many earthquakes since it was formed in 1982, and I am honored to have just been elect edits chairman.
At times, damage can be difficult to observe. Access can be tricky in some countries, and seriously impaired transport infrastructure can hamper team movement. To make useful observations, EEFIT must strike a careful and sensitive balance between going too soon and arriving too late. Sending a field team too early can potentially disrupt search and rescue efforts. And because contractors in some countries begin the demolition of damaged structures days after an earthquake, a team arriving too late will find many damaged structures already demolished. Strong,well-connected local contacts on the ground are also essential to gaining the necessary access to sites. Despite the challenges, EEFIT has historically got this balance right, as the many reports on their website attest.
With respect to the Nepal earthquake, the EEFIT management committee has decided that a field investigation is justified, and is now looking into creating the most effective team from a list of volunteer members. Team composition can vary depending on the requirements of a specific mission, and thankfully we have a broad range of expertise across the EEFIT membership to draw upon. Nepal presents a number of unique challenges, and the experience and breadth of expertise in the team will be crucial to a successful outcome.
EEFIT is primarily a volunteer organization. Academic members are usually funded through research grants, and corporate members generously allow their staff time to attend missions and write up reports. The organization relies on a small number of practicing engineers and academics, the financial support of its individual and corporate membership, and secretarial support from The Institution of Structural Engineers. If you or your company is interested in becoming a member of EEFIT, you can find out more here.