On December 27, 1722, an earthquake, possibly of M7.8, devastated the Algarve region of southern Portugal. It is not a well-known event because most records were lost when an M8.5 earthquake—one of the most destructive in history—struck the Portuguese city of Lisbon, Europe's second oldest capital, on November 1, 1755. And at noon on March 31, 1761, a third major Iberian quake—also likely an M8.5 event—struck the same region. All three of these events triggered damaging tsunamis.
In 1755 three distinct tremors shook Lisbon for several minutes and ground motion was felt as far away as Finland and northwestern Africa. An estimated 60,000-100,000 people were killed during this earthquake, some while gathered in churches for All Saints' Day mass. Nearly 85% of the city's building stock was destroyed, including palaces, churches, and libraries.
Building damage was significant in southern Portugal, particularly in the cities of Algarve, Lagos, and Peniche. In the town of Vila do Bispo, 20 km inland of Cape São Vicente, only one house is reported to have been left with any standing walls. Many buildings that were not destroyed by the earthquake were damaged in the ensuing fires, which burned for five days, as fallen debris and narrow streets made extinguishing burning buildings difficult. Reports indicate that three tsunami waves engulfed the harbor and parts of Lisbon approximately 40 minutes after the earthquake. The most severe damage was reported in the Algarve area, where waves dismantled some coastal structures.
The 1761 Quake
The shaking from the 1761 earthquake lasted for about three minutes in Lisbon. Like the 1755 event, the epicenter was located to the southwest of the Portuguese mainland along the Azores-Gibraltar fault, which serves as a boundary between the African and Eurasian plates. According to one witness, "The shock … seemed to spring from the bowels of the earth, and the motion to be directly up and down." Few aftershocks were evidently felt, although one on April 3 was severe.
Nobody seems to have been killed in Lisbon, but structures compromised or ruined by the 1755 quake were destroyed and new houses were damaged. Elsewhere there was little serious damage, but the shaking was felt as far away as the Azores, the Canary Islands, Amsterdam in the Netherlands, and Cobb, on the south coast in Ireland. Loch Ness in Scotland, where a seiche was experienced in 1755, rose two feet at Fort Augustus, subsided, and then continued rising and subsiding for two hours.
A tsunami of 7 feet struck the coast at Lisbon 85 minutes after the earthquake and waves continued to come ashore for the next 13 hours. The tsunami impacted Cornwall in England's west country for about five hours with waves up to 6 feet in height and was probably responsible for the waves of up to 4 feet high recorded in Barbados in the Caribbean.
European Earthquake Risk
Seismic activity in the European region is influenced by the movement of the Eurasian, African, and Arabian plates (Figure 1). The African plate is moving north toward the Eurasian plate at a rate of 4 to 7 mm per year.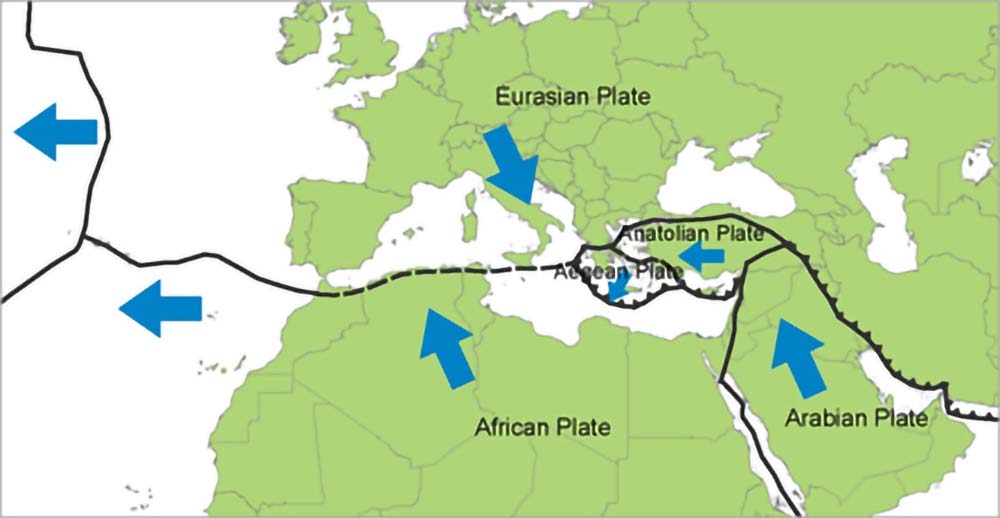 While earthquakes are widespread throughout Europe, the most destructive events have historically occurred in the Mediterranean countries, particularly Greece, Italy, Turkey, and Portugal. Many damaging historical events have taken place in Portugal, which is a seismically active country located on the Eurasian plate, along its southern border with the African plate, north of the Azores-Gibraltar transform fault.
Portugal is characterized by moderate intraplate earthquakes, but offshore interplate faults may cause extremely damaging events as well. The Lower Tagus Valley (LTV) fault is an important fault zone located in the vicinity of Lisbon. Some of the most destructive earthquakes that have taken place in Portugal are associated with this zone. The LTV is not well understood, as few of the earthquakes along this fault have generated surface ruptures. Another active fault zone is the strike-slip Billerica fault. Data suggests that this fault has a slip rate of 0.2-0.7 mm per year, and the return period for earthquakes of magnitude 7.1-7.5 is about 9,000 years (Rockwell, 2005).
Seismologists believe that the recurrence potential of an offshore earthquake similar to those in 1755 and 1761 is relatively low. And were a similar event to occur today, modern tsunami warning systems and disaster response practices, as well as superior building construction, would moderate the scale of damage and casualty.
The more critical source of concern is the Lower Tagus Valley region, which could produce a magnitude 6 to 7 earthquake with a return period as short as 150 to 200 years. This seismic source zone, with its proximity to Lisbon, the large number of old masonry buildings, and a fraction of reinforced concrete frames designed with limited lateral resistance, presents the most significant potential for large loss earthquakes in Portugal.
Verisk earthquake models leverage local and regional expertise to represent the most advanced understanding of seismic hazard and building vulnerability. Our models help you better prepare for the financial consequences of catastrophic earthquakes. In a region like Europe with high-value exposure, companies need sophisticated tools to help them prepare for the next high impact event.

​ Reliably assess and manage seismic risk with Verisk earthquake models