The winter weather of 2015 has brought many challenges to residents of the northeastern United States, including extended periods of arctic air and repeated bouts of snow that have resulted in widespread reports of property damage. As I explain in my video about this year's "brutal" winter, unlike many winter storms-whose damage is often driven by heavy, dense snow and ice building up on power lines and trees blown over by strong gusty winds-this year's impacts are more related to snow loads on roofs.
In fact, while the snowfall is approaching record numbers in many parts of New England and Upstate New York, the most notable part of the last 30 days may not be the snow so much as the duration and intensity of the cold. Because of the very cold air, much of the snow so far this year has been less dense. This has contributed to the record depths of the snow cover because, while it weighs less, fluffy snow simply takes up more space.
For example, in February alone Boston's Logan Airport has reported 62.7" of snow and 3.28" of liquid equivalent. So that's a 19:1 ratio, about twice the typical ratio (a rough rule of thumb is that 1" of water is equivalent to 10" of snow). In many ways this has helped mitigate the extent of damage by preventing widespread power outages from occurring and making snow removal less difficult (at least in part).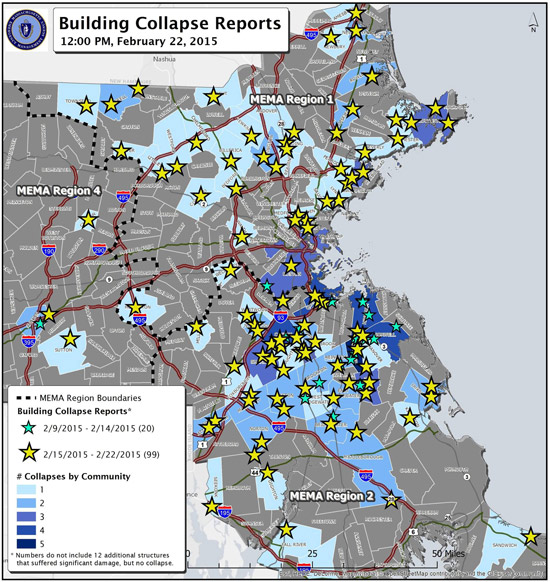 Roof collapses in Massachusetts reported by February 22 (Source:
MEMA
)
However, the accumulation of the repeated snow events is taking a toll. Initially limited to light metal structures with flat roofs (like warehouses), roof collapses are now becoming more numerous. As of February 22, the Massachusetts Emergency Management Agency (MEMA) had recorded 131 instances of roof collapse during the previous 13 days.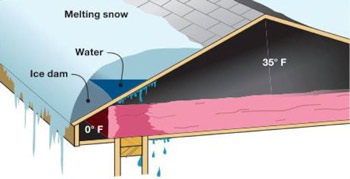 Ice dam formation (Source: FEMA)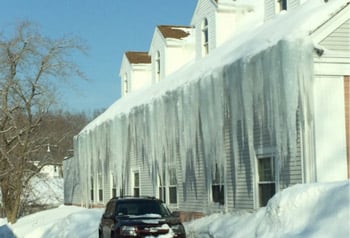 Impressive icicles on a house in Braintree, Massachusetts (Source: Kevin Long)
Less severe, but significantly more widespread, is damage from ice dams, which form as the snow pack on a roof melts and refreezes as a layer of ice along gutters and eaves. One sign of ice damming is the presence of large icicles hanging from the roof edges. In areas of a building with poor insulation, the melting and refreezing can damage the roof and allow water to seep into the building, damaging both structure and contents. While reports of such damage are now commonplace, the full extent of claims may take some time to be known, as the full extent of the impacts and damage may not be apparent to the homeowner until the weather gets warmer and the home can be thoroughly inspected.
Finally, there's more yet to come-and not necessary only in the Northeast. The forecast projections for the next couple of weeks do not show much hope for the arctic pattern to change significantly. In fact, there are indications that several more bursts of polar air will travel as far south as central Texas in the coming week,and several storm systems could bring snow, sleet, and freezing rain to regions in the South that are far less used to dealing with such weather.
For further discussion of this topic see my video The Endless Winter: 2015 One for the Record Books.