The strong El Niño of 2015 produced an Atlantic season with the climatological average number of tropical cyclones. However, as expected, it greatly enhanced activity in the Eastern and Central Pacific. In fact, this year, there were 14 named storms in the Central Pacific, of which eight became hurricanes and five became major hurricanes (Category 3 or higher).
According to the National Oceanic and Atmospheric Administration (NOAA), this was the most active Central Pacific season since reliable record keeping began. It was also the first time that three major hurricanes were active in the basin simultaneously. With so many named storms this year, how did Hawaii stay safe?
Luck played a big role, and that luck came meteorologically in the form of steering currents. Atmospheric steering currents determine the direction in which embedded storm systems will move. Going back to August 21, 2015, we can look at the Central Pacific Hurricane Center (CPHC) cone of uncertainty for what was then Tropical Storm Kilo.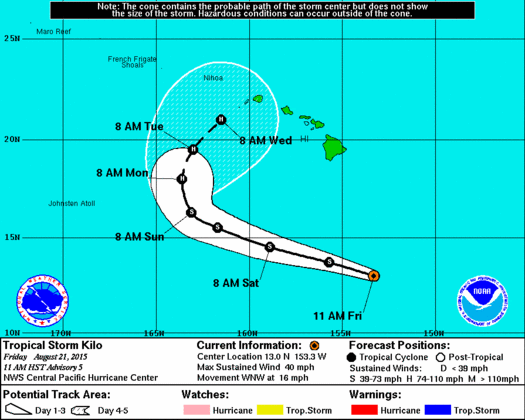 Cone of uncertainty for Tropical Storm Kilo, August 21, 2015 (Source: CPHC)
The CPHC forecast had the storm nearing Hawaii as a Category 2 hurricane. Then what happened? The storm got caught in a steering flow that took it for a very lengthy journey across the Pacific, instead of turning north into Hawaii. In fact, the storm was one of the longest-lived tropical cyclones in history. In addition, it crossed the international dateline and was renamed a typhoon. It then transitioned to an extratropical storm, and went on to impact parts of Russia and even Alaska.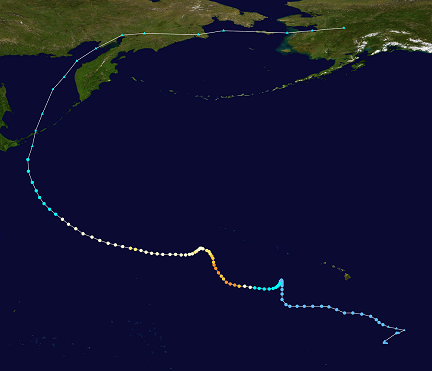 Final track of Hurricane Kilo (Data sources: NASA, NOAA, and the Naval Research Laboratory)
Had the steering current forecast of August 21 panned out, it would have been the first hurricane to hit the state since 1992 and the insurance industry would still be talking about Hurricane Kilo's impacts on Hawaii. Instead, Hawaii made it through a storm-laden El Niño season unharmed and its residents can breathe a sigh of relief.
However, just because they lucked out in 2015 doesn't mean the same will happen in 2016. It's important to keep in mind that all the Hawaiian Islands are at risk from tropical cyclones.