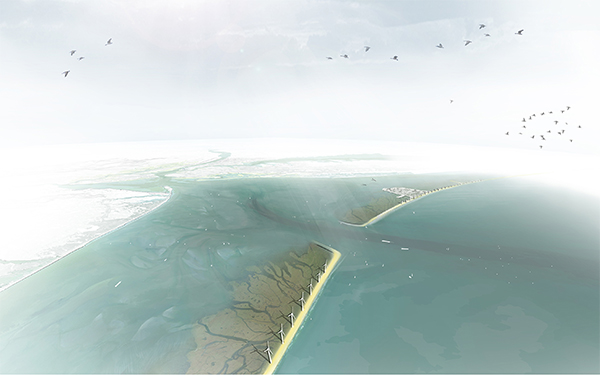 Team WXY/West8 has been designing a system of constructed offshore islands that could significantly reduce the height of storm surges (Source: Rebuild by Design)
As a participant, I have to agree with CNN that the Rebuild by Design contest really was one of the ten best ideas of 2013.The competition was developed to envision solutions that increase resilience across the parts of the U.S. coastline impacted by Hurricane Sandy. It aimed to:
Address the structural and environmental vulnerabilities that Hurricane Sandy exposed in communities
Develop fundable solutions to better protect residents from future climate events, and
Find better ways of implementing designs and informing policy.
Entering the competition were teams representing some of the world's top engineering, architecture, design, landscape architecture, and planning firms, as well as research institutes and universities worldwide. The innovation and creativity demonstrated by their submissions are as remarkable as their variety. But there is far more to it than just clever ideas-the teams have to secure the support of the governments and communities in the areas in which they are working.
In the first stage of the competition, 148 teams submitted preliminary ideas, from which the President's Hurricane Sandy Rebuilding Task Force selected ten finalists. The successful teams then engaged in research, analysis, and community outreach to identify places and opportunities key to the rebuilding process. In the final stage, each team focused on just one of their design opportunities, transforming it into an implementable and fundable design solution.
AIR is part of one of the ten finalists, Team WXY/West 8, which has been designing the only regional solution in the contest - a system of constructed offshore islands that could significantly reduce the height of storm surges throughout the region,potentially saving billions of dollars through fundamental risk reduction.
AIR's contribution was to combine its U.S. exposure data,vulnerability models, and loss models with Sandy surge models developed by the Stevens Institute of Technology to create a mitigation benefit assessment. This was then combined with implementation cost estimates from ARCADIS to provide a first order cost-benefit analysis that revealed the potential for large-scale storm mitigation measures to play a significant role in coastal management.
The teams have spent the last eight months working with regional and local stakeholders to develop and refine their proposals, and on April 3 they unveiled their final proposals at events in New York and New Jersey. Their work will be evaluated by an expert jury before the competition winners are announced later this Spring.
But that's not the end of the process-it is hoped that the winning design solutions can be implemented using disaster recovery grants from HUD, as well as other sources of public and private-sector funding. Team WXY/West 8 hopes that it will secure part of the additional funding, which would enable AIR to contribute to a more in-depth analysis.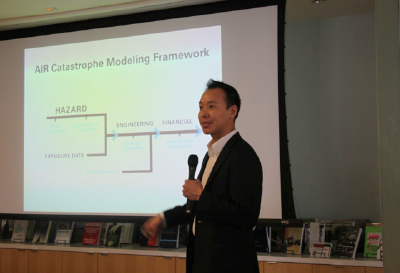 Here I am at an outreach meeting entitled, "Risk Economy:Regional Resilience and the Cost of Doing Nothing." I presented results of a barrier island scenario that used AIR's catastrophe model and Stevens Institute's new surge data to demonstrate savings(loss mitigation) on a regional scale. (Source: Rebuild by Design)