In the early morning hours of January 13, people in northern Puerto Rico were shaken awake by a relatively rare strong earthquake that struck 45 miles offshore of the coast. Power was briefly disrupted and some walls and windows were cracked. Many coastal residents evacuated to higher ground, but fortunately no tsunami was generated by this particular temblor and no serious injuries or deaths were reported. At magnitude 6.4, it was the strongest quake the country has experienced in several decades, but the little damage that resulted made me wonder about the seismic hazard in this region of the Caribbean and how much of a threat earthquakes really pose. I talked to my colleague AIR senior seismologist, Dr. Bingming Shen-Tu, to shed some light on the matter.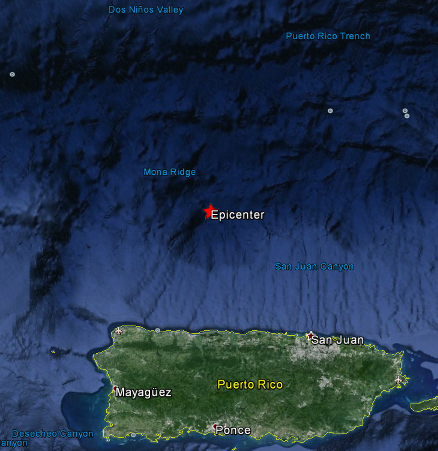 Location of the January 13 earthquake (Source: USGS, ©2013 Google)
According to Bingming, the island is located south of the Puerto Rico Trench, which is the northern boundary between the Caribbean Sea and the deepest part of the Atlantic Ocean. Here, the North American Plate moves west-southwest relative to the Caribbean Plate and also sub ducts beneath the Caribbean Plate. This is a seismically active region and capable of generating large earthquakes (~M8.0), but powerful earthquakes are in fact infrequent.
Only a handful of them have severely impacted Puerto Rico since the 16th century. The most damaging quake in the country's history occurred in October 1918 when an M7.5 quake struck near the island's northwest coast. A total of 116 people were killed, and in Mayagüez, the largest city affected, 700 masonry buildings and 1,000 wooden houses were damaged. This quake unleashed a powerful tsunami that caused roughly USD 4 million in damage to coastal communities at the time. Today, such an earthquake could cost several billion dollars in insured losses, and much higher economic losses.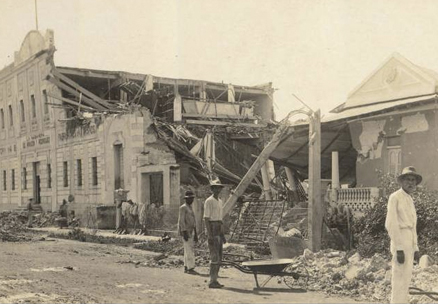 Damage in Mayagüez in 1918(Source: University of Puerto Rico)
The powerful 1918 earthquake was one in a series of four moderate to large magnitude (M6.6 to M7.5) earthquakes that hit Puerto Rico between 1915 and 1918, but since 1918, only one other major earthquake, a M7.6 in 1943, has struck within 150 miles of the island. According to Bingming, this irregularity makes estimating the rate of large magnitude earthquakes in the region quite challenging. Historical data says that six earthquakes of M6.4 or greater have occurred in the last 110 years; that's about one powerful earthquake every 18 years or so. But using modern instrument data (which has captured M ≥ 5 quakes since 1973, and M> 4.5 quakes since 1986) and the Gutenberg-Richter law, a lower rate (of every 30-50 years on average) for large magnitude event scan be inferred for the region-a significant difference from the 110 year average.
What is certain is that highly destructive earthquakes, including ones capable of unleashing fierce tsunamis, are not only possible in Puerto Rico, they are inevitable. Fortunately, building codes on the island are relatively strong, but the lack of earthquake experience can make the country more vulnerable. There is a general lack of public awareness in the country about potential earthquake and tsunami hazards. However, efforts are being made to remedy this. To help communities, organizations, and schools prepare, the Great ShakeOut Puerto Rico-a nationwide safety campaign sponsored by FEMA in partnership with the Seismic Network of Puerto Rico (a great source of additional information on earthquake activity around the island) will be held this October for the third year in a row. I hope that the ShakeOut drill and the January 13 earthquake this year-almost exactly 4 years after the devastating 2010 quake in nearby Haiti-serve as timely reminders of the very real risk that Puerto Rico faces.