The mission of the National Earthquake Hazards Reduction Program, a partnership of four federal agencies, is to improve the nation's earthquake resilience in public safety, economic strength, and national security. The U.S. Geological Survey (USGS) National Seismic Hazard Maps are an important part of that program. Having issued National Seismic Hazard Maps in 1996, the USGS updated them in 2002, 2008, and again in 2014; a summary of the updates to the USGS hazard maps can be found in my earlier AIR blog.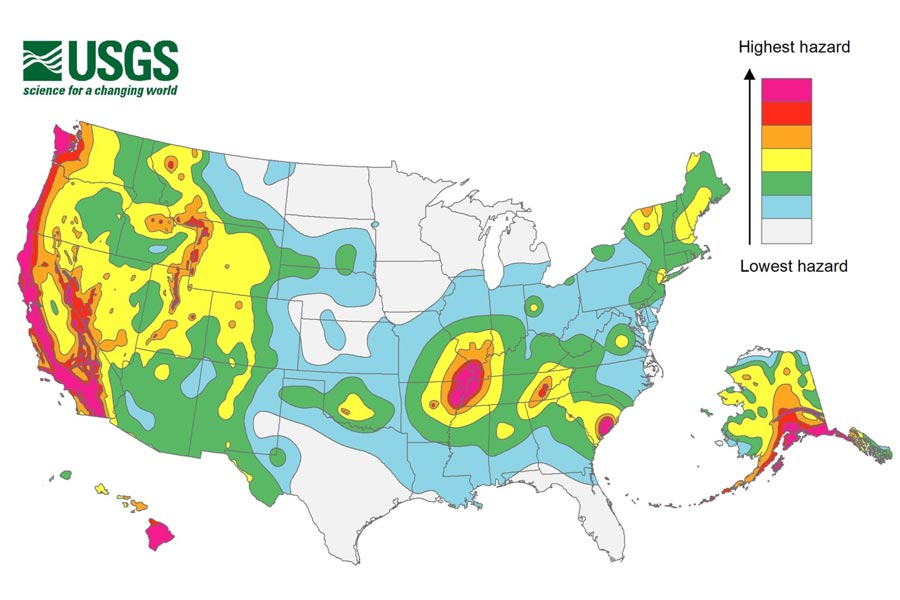 The maps represent an assessment of the best available science in earthquake hazards and incorporate new findings and data on earthquake ground shaking, faults, seismicity, and geodesy (the scientific discipline that deals with the measurement and representation of the Earth). They represent geologists' assessments of where, how frequently, and how strongly future earthquakes may strike.
The maps display earthquake ground motions for various exceedance probabilities across the United States. They are important because they are applied in seismic provisions of building codes, insurance rate structures, risk assessments, and other public policy. As such, they also impact catastrophe models.
How AIR Uses the USGS Hazard Maps
An updated AIR earthquake model for the U.S. is due for release in 2017. We have adopted both the earthquake magnitude-rate model and ground motion prediction equations reported in the 2014 USGS hazard model. Some highlighted updates include:
For the Central and Eastern U.S., we adapted the updated seismicity zonation and magnitude-rate distribution proposed by the 2014 USGS hazard model to develop our stochastic catalog. We also modified the sizes and rates of New Madrid Seismic Zone earthquakes, and developed an induced seismicity catalog based on data provided by USGS.
For the Pacific Northwest, new Cascadia fault rupture geometries and rates are considered for subduction earthquake near Washington and Oregon states, with additional earthquakes in the south. We also updated the depth distribution for intraslab earthquakes along the coastal area based on information reported in the 2014 USGS hazard model.
For California, we extracted both long-term fault-based ruptures and time-dependent rupture scenarios from the Uniform California Earthquake Rupture Forecast, Version 3 (UCERF3), which incorporates a more complete set of multi-fault ruptures.
We implemented similar selections and weighting schemes of ground motion prediction equations for active, stable, subduction tectonic regions, and we updated the site amplification module based on the Next Generation Attenuation NGA-West2 project for active tectonic regions.
We were able to carefully review and validate our updated model with various other aspects of the 2014 USGS hazard model, including magnitude-rate distribution, ground motion prediction, and hazard values in important metropolitan areas. For example, we carefully reviewed and validated the AIR stochastic catalog for earthquakes with UCERF3 for California by comparing magnitude-rate distribution and hazard calculations at selected locations near Los Angeles and San Francisco, and results are similar. We also reviewed the behaviors of individual ground motion prediction equations and they are consistent with those reported in the 2014 USGS hazard model.
The updated USGS national hazard maps are enabling us to incorporate the latest knowledge about regional seismicity and ground motion variability into our own updates to the AIR earthquake model for the U.S. If you'd like to check them out for yourself, files from the 2014 National Seismic Hazard Maps are available for download from the USGS website.