Thanks to Storm Desmond and the recent flooding in the north of England and Scotland, flood defenses are a hot topic. Many complained that cuts in government spending led to the cancellation of flood defense projects that could have protected communities, and that some of those constructed failed to provide the protection anticipated.
The defenses making the biggest headlines in Cumbria are not old and obsolete, but expensive state-of-the-art installations. Chief among them are:
The GBP 38 million defenses for Carlisle, completed months ahead of schedule in 2010 to protect 3,000 homes and businesses
The GBP 6 million concrete and glass wall flood defense in Keswick, completed in 2011 to protect 180 homes and businesses
The GBP 4.4 million defenses of Cockermouth, completed in 2012 to protect 400 homes and businesses
In Great Britain, permanent man-made flood defenses are dominated by four types: embankments, flood walls, storage areas, and point structures. There are also various movable defense systems that can be brought into an area at risk of flooding. The defenses for a given location often consist of a combination of these. In Cockermouth for example, they include lengths of glass panels, raised embankments, and an innovative barrier extending 390 feet (120 meters) that closes itself when the river is in flood.
Flood defenses can fail for a variety of reasons and by various mechanisms, but the defenses in Cumbria did not fail; they were overtopped. Assuming that they hold, flood defenses are only as good as their height—they are built in accordance with a defined return period—a design level referred to as the Standard of Protection. In Cumbria, because of the exceptionally heavy precipitation experienced, the volume of water flowing through these communities exceeded the design level of their defenses and the excess simply poured over the top into the streets.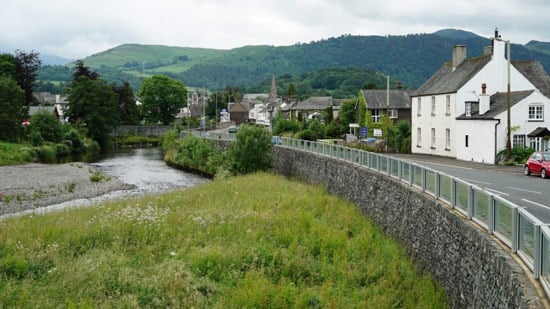 Figure 1. Discrete concrete and glass flood defenses in Keswick.
(Source:
Peter Trimming/CC BY-SA 2.0
)
The new defenses for Cockermouth, the birthplace of poet William Wordsworth, were built to protect the town from floods like those in 2009, when a month's rain fell in 24 hours. They also had to be sympathetic to the historical surroundings and not impact tourism, on which the region relies heavily. The concrete and glass wall in nearby Keswick was similarly designed to be inconspicuous and to protect against the level of flooding experienced in 2009, when the River Greta rose 15.2 feet. In December 2015, however, it surged to 17.4 feet. A higher wall could have been built with greater financial and environmental costs, but political decisions presumably deemed these costs unbearable as worse floods were considered unlikely.
In December 2015 the defenses held and met the Standard of Protection for which they were designed. As then Environment Agency chairman Sir Philip Dilley reported: "They didn't fail, they protected properties against flooding that would have occurred had they not been there, and most importantly they gave a little more time for people to rescue precious possessions and to get out."
Flood defenses are expensive, but they can make an enormous difference. In a 2009 study for example, AIR estimated that had there been no inland flood defenses in place during the devastating floods in Great Britain of June and July 2007, insured losses would have been in excess of GBP 6.5 billion—more than double the actual reported loss of GBP 3 billion.
The debate over whether and how much to spend on flood defenses in Great Britain continues; it is a particularly challenging one, given the current pressure on public spending and the simultaneous clamor for improved defenses. There is little doubt, however, about their mitigating impact, especially as the number of new homes and businesses built on floodplains continues to rise. Just don't expect defenses designed for a 100-year flood to cope with a 150-year event.