Boston is basically a hill in a harbor surrounded by low-lying land reclaimed from salt marsh (fens) in the 1800s. In addition to hurricane and earthquake risk, it is increasingly threatened by flood. Boston sits in a zone on the East Coast deemed a sea-level rise "hot spot" by scientists because its waters are rising faster than the global average. A 2014 World Bank study of coastal cities reported that Boston is the eighth-most vulnerable to long-term damage from sea-level rise.1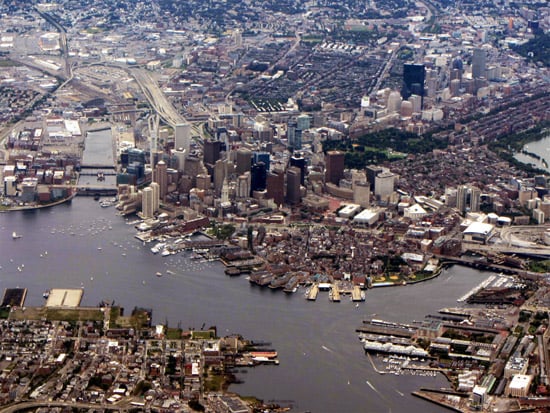 Boston from northeast (Source: David Wilson)
Hurricane Sandy was a wake-up call for the Northeast, and coastal cities in the region have since been revamping their preparedness. Boston, in particular, is focused on building for resiliency. To fully assess the risk and develop effective mitigation strategies, Boston carried out multiple research studies. Reports issued by the Urban Land Institute (ULI) and The Boston Harbor Association project sea level rise of two feet by 2050 and six feet by 2100.
In response to these predictions, the state and city governments, the Boston Redevelopment Authority, and other public and private parties are working to help Boston reduce its vulnerability. Mitigation strategies commonly known as "dry flood-proofing" actively prevent water from entering buildings and surrounding areas; solutions include the creation of flood walls,improved drainage, and raising structure elevations.
Other "wet flood-proofing" techniques enhance recovery from flooding through engineering measures taken to minimize damage by allowing an area to flood. Service equipment, such as electrical boxes, HVAC systems, and sewage systems, can be raised within buildings to avoid flood damage, and foundations and walls can be designed with waterproof materials for faster drying.
Boston and its residents are using a combination of both dry and wet flood-proofing tactics in their battle against rising waters and time. Outside Boston's Atlantic Wharf building, for example,bricks marked with an "X" hide a network of anchor bolts for a flood protection system that stretches 800 linear feet around the structure. The privately owned system connects panels four feet high with waterproof plastic to form a barrier and can be erected in a few hours. The system has been installed in several buildings in New York since Sandy.
Boston's Mayor Martin Walsh is pushing to reduce red tape involved with building and structure modification for flood mitigation, including the possibility of raising height restrictions to allow for vital utility system placement on higher floors or roofs. The directive was passed to the three agencies responsible for these decisions: the Boston Redevelopment Authority and the city's environmental services and inspectional services divisions.
With Boston surrounded mostly by water and a new study in the August issue of Nature Climate Change pointing out Boston's "triple threat" from storm surge, sea level rise, and heavy rainfall, mitigation will be key to ensuring a more resilient city.
---
1Stephane Hallegatte et. al., Future flood losses in major coastal cities, Nature Climate Change, published online August 18, 2013