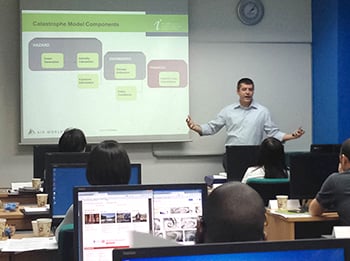 Subject matter experts conducted the inaugural AIR Certified Catastrophe Modeller Programme in Singapore (Source:AIR)
This week we had an interesting Black Swan event here in Singapore-cocktails at the iconic Black Swan restaurant and bar towel come attendees from all over Asia to AIR's Certified Catastrophe Modeller Programme!
Rating agencies and regulators on the one hand, and corporate boards and executives on the other are increasingly focused on catastrophe risk management. The need to develop and demonstrate robust risk management practices and a comprehensive understanding of the modelling process and associated assumptions and uncertainties has led to a growing need for skilled catastrophe modellers.
A good catastrophe modeller will have the necessary tools to not just to employ best practices in catastrophe management, but also to communicate them to both internal and external stakeholders. He or she will need a more detailed understanding of the science and technology underlying the models, as well as enhanced skills in handling and optimizing the exposure data going into them. An appreciation of the impact of exposure data quality on the reliability of modelled results and in-depth understanding of the nature and impact of analysis options and assumptions are essential.
The sophisticated user will be efficient in importing and exporting data and optimizing analysis run-times, and be able to apply best practices in interpreting model output. As well as being able to model complex business situations, the user should be well prepared for discussions with rating agencies and adept at synthesizing and communicating analysis results to senior management.
Catastrophe modelling companies offer training opportunities to develop essential skills like these, and they are not just for catastrophe modellers and analysts. Insurance financial managers,actuaries, underwriters, and insurance and reinsurance brokers will find them invaluable as well. And, increasingly, representatives from ratings agencies and regulators are in attendance as they deepen their understanding of how companies are using model results in their risk management practices.
AIR's Certified Catastrophe Modeller Programme is an intensive and interactive programme that aims to answer questions along the lines of "why does the software do this?" rather than"how do I do this in the software?" Five full days of classroom and hands-on instruction provide a more detailed understanding of the science and statistics that underlie the models and best practices for interpreting and employing model results. Upon successful completion of the coursework and a final exam, attendees become AIR Institute Certified Catastrophe Modellers™(CCM™), and are immediately prepared to add even more value to their organizations.
The AIR programme has been successfully offered in Boston and London for some time now, and was inaugurated at our Singapore office on Monday. All 20 seats were sold out within four weeks of the announcement, confirming the high demand for in-depth training and the maturity of the modelling industry in Asia. Attendees hailed from Japan, Hong Kong, Korea, Malaysia, India and Singapore.T he course, which is being conducted by AIR subject matter experts with support from AIR staff from Singapore, Tokyo, India, London, and Boston, will conclude with a celebratory dinner at the famous Fullerton Hotel. And with ten students already on a waiting list, there is a high likelihood of another CCM programme being held here in Singapore in 2015!