The term 'non-modeled risks' entered the insurance industry's lexicon in a big way after a series of major natural catastrophe events in 2010 and 2011 led to significant losses from perils that had not been explicitly modeled. Catastrophe models were well established for Japanese earthquake scenarios in March 2011 when the Tohoku earthquake struck, for example, but none of the widely-available vendor models represented the potential for concurrent tsunami damage and losses at that time. Furthermore, commercial models for floods in Thailand were not available at the time of the 2011 flooding.
No risk assessment is complete without due consideration having been given to risks that are not modeled. To help the insurance market better identify, assess and manage non-modeled aspects of global catastrophe risks, the Association of British Insurers has just published a good practice guide. Non-Modelled Risks - A guide to more complete catastrophe risk assessment for (re)insurers,which will help the industry better identify, assess and manage risks that may not be included in an insurer's current catastrophe modeling approach, outlines
A common definition of what may constitute a non-modeled risk
Effective governance of such risks within an organization
Methods of identifying such risks. For example, assessing current and potential future exposures, analyzing past claims, and using expert option and analysis
Methods of quantifying non-modeled risks
Modeling implications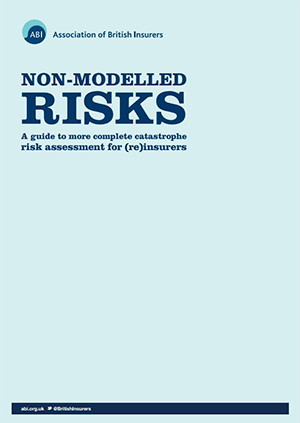 The guide can be downloaded directly from theABI website.
This landmark guide provides practical guidance. It covers risks associated with regions and perils, secondary perils and effects,classes and lines of business, and coverages not considered by catastrophe models. It discusses developing a clear, structured process for managing non-modeled risks; the need for a systematic,documented process for identifying them; four methods of quantifying them (expert judgment, actuarial/statistical, geospatial and extending cat model use), and ways of explicitly representing them in a capital model.
This guide was drawn up by a working group comprising representatives from insurers, reinsurers, reinsurance intermediaries, Lloyd's, catastrophe model vendors-one of which was AIR-and catastrophe model consultants. All 35 authors work in areas predominantly concerned with understanding natural catastrophe risk as it affects insurers and reinsurers, and representing that risk within companies' internal models.
A key part of AIR's contribution to the paper was ideas on techniques that can be used in risk quantification, for example the geospatial capabilities available in AIR's open platform Touchstone®. These techniques are of particular interest to those concerned with managing non-modeled flood risk and include accumulation of exposure within freely available or licensable flood footprints.
Download the guide from ABI and read more about managing non-modeled risks in Touchstone.