A few years ago my father moved to Arkansas City, Kansas ("ArkCity), very near the great Arkansas River. His house is a few blocks away from the snaking dike that shields nearly the entire city from flooding. Ark City lies at the confluence of two great tributaries of the Mississippi-the Arkansas River and the Walnut River-and spans two separate river basins, the Lower Arkansas and the Walnut.
This is a double whammy flood situation: Two river basins collecting rain from two separate catchments, two rivers wrapping the city in loving, watery arms. This spells repeated inundation, or would do, except for the levees. Without that levee system my Dad's house would probably flood every few years. Let's see what the data tells us.
The plot below shows just how effective the levee protection has been. Since gauge recordings at this site began in 1920, the Arkansas River has reached Flood Stage 94 times, which is an average of once a year. The Walnut River, which comes from an entirely different river basin that can flood either concurrently or independently of its near neighbor, reached Flood Stage 0.8 times per year on average in the same 94-year period. Looking at the joint distribution, or frequency of Flood Stage events from both rivers, without the levees to protect it, the city would be flooded in some form roughly 1.3 times a year!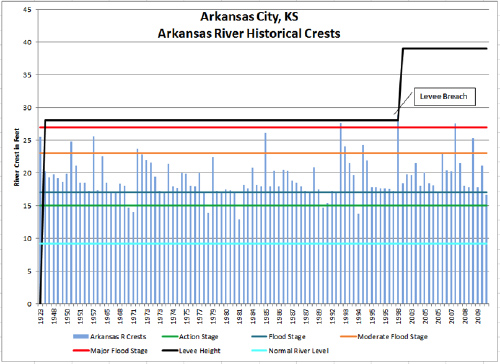 Arkansas River crests 1920-2013, Arkansas City, KS
The first levee system in this area of Kansas was built in 1935 in response to major floods and a couple of flood control acts passed by Congress. Below is part of a map showing the flood zones for the southern half of the city, clearly highlighting the need for the levees and the significantly reduced risk inside the levee system.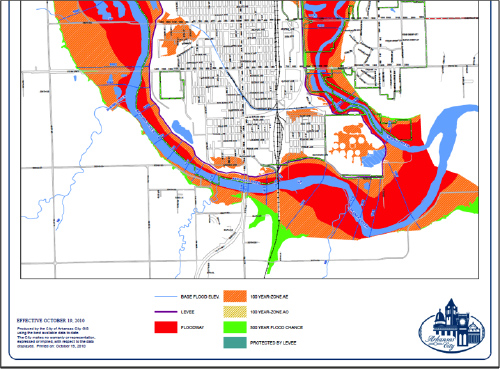 The southern half of Ark City and its flood zones
In spite of the levees however, the citizens of Ark City are still at risk. Just 63 years after the first levee was built, the 1998 Halloween Flood waters overtopped the dike on the southwest side of town and caused some 400 homes to be flooded; the city responded by fortifying the levee and increasing its height by 11 feet. I wonder how many years until another overtop or a levee breach happens? Do the NFIP rates give any indication of the underlying probability?
First let's consider the hypothetical case of no levees. If there were no levee system in Ark City, my father's house would be in FEMA's AE Zone (i.e., in the river's floodplain). The highest rate that could be charged for $100k of building and $50k of contents cover is $3,797 per year. Looking at the table below, this rate effectively anticipates a total flood loss once every 39 years. Remembering back to the large number of flood level river crests from 1920 to 2013, this would be a great insurance deal! It also explains why NFIP requires that communities protect themselves before they are allowed to participate in the flood insurance program.
Premium for an NFIP policy in an AE Zone
AE Zone Premium

Coverage

Basic Rate per $100

Addl Rate per $100

Basic Premium

Addl Premium

Total Premium

Rate Online

Years to $150,000

Building

$100,000

4.4

0.85

$2,640

$340.00

$2,980

 

 

Contents

$50,000

2.76

0.51

$690

$128

$818

 

 

Total

$150,000

 

 

$3,330

$468

$3,798

2.53%

39
Because of the protection in place, most of Ark City is in an X Zone (i.e., behind a levee) so flood insurance is pretty inexpensive, reflecting the greatly reduced risk. Paying this$1,193 premium (see the table below) every year, it will take someone 126 years to "fund" their total coverage limit. To me,given the 11 foot higher levee protection since 2003, this premium seems a little high. In fact, there is no differentiation between an X zone rate behind a 28-foot levee and an X Zone rate behind a 39-foot levee. But I'll bet there is a difference in peace of mind.
X Zone Premium

Coverage

Basic Rate per $100

Addl Rate per $100

Basic Premium

Addl Premium

Total Premium

Rate Online

Years to $150,000

Building

$100,000

9.9

0.26

$594.00

$104.00

$2,980

 

 

Contents

$50,000

1.516

0.47

$378

$118

$495

 

 

Total

$150,000

 

 

$972

$222

$1,193

0.80%

126