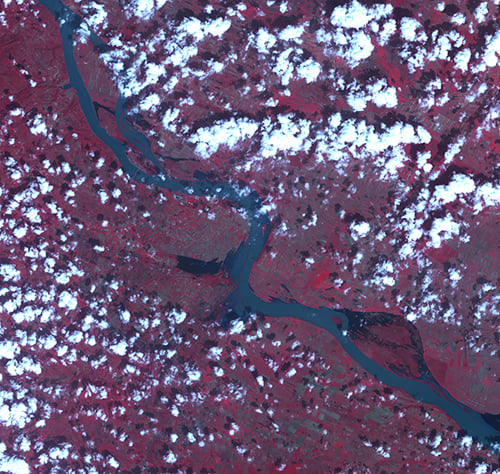 Flooding on the Danube River inundates more than 200,000 hectares of farmland in Serbia in April 2006 (Image Source: NASA Terra satellite)  
Wealthy developed nations have a much easier time rebounding from major natural disasters than developing ones. A mature insurance market and high insurance penetration rates are among the mechanisms that add considerably to their resilience by making available financial resources from a source other than the government to help homeowners and businesses rebuild.
Working to significantly increase the level of catastrophe insurance penetration among homeowners, businesses, and farmers in a vulnerable region-and in the process reducing their governments' fiscal exposure to natural disasters-therefore has to be a good thing. And this is exactly what Europa Reinsurance Facility Ltd.(Europa Re) is all about.
Europa Re, which just went live in March, originated from an innovative 2008 World Bank initiative to address the very low levels of catastrophe and weather risk insurance penetration in Southeast Europe. It is a Swiss-based specialty property catastrophe reinsurance company owned by its member countries, which are currently Albania, Serbia, and Macedonia. With the support of the World Bank and donor organizations, it has raised over USD 12 million in grants for establishing operations. Its mission is to:
Educate consumers about the exposure of their properties and businesses to weather and catastrophe risks,
Improve and standardize credit quality of catastrophe insurance products,
Enable insurance companies to sell complex weather and catastrophe risk insurance products, and
Help governments and insurance regulators enact regulatory and policy reforms conducive to the development of catastrophe and weather risk markets.
Innovative catastrophe insurance products are tailored to address the specific perils faced by the region and are sold by participating insurance partners-local insurance companies accredited by Europa Re. Four types of coverage are offered: (1)insurance against extreme fluctuations in temperature and precipitation that can impact revenue is available to businesses;(2) coverage against hail damage to crops for farmers and agro-businesses; and insurance for (3) flood and (4) earthquake damage for homeowners, small and medium enterprises, and governments.
Pricing of the last two is based on a country-specific flood and earthquake models developed by AIR and currently available in CATRADER®. The models were developed as part of a risk assessment project for Albania, Serbia, and Macedonia funded by the World Bank in support of Europa Re.
Europa Re is open to new membership. Countries that want to join are expected to carry out a program of regulatory and policy changes essential for its successful operation. This isn't deterring either Bosnia and Herzegovina or Montenegro, both of which are currently actively pursuing membership. Europa Re is also working with the World Bank to explore opportunities for expanding its business model and web-based product support to disaster-prone countries outside Southeast Europe-which is a very welcome prospect indeed.