The record rainfall that hit the province of Henan in China the week of July 19 caused extensive flooding that led to mass displacement and casualties. Some reports provided estimated impacts to the agricultural sector. Here, we put those estimates into context for the agricultural insurance market in China.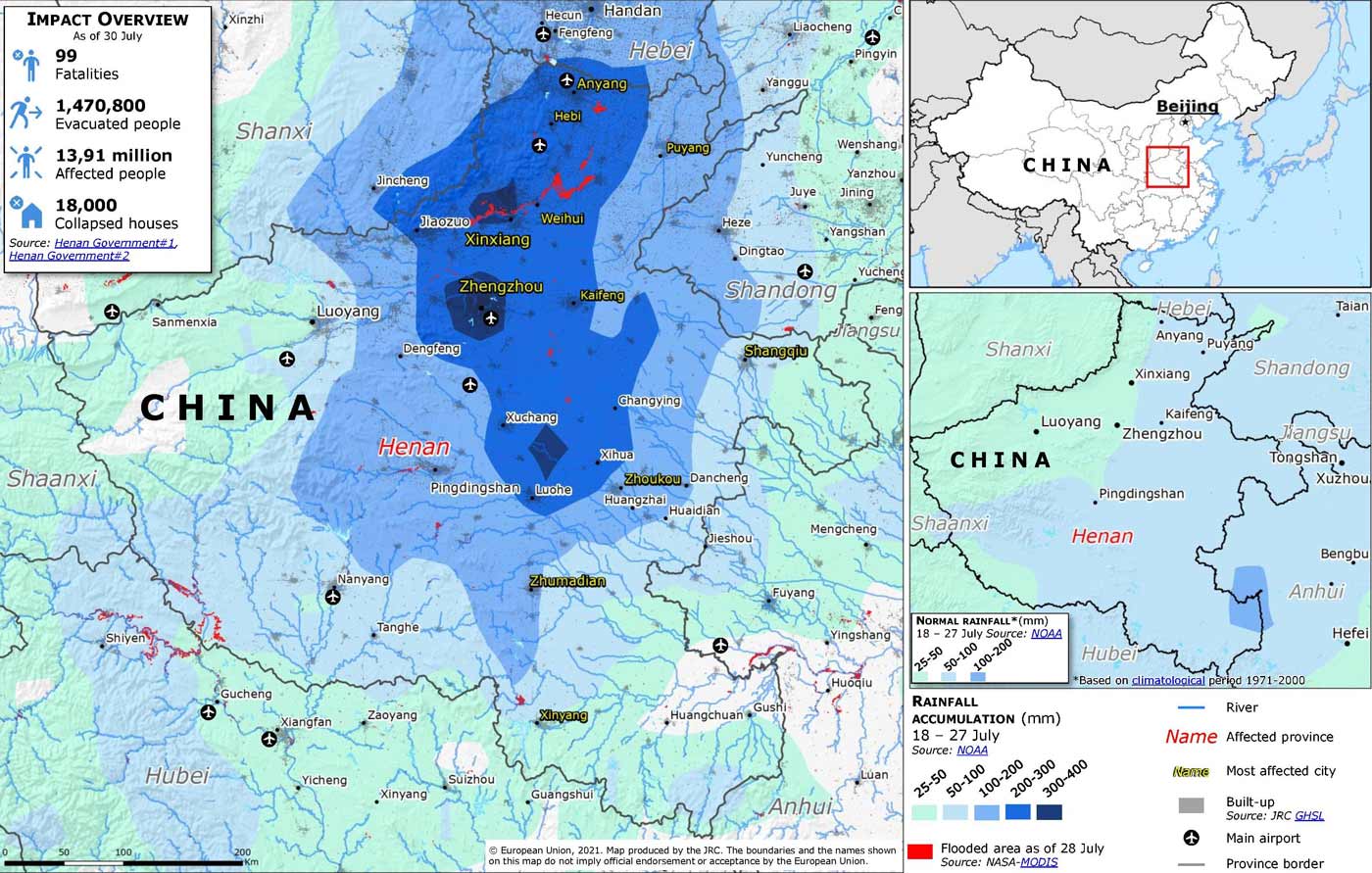 Impacted Crops: Corn and Peanut
Henan grows about 25% of China's wheat and 10% of China's corn. The harvesting of wheat was mostly complete prior to the rain event, although the flooding it caused represents a post-harvest risk to contamination and grain quality. The crops remaining in the field (to be harvested in the fall) are approximately 50% corn and 15% peanut. In general, the rainfall didn't submerge corn plants; occurred before the flowering stage, when the plants would be especially vulnerable; and increased soil moisture, which could be beneficial to corn later in the season. Shorter peanut plants may, however, be more at risk from the floodwaters.
The provincial government reported that as of August 2:
1,017,100 hectares have an expected loss of yield greater than 10%
457,400 hectares have an expected loss of yield greater than 30%
148,100 hectares have an expected loss of yield greater than 70%
Thus, about 13% of the fall crop area has been impacted at some level of severity and about 6% of the area has been impacted moderately (expected loss of yield greater than 30%). In addition, as of August 5, the Henan Banking and Regulatory Commission reported 10,400 agricultural claims totaling CNY 481 million.
Estimating Potential Crop Losses
While a precise account of flood impacts would require detailed on-the-ground data and regular assessments throughout the crop season, let us consider a simple estimate. If we assume that all the moderately affected area lies in corn-growing areas and all the severely affected area lies in peanut-growing areas, then about 8% of the corn crop area and 12% of the peanut crop area have been at least moderately impacted. In this scenario, insurable losses would be CNY 460 million for corn, CNY 560 million for peanut, and CNY 1 billion combined. Accounting for an overall take-up rate of 50%, these estimates are consistent with agricultural claims as of August 5.
Our estimated losses represent about 23% of the insurable crop premium in Henan, which is enough to be of concern but, when added to the amount of claims in an average year, not enough to tip most years into catastrophic levels. Of course, whether Henan in 2021 resembles most years depends on the events over the entirety of the crop season, which we're only halfway through.
Livestock Impacts and Potential Losses
In addition to crop impacts, the flooding hit livestock operations. Henan accounts for about 10% of the nationwide pork production. It has been reported that across the province, rains swamped 1,678 larger-scale farms and killed more than 1 million animals. Because many of these animals were likely chickens, we would expect the number of affected pigs to be lower. Medium-sized farms, for example, have between 50 and 3,000 head of pig.
If we assume an average of 50 pigs killed across the 1,678 aforementioned farms, our estimate for all pigs killed during this flood event across those farms would be about 80,000. The corresponding liability at risk would be CNY 70 million (assuming 10% of the pigs were breeding sows and 90% were feeding pigs). As livestock insurance take-up rates lag those of crop insurance, the impact on insured losses is harder to assess due to uncertainties around the overlap of flooded locations and insured locations.
In addition, the oncoming impact on the pork industry may have little to do with pigs killed directly by the water. Flooding has been blamed for recent outbreaks of African swine fever (ASF), which decimated the pig industry in China in 2018 and 2019. The ASF virus remains viable and infectious up to 100 days in the manure pits that flooding has washed out, possibly contaminating large swaths of pig raising farms. Future pig mortality due to disease spread by flood waters could be much higher than deaths caused directly by flooding.
Managing Your Risk
Because the full extent of losses from this flooding event cannot be known until the crop season has concluded, managing your risk requires getting a full view of potential outcomes now so that you aren't caught off guard later. AIR's MPCI Model for China helps you get a comprehensive view of your agricultural risk comprising crops, forests, and livestock.

​ Learn more about agricultural risk in China