A stitch in time, they say, saves nine-and retrofitting an older home to protect against major hurricane or earthquake damage can save a bundle down the road in repair costs and lower insurance premiums.
In California, which experiences more than 37,000 earthquakes a year (granted, all but a few are too small to be felt) and has two-thirds of the nation's earthquake risk, stringent building codes aim to ensure that modern construction will sustain minimal damage during quakes. But most of the property in the state is older, and having been constructed to lesser standards, is not so resilient.
Older homes, not bolted to their foundations and without bracing on the wood framed exterior walls enclosing their crawl spaces, are particularly vulnerable to earthquake damage. Without adequate bolting and bracing they are prone to sliding or toppling off their foundations during a tremblor, but with proper seismic retrofit this type of serious damage can be prevented.
Earthquake Brace + Bolt
Californian homeowners who wish to seismically retrofit their houses now have an incentive to do so. Earthquake Brace + Bolt: Funds to Strengthen Your Foundation, the first initiative from the California Earthquake Authority's recently formed California Residential Mitigation Program, is now being piloted in two areas prior to a statewide launch in 2014.
For the pilot program 20 qualifying houses were randomly selected from applicants in the neighborhoods of Rockridge/Temescalin Oakland and Eagle Rock in Los Angeles-areas selected following analysis of U.S. Census data identifying areas with both high seismicity and a concentration of older owner-occupied homes. To qualify, homes had to: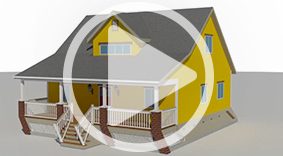 Watch this animation from the Brace + Bolt program to learn what is involved in a seismic retrofit (Source: California Residential Mitigation Program)
Be constructed before 1979,

be located on a level or low slope,

have a crawlspace under the first floor of four feet or less,

have a raised foundation, and

have no previous retrofits.
Retrofitting the bolting and bracing of homes to what the California Existing Building Code describes as "minimum standards intended to improve the seismic performance of residential buildings" may cost each homeowner between $2,000 and $10,000.Earthquake Brace + Bolt can provide up to $3,000 to qualifying homeowners to offset those expenses.
While the retrofitting measures may not prevent damage entirely,they will likely reduce its severity-as well as the resulting cost of repair. And in addition to reducing the financial consequences(not to mention the homeowner's personal inconvenience) when an earthquake actually strikes, mitigation measures qualify homes for discounted insurance premiums.