Using Touchstone for Accumulation Management and Advanced Geospatial Analysis
In the following webinar, we briefly recap the new submission in Touchstone®'s Underwriting Mode and look at how the submission affects the portfolio. We also take a look at how AIR's Geospatial Analytics Module in Touchstone allows you to analyze portfolios of risk in new, dynamic ways. More than ever before, companies are seeking powerful visualization and understanding of their data to better manage their risk.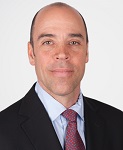 Bill Walker, CCM
Manager
BWalker@air-worldwide.com
Bill Walker is a Manager in AIR's Consulting and Client Services group. In this capacity, Bill is helping increase the uptake of Touchstone Underwriting capabilities in the commercial underwriting space. He manages client implementations and is responsible for coordinating efforts with Business Development and Product Management to help promote product improvements. Bill earned a B.S in Nuclear Engineering from Rensselaer Polytechnic Institute, an M.I.M. from Thunderbird School of Global Management, and an MBA from Case Western University.