Expert training and education programs to help you better understand catastrophe models
The quantity and scale of catastrophic events around the world is growing and changing. This is creating a global demand for people who can understand and utilize catastrophe models. The AIR Institute's mission is to be a center of excellence for catastrophe risk management training and education.
Certified Extreme Event Modeler™ Program
This 5-day intensive program for catastrophe modelers gives you insight into the science behind natural catastrophes and a behind-the-scenes look at how AIR models are developed and validated. We give you hands-on training in our software and how it can be used to explore the assumptions underlying the models, understand uncertainty, and interpret model results. After completing the program requirements, you become an AIR Institute Certified Extreme Event Modeler™.
Learn more about where to find AIR Institute Programs
Save the date for:
September 21-25, 2020 in Boston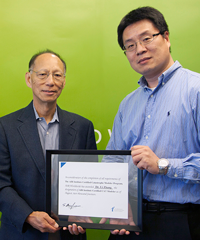 Dr. Li Zhang of China Re is congratulated by AIR President Emeritus Ming Lee for becoming China's first AIR Certified Extreme Event Modeler in August 2014.
"AIR's Program was truly excellent. It gave me a deeper knowledge of complex scientific, engineering, and financial considerations that underlie AIR's models. I also improved my command of AIR's software and learned best practices for interpreting the results."

— Li Zhang, Ph.D., China Re