What's new in Touchstone?
Geospatial Engine: Unlock your business intelligence
You don't have the time to analyze every property across dozens of parameters. Touchstone®'s geospatial engine creates deeper understanding, allowing you to quickly visualize at-risk areas and see how information is connected.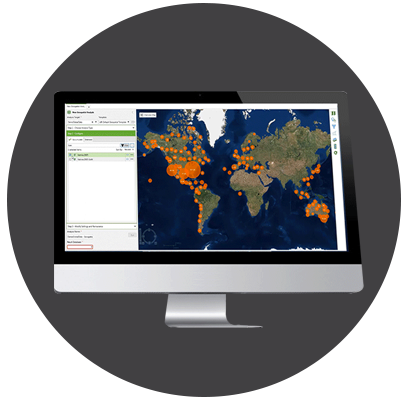 With Touchstone's new geospatial engine, you can work with large and dynamic data sets with ease, analyze real-time data from outside sources, and generate maps more quickly to bring high performance geospatial analytics into your organization. Unlike standard GIS applications, the visualization capabilities in Touchstone's geospatial engine were engineered with the insurance industry in mind.
Touchstone's geospatial analytics have proven to be instrumental in leveraging Beach Re's services to our clients by adding valuable insight that has been cited in support of a favorable rating or upgrade.

Especially in the face of rising cat losses, the need for best-in-class cat risk management is paramount, and Touchstone has added true strategic value to the effort.

Matthew D. Rose, CPCU,
ARe, Senior Vice President,
Beach Re Ltd
Tackle any geospatial risk analysis in minutes.
We've made it easier than ever before to conduct geospatial analyses. Achieve significant time savings and improve the efficiency of your analyses by using our intuitive out-of-the-box workflows across your organization.
Simply select the type of analysis you want to run and configure your output options, and you'll be conducting intuitive visual analyses in no time.
Touchstone's open architecture allows for the seamless integration of third-party data.
New intuitive controls make it even easier to explore your maps to get exactly the view you need. Touchstone offers broader supports for a range of data files and geographic projections, giving you more ways than ever to visualize and work with your data. Now, you can import dynamic third-party data layers directly from the web for additional analysis and decision-making in real-time.
Find your concentrations of risk.
Dynamic Ring Analysis just became even more powerful. It runs faster, supports larger ring radii, works across larger exposure data sets, and can now provide geographic information for each ring directly in the results. This means you can identify your accumulations of risk with more accuracy than ever before.
New models, new opportunities.
Fundamental to Touchstone's value proposition is access to AIR's ever-growing suite of peril models. New in 2017 is the industry's first probabilistic flood model for Japan, as well as a major update to the Japan typhoon model. The latest release also features a major update to the U.S. earthquake model, and a new model for severe thunderstorms in Australia that—along with AIR's earthquake, tropical cyclone, and bushfire models—provides the first truly comprehensive view of catastrophe risk for Australia