Looking Back, Looking Forward: Anatol, Lothar and Martin Ten Years Later
Editor's Note: Ten years ago this December Europe was subjected to three fiercely intense storms in rapid succession, Anatol, which arrived on December 3rd, Lothar, which struck on December 26th, and Martin, which immediately followed Lothar on December 27th. Together the storms brought much of Europe to a halt, killed more than 160 people, wreaked widespread damage and inflicted catastrophic insured losses of more than ten billion Euros (1999). In this article, Managing Director of AIR's Munich operations, Yöurn Tatge, describes the events, notes their impact on the insurance industry and addresses the continuing importance of European winter storms.
When Anatol, Lothar and Martin arrived to batter Europe at the end of 1999, severe European winter storms were thought to be relatively rare. And only ten years earlier the continent had been subjected to a similar series of destructive storms—too recent to expect another such occurrence. Consequently, the European insurance industry was ill-prepared for Anatol, Lothar and Martin's disastrous arrival.
The three storms initiated a change in attitude and, together with a series of other severe storms over the decade that followed (Jeanette in October 2002, Erwin in January 2005, Kyrill in January 2007, Emma in March 2008 and Klaus in January 2009), they accelerated research into the nature of extratropical cyclones, or winter storms, in Europe.
Anatol, Lothar and Martin
Although no single European winter storm is likely to cause as much damage as an intense Atlantic hurricane that makes landfall in or near a major city, European winter storms are quite capable of causing overall insured losses comparable to Atlantic hurricanes. Their size and ability to travel long distances over land while maintaining their intensity can produce total losses similar in amount to those of a catastrophic hurricane. When they come in serial clusters, the cumulative losses can be staggering. Anatol, Lothar and Martin exhibited just this scenario of lengthy tracks, serial passage—and high insured losses.
Anatol
Winter storm Anatol began its life at the end of November, 1999, at the intersection of two minor meteorological perturbations south of Greenland, one moving out from Newfoundland, the other from Labrador. The interaction of these air flows rapidly developed into an extratropical cyclone. On December 2nd Anatol was west of Ireland, by the early morning hours of December 3rd it was over Scotland and by that afternoon it was over Denmark—raking the country with the strongest winds to strike it in a century. Anatol also impacted Sweden, Germany, Poland, Lithuania, Latvia and Russia. Twenty people were killed and 600,000 individual insured losses were incurred, amounting to slightly more than €2 billion1 (in 1999 Euros).
Lothar
Just three weeks after Anatol, an otherwise unremarkable disturbance became caught up in a confluence of strong westerly winds and an intense jet stream to the east of Newfoundland—and was carried across the Atlantic at speeds that reached 130 kilometers per hour. Coming to a region of strong divergence that had developed earlier between Brittany and Cornwall, the depression intensified almost explosively into extratropical cyclone Lothar. With winds at times gusting above 210 km/h, Lothar crossed the Normandy coast in the early hours of December 26th. In less than 12 hours it raged across northern France, battered Belgium, tore through Germany, and only when nearly half-way across Poland, finally weakened. Just 300 kilometers in diameter, Lothar's compact internal pressure gradients were comparable to those of a Category 2 hurricane.
Lothar brought wind gusts of 170 km/h to Paris and 150 km/h to Karlsruhe, Germany, some 450 km from landfall. In its passage, Lothar killed 110 people and caused €5.9 billion in insured losses2 (1999 Euros).
Martin
One day later, in the mid-afternoon of December 27th, winter storm Martin crashed ashore in the vicinity of La Rochelle—about 200 km south of Lothar's landfall. Martin's genesis, passage across the Atlantic, and rapid development into an extratropical cyclone paralleled Lothar's. On land, Martin moved rapidly over central France, cut across Switzerland, through Alpine Italy, and then began to dissipate as it approached the Balkans. Less intense than Lothar, Martin nevertheless brought gust wind speeds of 190 km/h to the French coast, and as high as 160 km/h to Vichy and 140 km/h to Carcassonne, far to the south.
Bordeaux, where gusts reached 144 km/h, was especially hard hit. By the time Martin finished its passage, it had caused 30 fatalities, cut off electricity to over one million households and cost €2.5 billion in insured losses3 (1999 Euros).
Widespread Damage
European windstorms typically do not achieve the wind speeds of the most intense tropical cyclones. However, in the course of a single event, an extratropical cyclone system's damaging windfield can affect an area of tens of thousands of square kilometers. And within that large area, specific locations can be subjected to periods of high winds for several days.
Anatol, Lothar and Martin brought severe damage to thirteen countries and seriously impacted others. Europe was affected from the United Kingdom in the west to Russia in the east, from the Scandinavian and Baltic countries in the north, to Spain and Italy—as far as Sicily—in the south. The storms devastated forests, leveling several times the number of trees as the average annual timber yield in France, Germany and Switzerland combined. Flooding was reported across southern England, the Netherlands, Belgium, France, Germany, Switzerland, Austria and Italy. In France, a fourth of the country's high-tension transmission lines were lost and 300 high-voltage transmission pylons were toppled. It was one of the greatest energy disruptions ever experience by a modern developed country. Ten million people across France and Germany were left without power at the height of winter. In the environs of Paris an estimated 60% of all roofs were damaged. A state of emergency was imposed on the city. Atop the Eiffel Tower wind speeds of 215 km/h were recorded.
Overall economic losses have been estimated to be more than €18 billion4 (in 1999 Euros). One hundred sixty people were killed.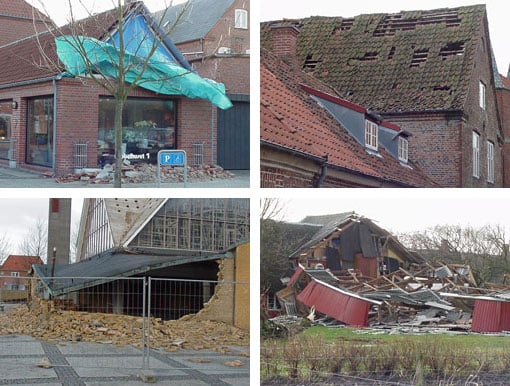 Insurance Fallout
Anatol, Lothar and Martin revealed several weaknesses in the European insurance industry's ability to respond effectively to such widespread damage. Both the scale of the damage and the volume of claims proved to be problematic. Complications also arose because of the close time proximity of the storms' passage. And it soon became apparent that the usability and reliability of the data the insurance companies held were not adequate to the scale of the disaster.
Claims Overload
The first of the storms, Anatol, had its most destructive impact on Denmark. Before Anatol, the largest insured loss Denmark had incurred from a storm was about €120 million, in 1981. Anatol's more than €2 billion of insured losses (in 1999 Euros)5 was an increase of an order of magnitude. Claims adjusters were overwhelmed by the number of claims they had to service, which was as large as a tenth of the entire population of the country. To facilitate processing this unprecedented number of claims, insurance agents sent out claim payments up to a certain amount of loss without even a review of the claims. The practice, however, probably artificially increased Anatol's actual insured loss in Denmark.
The French insurance market's experience was similar. An estimated three million claims were filed,6 most of them from the residential sector. And like the Danish claims adjusters, many French insurers also paid out claims without an expert assessment in an effort to avoid processing bottlenecks—some using a claim threshold of several thousand Euros.
Reinsurance Coverage
Anatol, Lothar and Martin had a significant impact on the reinsurance market. In Denmark, Anatol completely exhausted many reinsurance covers. Given the perceived low probability of a loss the size of Anatol's and the "recent" severe winter storms only ten years earlier, many insurance companies decided that reinsurance protection up to the unprecedented levels of Anatol was unnecessary. In Anatol's aftermath, they were hard put to pay out their claims, creating solvency problems. (The following year, 2000, most insurance companies in Scandinavia significantly increased the scale of their reinsurance coverage.)
In France, reinsurance purchasing at the time was based on the losses incurred by the severe winter storms of 1990, particularly the two most destructive, Daria and Herta. (In 1999, the total capacity of the French market was less than 60% of the losses from Lothar alone.7) However, the wind speeds of Lothar and Martin were nearly 30% higher than those of the earlier storms. Most reinsurance programs were exhausted by Lothar alone. Total French insured losses from the two storms came to about €6.5 billion.8
Clustering
Reinsurance contracts typically are written to cover a single year, and a multiple-event season can have serious loss implications for a contract. The passage of Lothar and Martin took place in less than 72 hours. Although a standard 72 hours clause was in place for most contracts—which would allow treating the two storms as a single reinsurance recovery—there was no consistent handling of contracts. For reasons of good will, some reinsurers agreed to consider the two storms as separate events (thus enabling insurance companies to receive greater recoveries). In the end, reinsurers absorbed more than half of the total insured losses.
Anatol, Lothar and Martin thus also brought to the forefront the question of whether European winter storms tend to "cluster" as a natural phenomenon—that is, should clustering be considered a common occurrence, one that would regularly, and probably often, impact contractual obligations. In this regard, the winter storms of 1990 could be seen to have come in two clusters, Daria and Herta at the end of January/beginning of February of 1990 and Vivian and Wiebke at the end of February/beginning of March. Similarly, several of the winter storms in the years soon after 1999 followed one another in close procession.
This phenomenon—the temporal and spatial clustering of European extratropical cyclones—remains an active area of research. Both the phenomenon's meteorological characteristics and its impact on insured losses are being studied. AIR's most recent findings will be incorporated into the next release of the AIR European Extratropical Cyclone Model.
Data Quality
Anatol, Lothar and Martin also exposed serious inadequacies in the availability of data, data quality, and data consistency in the European insurance industry. Reinsurance companies found that they often could not properly assess winter storm risk to their portfolios because they did not have comprehensive and detailed exposure information. The problem was not only missing or incomplete data, but, equally, inconsistencies in how exposure was defined and calculated—both between countries and even within the same country.
To ameliorate this failing, the CRESTAplus initiative was undertaken in 2000 to provide an open and public data exchange standard that would allow all participants in the industry to easily transfer high quality exposure data back and forth. After a promising start, CRESTAplus failed to gain wide acceptance. A second effort was begun in 2002 by ACORD (Association for Cooperative Operations Research and Development), the insurance industry's nonprofit standards developer. Initially ACORD also made few converts, but as more industry participants have come to embrace the need for a common and open standard, ACORD has won increasing acceptance, including by Lloyd's of London. AIR was the first catastrophe modeler to support the ACORD binding authority data standard in its software.
Conclusion
In 1999 Anatol, Lothar and Martin caused over €10 billion of insured losses across Europe (in 1999 Euros). The storms inspired a new sensitivity to the serious Europe-wide repercussions of a phenomenon that previously had been seen largely as local. They initiated increased investigation into the complex nature of extratropical cyclones and their potential to cause damage. And Anatol, Lothar and Martin revealed shortcomings in the European insurance industry: in its ability to accurately estimate sufficient coverage, its capacity to process large volumes of claims, and in the quality of its data.
Shortly after Anatol, Lothar and Martin wreaked their havoc in Europe, AIR released a new generation extratropical cyclone model—one that incorporated numerical weather prediction, or NWP. It was the first time a catastrophe model incorporated the physical (as opposed to statistical) modeling of a meteorological peril. Subsequent generations of the model have reflected AIR's continued investment in the science, the technology and in the global environmental data on which NWP relies.
Today, when perceptions are strongly shaped by around-the-clock media coverage and on-location YouTube offerings, the damage caused by severe European winter storms looks less dramatic and less desperate than the damage from hurricanes that inundate whole cities and earthquakes that collapse houses on sleeping people. All the same, average annual losses from European winter storms are among the largest caused by natural catastrophes worldwide. Instead of causing a limited number of very high claims, European winter storms can generate hundreds of thousands of smaller claims that can add up to significant sums—particularly given the high take-up rates in Europe.
Anatol, Lothar and Martin indelibly imposed this awareness on the insurance community ten years ago and inspired new efforts by the industry to alleviate the damage caused by this major natural peril.
1 Munich Re Group (2002). Winter Storms in Europe (II): Analysis of 1999 Losses and Loss Potentials.
2 Ibid.
3 Ibid.
4 Ibid.
5 Ibid.
6 Swiss Re (2000). Storm over Europe: An Underestimated Risk.
7 The World Catastrophe Reinsurance Market: 2003, Guy Carpenter, September 2003.
8 Munich Re Group; op. cit.