Atlantic tropical cyclones are named years before they occur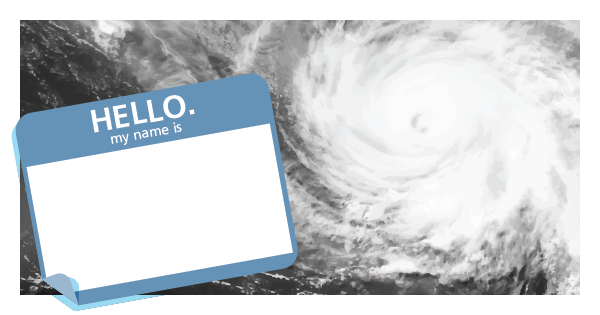 An international committee of the World Meteorological Organization (WMO) maintains and updates six lists of names, used in rotation, to name tropical cyclones in the Atlantic Basin. The 21 names on each list alternate between male and female and are applied in alphabetical order each year. If there are more than 21 storms in one year, the letters of the Greek alphabet are used in order. In 2005, named Atlantic storms went through the first six Greek letters!
The only time a name is retired is if a storm is so deadly or costly that using its name again would be inappropriate; Sandy (2012) and Katrina (2005) have both been retired. If the names of this year's storms sound familiar (like Arlene in April of this year), it's because the same list of names was used in 2011—with the exception of one. Can you spot the difference?
| 2011 Tropical Cyclone Names | 2017 Tropical Cyclone Names |
| --- | --- |
| Arlene | Arlene |
| Bret | Bret |
| Cindy | Cindy |
| Don | Don |
| Emily | Emily |
| Franklin | Franklin |
| Gert | Gert |
| Harvey | Harvey |
| Irene | Irma |
| Jose | Jose |
| Katia | Katia |
| Lee | Lee |
| Maria | Maria |
| Nate | Nate |
| Ophelia | Ophelia |
| Philippe | Philippe |
| Rina | Rina |
| Sean | Sean |
| Tammy | Tammy |
| Vince | Vince |
| Whitney | Whitney |